Weekly Activities & Events
We are Often duplicated, but Never Replicated!
Entertaining Activities For All

Paint Night, Wood Sign, DJ Paint Parties

Your Activity Your Way!

Customized The Way You Like!

Crafty Refreshments

Cocktails, Beer, Wine & More!
Not Your Grandma's Paint Night!
Paint Cabin is Toronto's first and original Paint Bar. Your destination for premier paint and drink workshop and paint party options!
Located at 723 Gerrard St E. In Leslieville. Paint Cabin boasts a fully licensed bar, coffee house, 40 art stations, cocktail menu, food menu, a lounge and private party rooms. BEST of all! Absolutely no experience is required to take part in all the activities Paint Cabin has to offer. From the many paint parties, creative workshops in: Acrylic painting, Woodcut printmaking, String art, Watercolor, Needle felting character creation and our popular and out of this world experience Glow in the Dark DJ Paint Party ! We provided 1-1 guided instructions in all of our activities. The Paint Cabin team is on hand to serve you!
Shop Tickets
Meaningful Group Events Made Easy!
Ready for a game changing event?
Team Building

Adult Birthday Parties

Bachelorette Parties

Private Party Rooms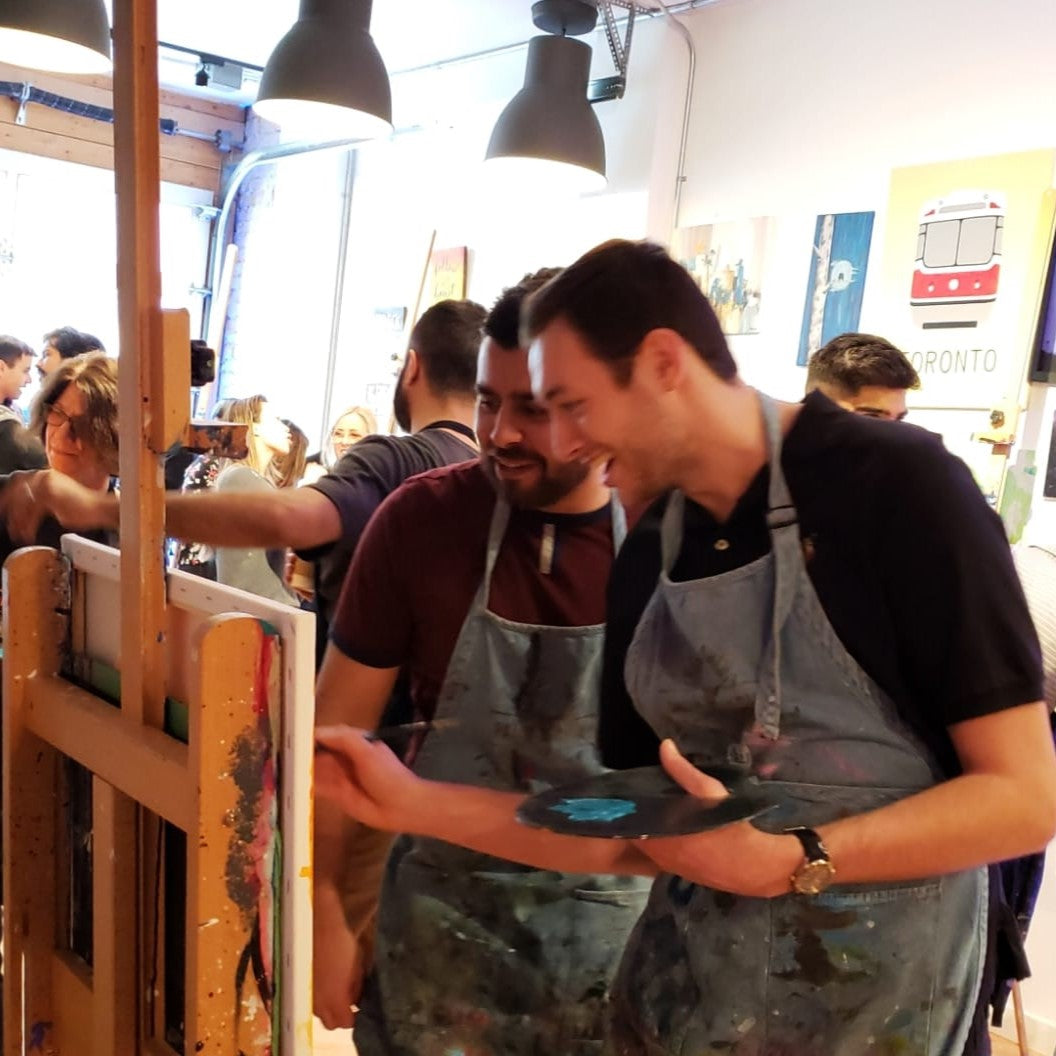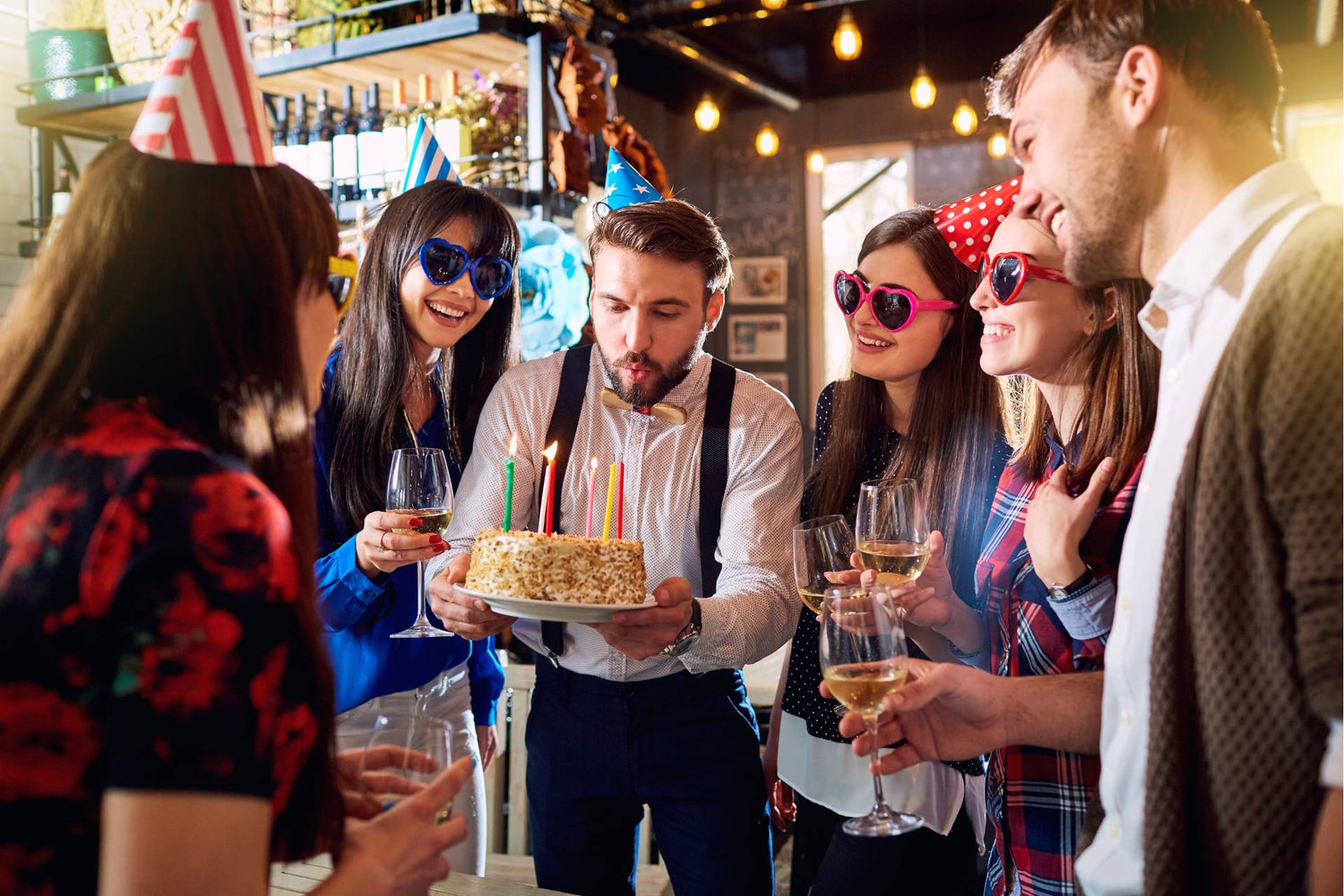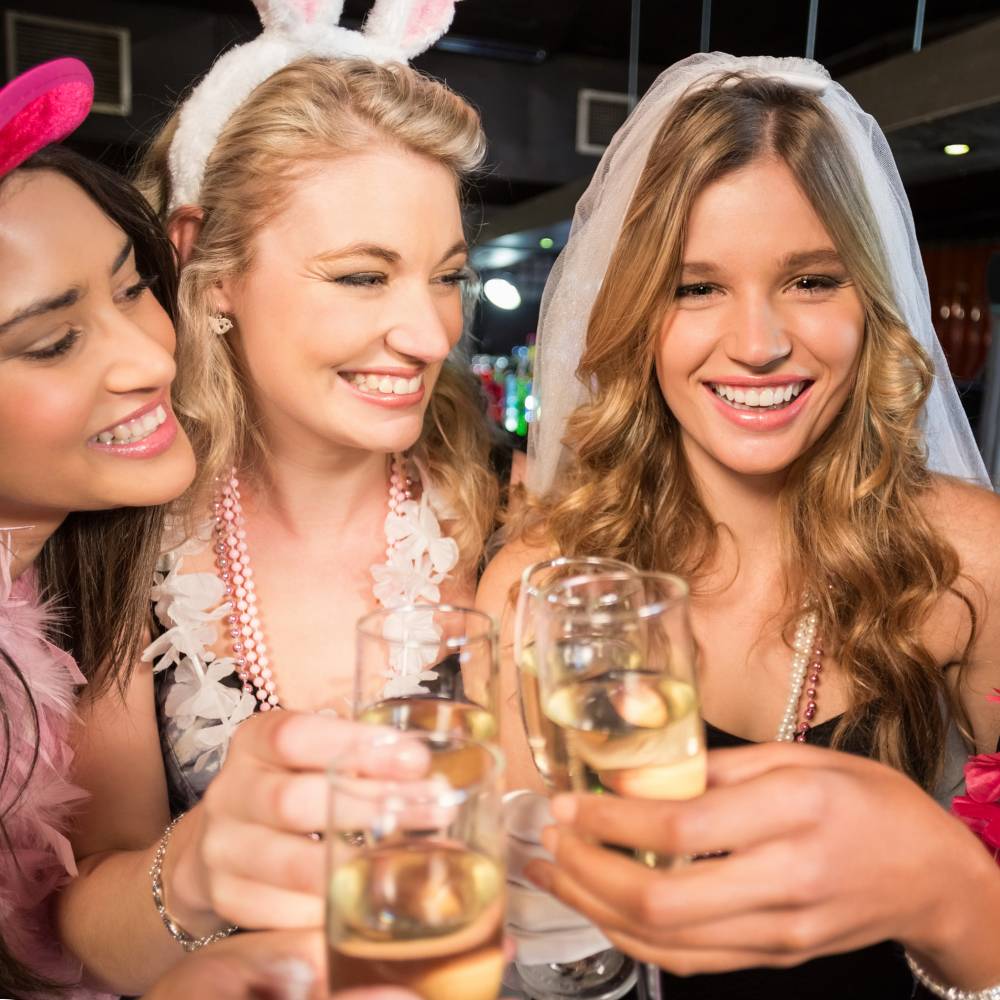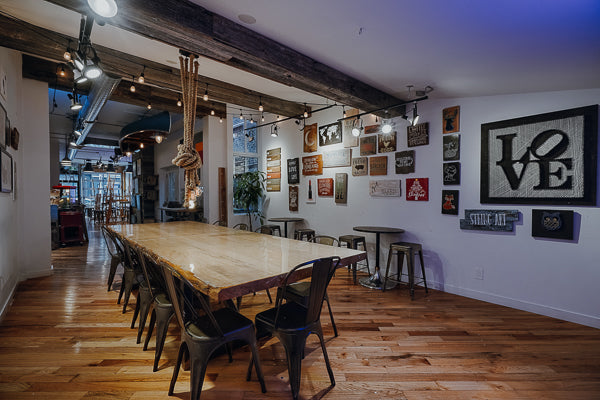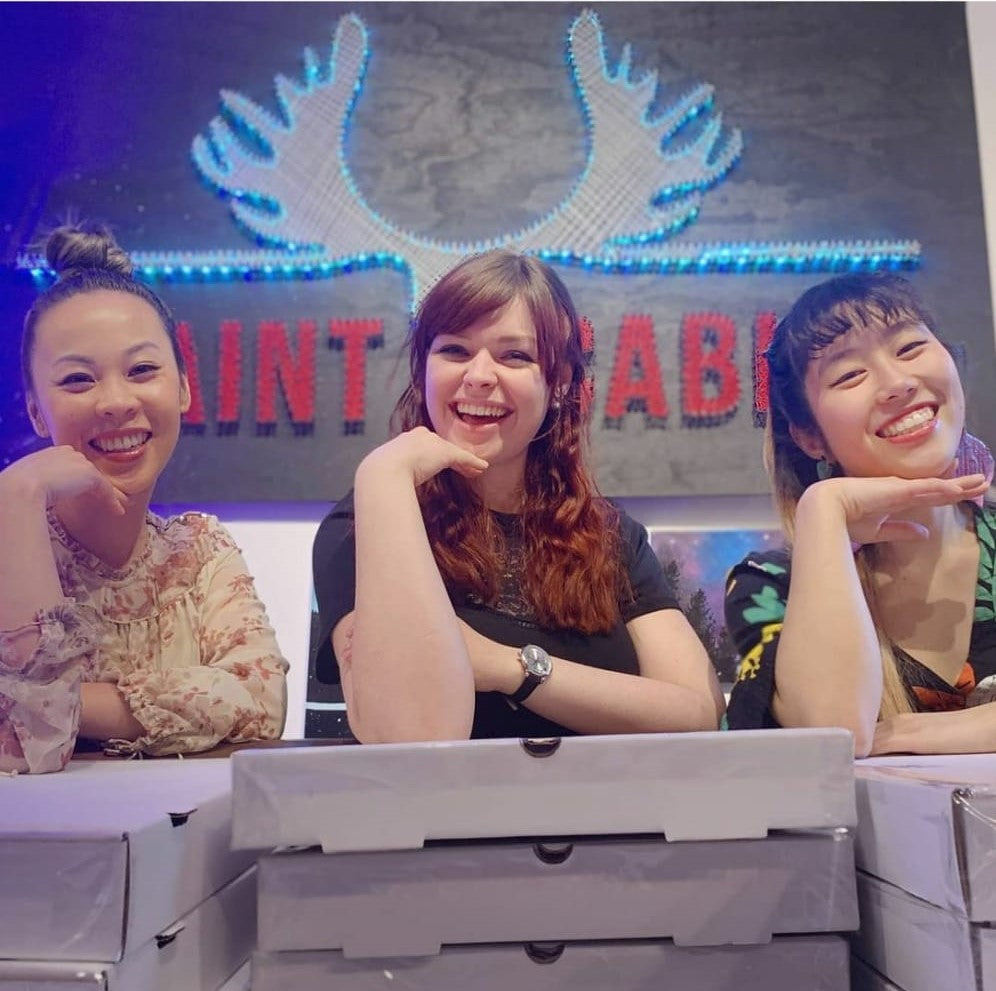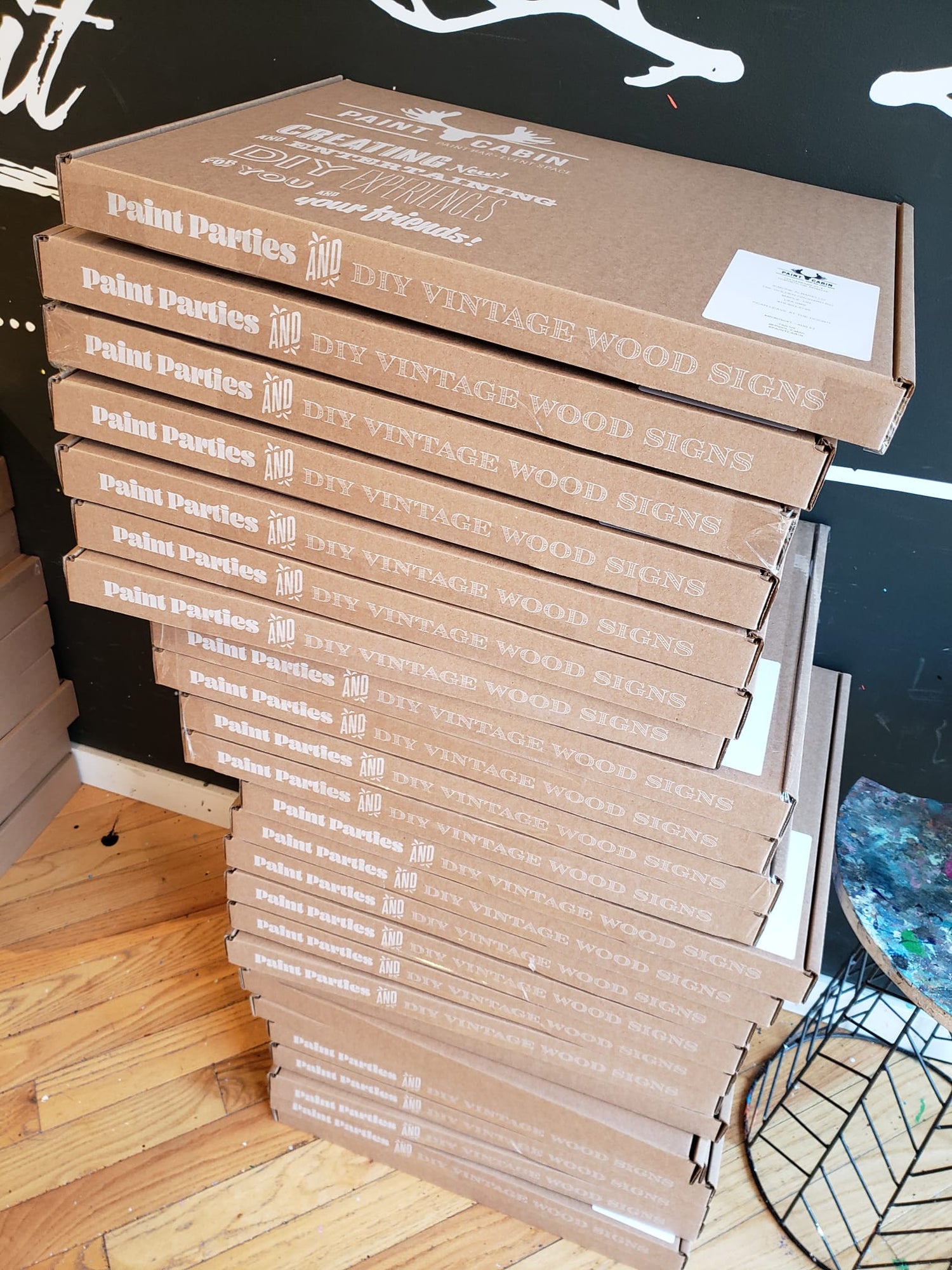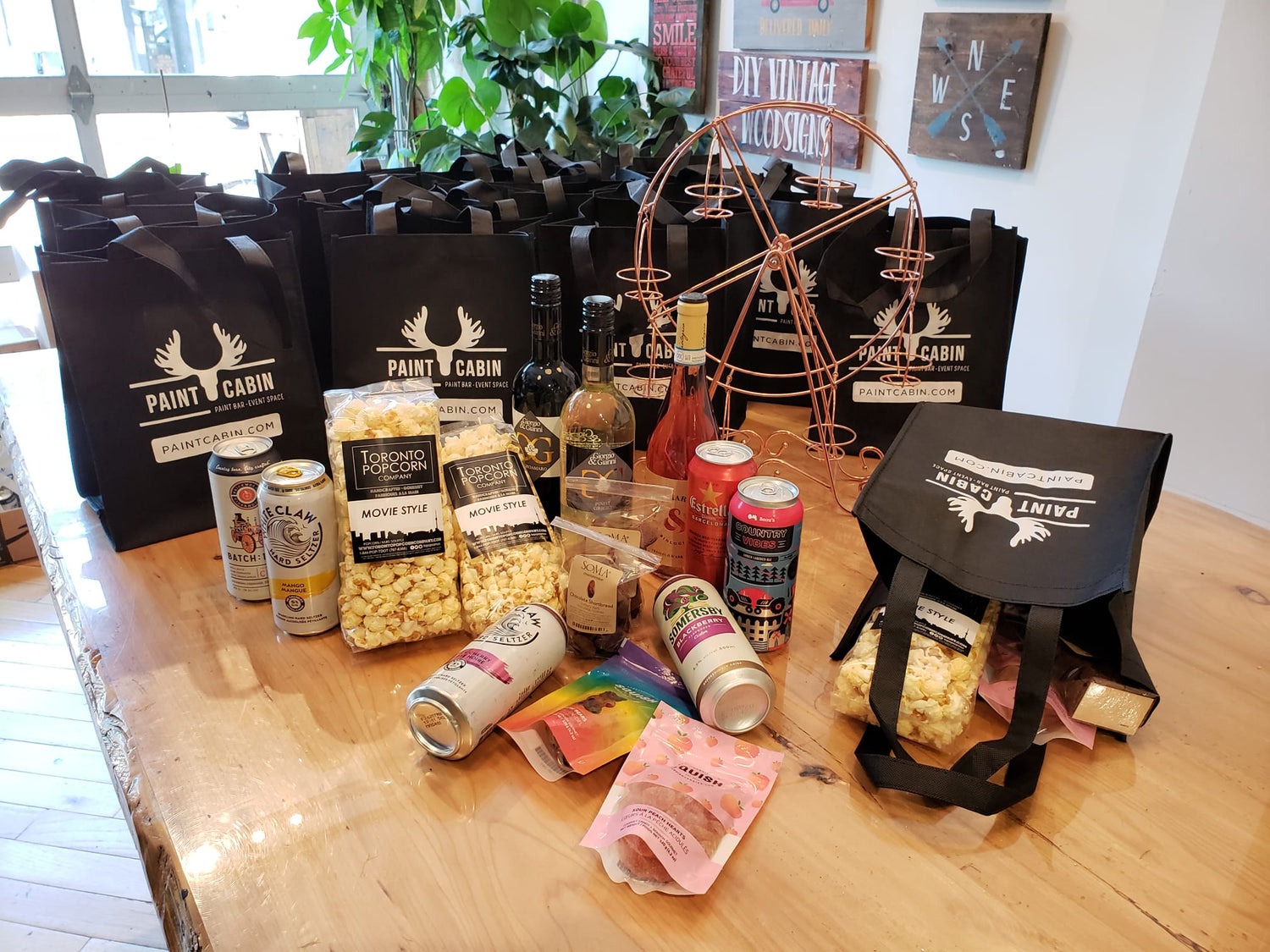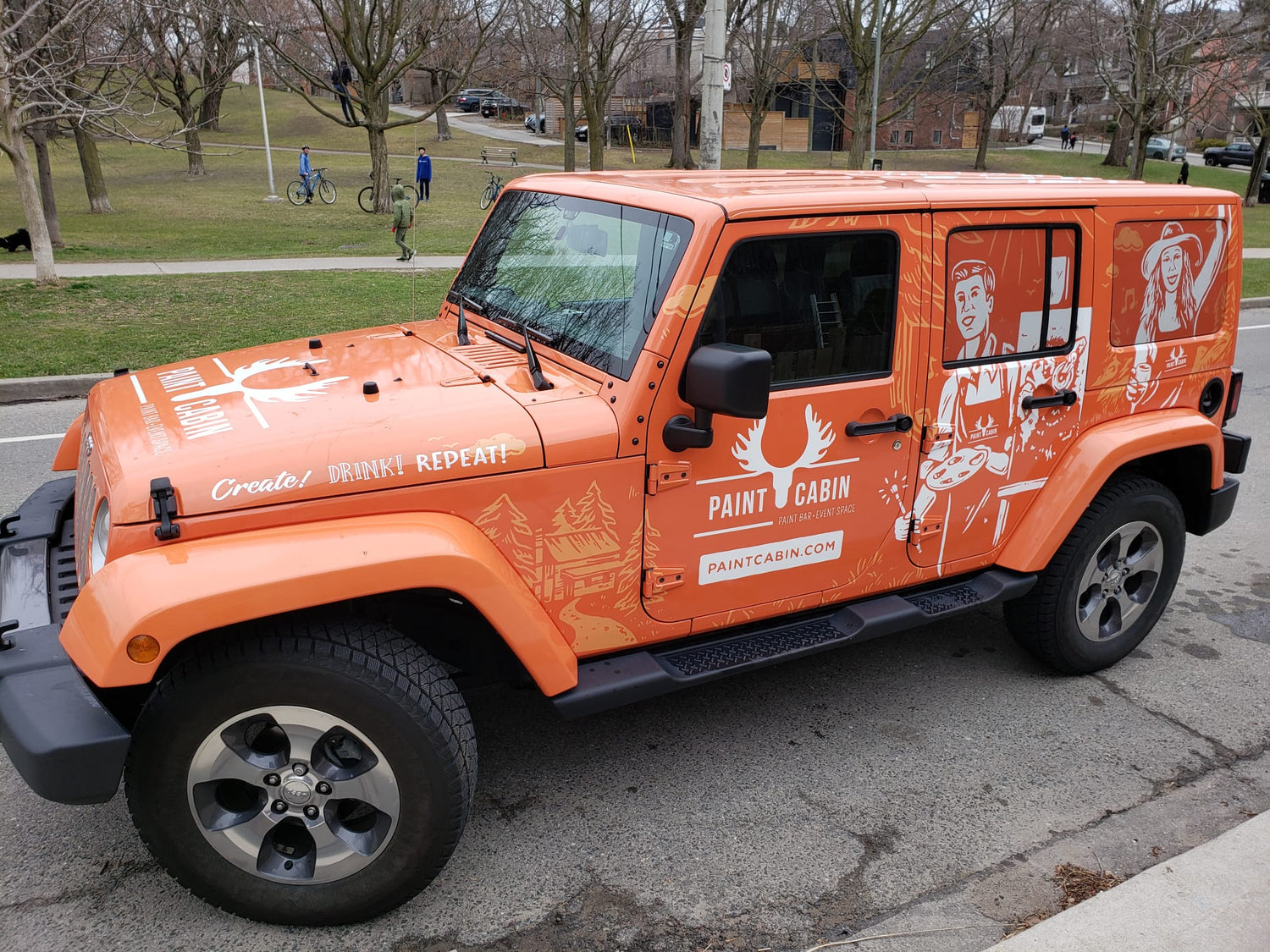 Experiences You Won't Find Anywhere Else
Unique & Curated Events
Paint Parties
DIY Vintage Wood Sign Making
Glow in the Dark DJ Paint Parties
Karaoke Paint Party
Printmaking
360 Photo Booth
Catering
Fully Licensed Bar
Learn More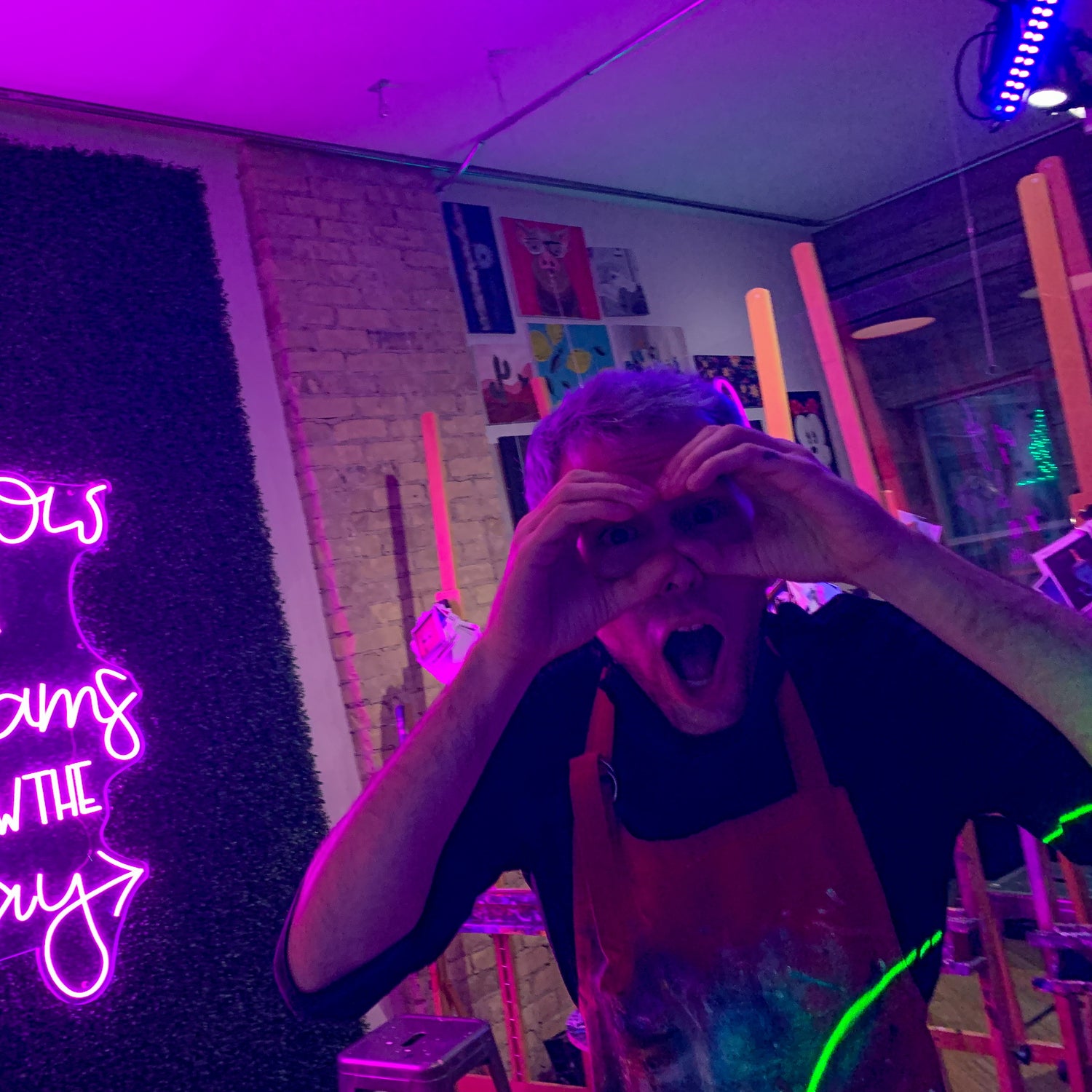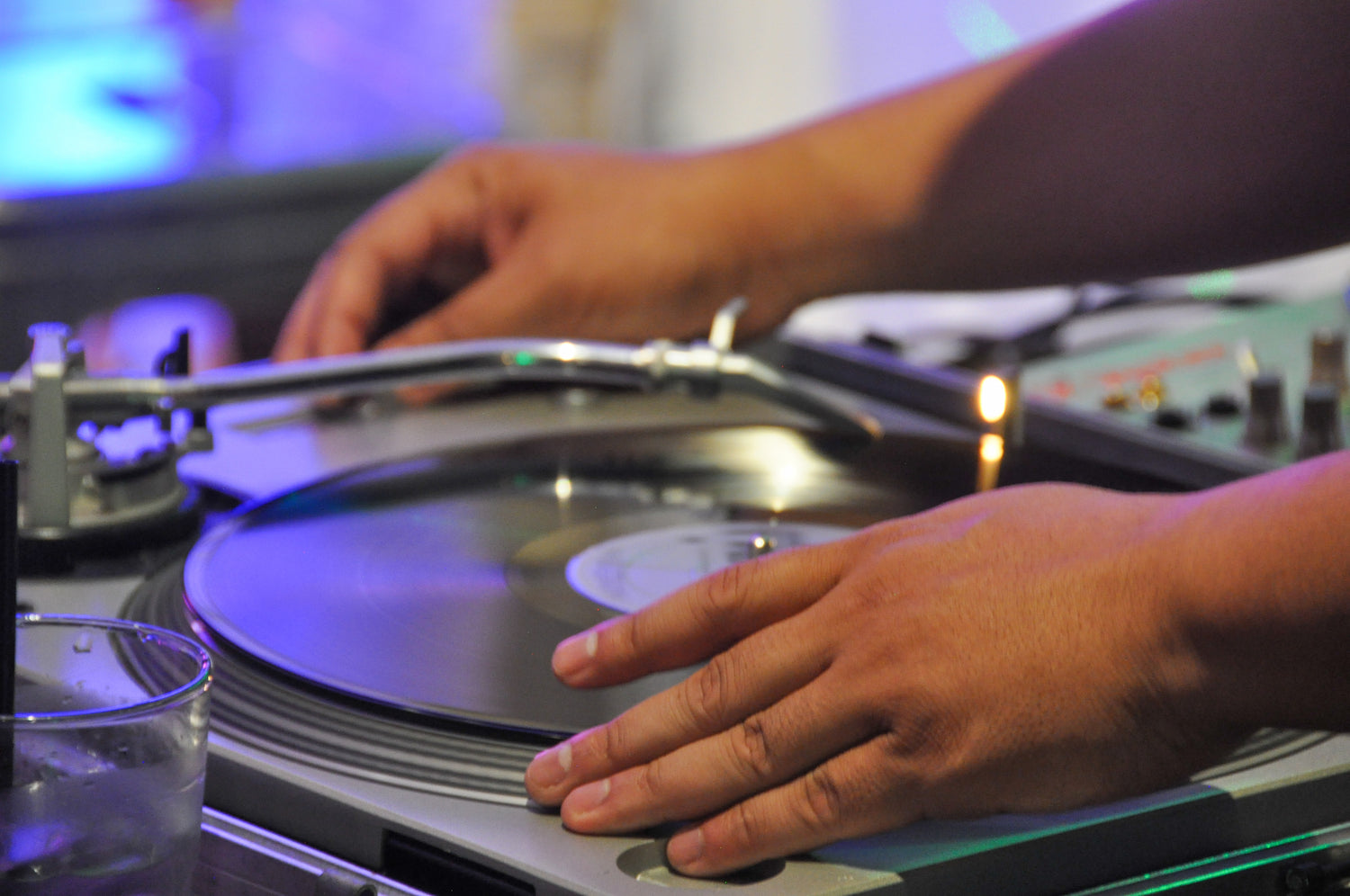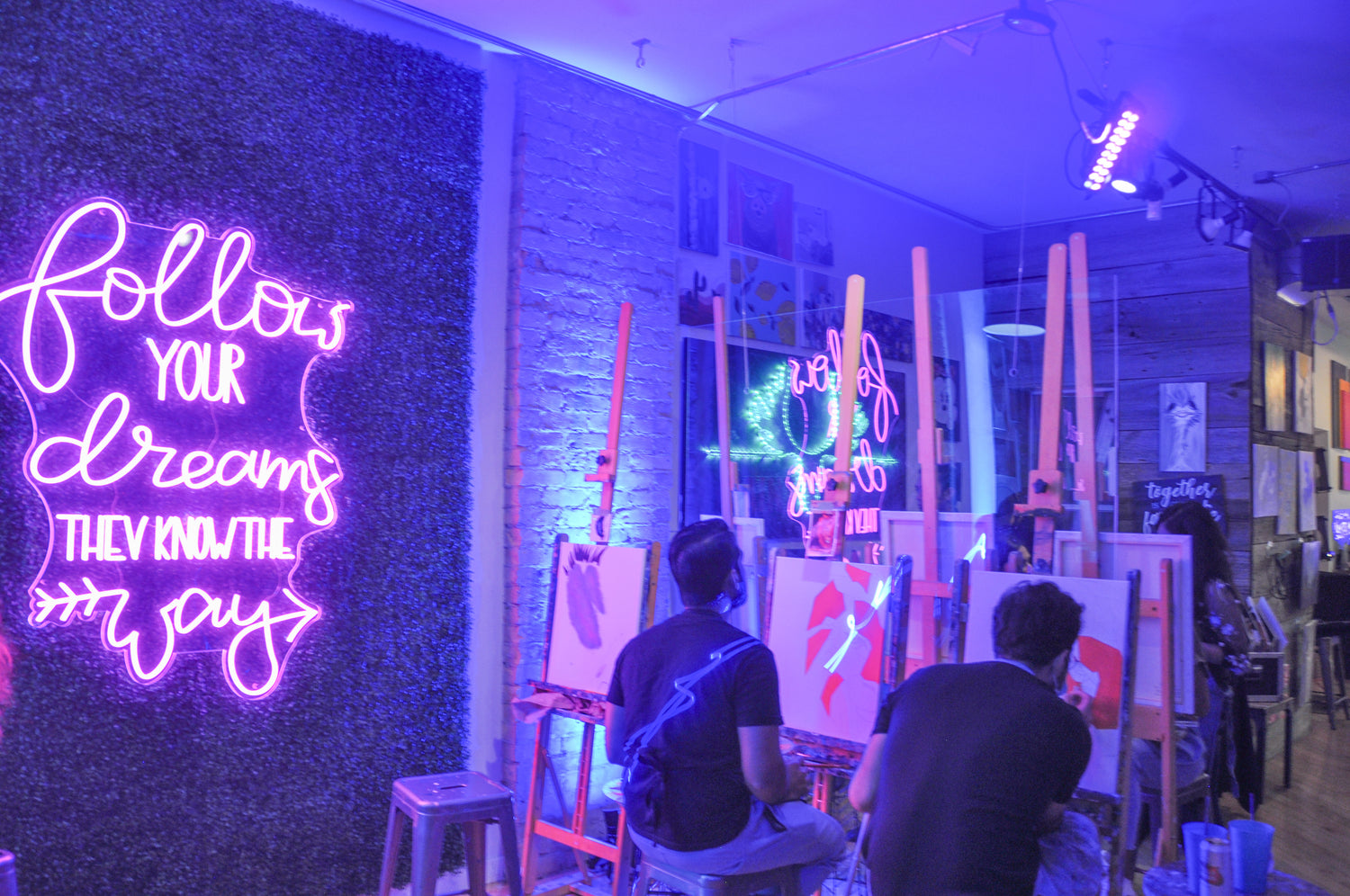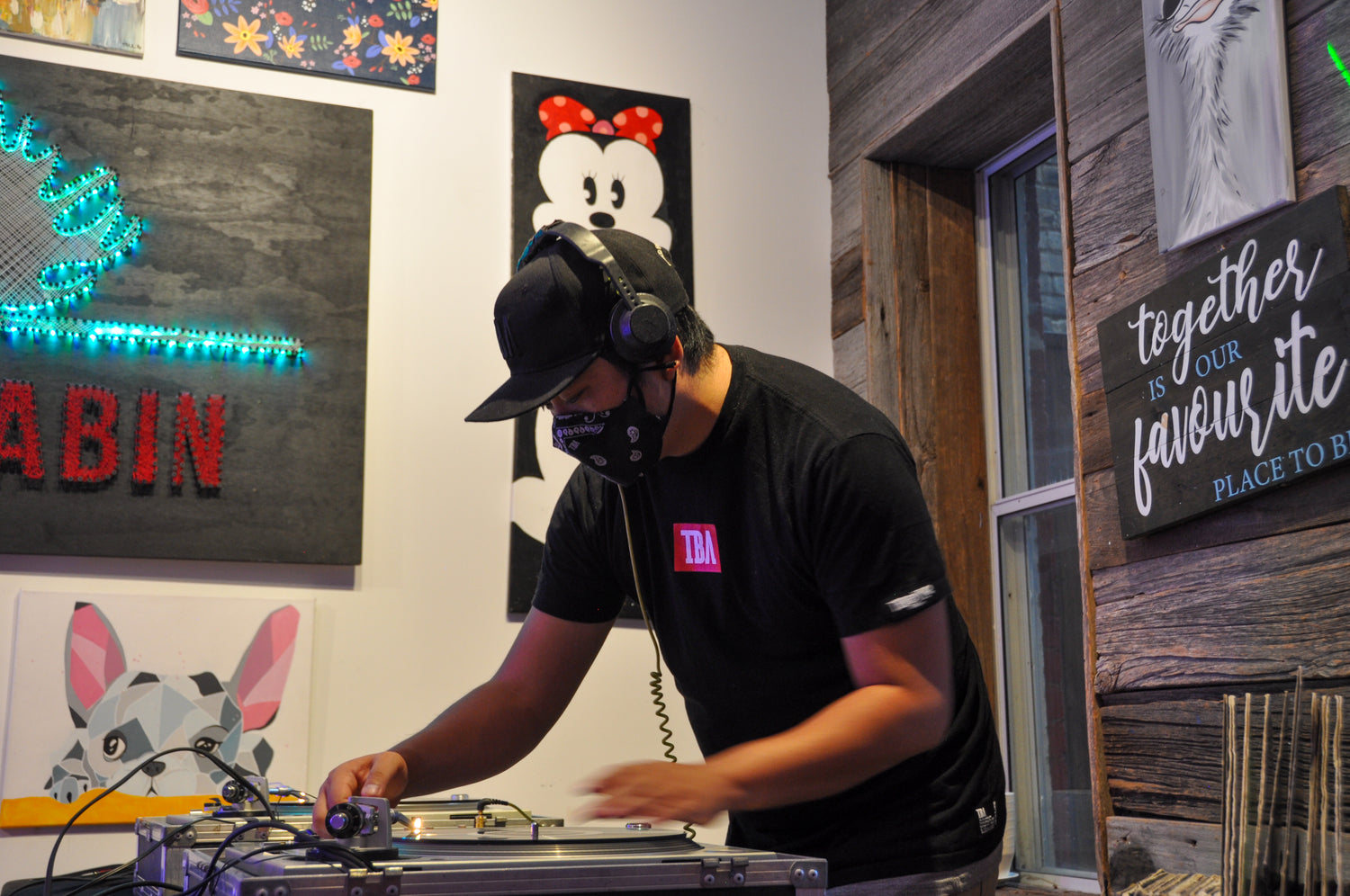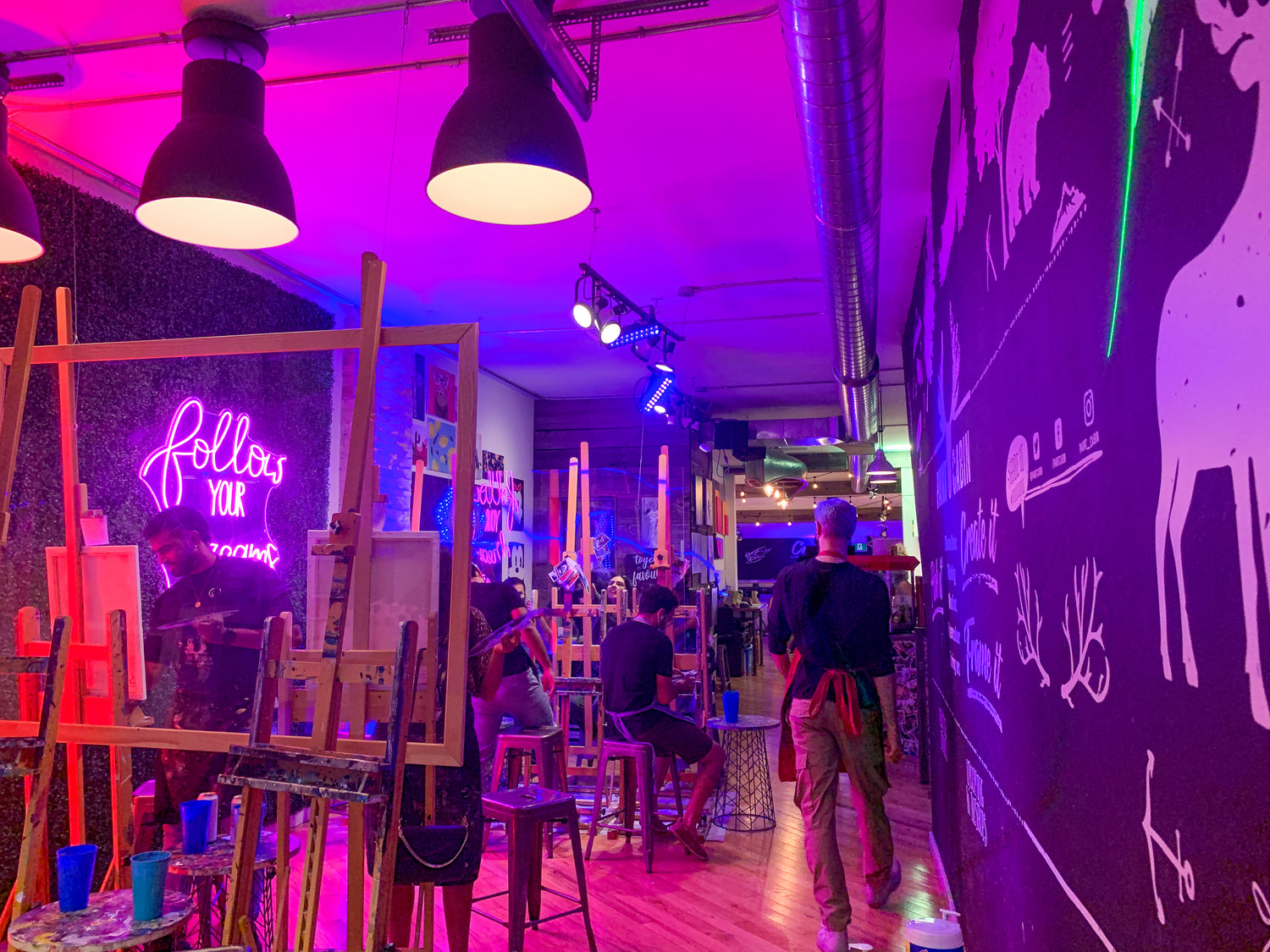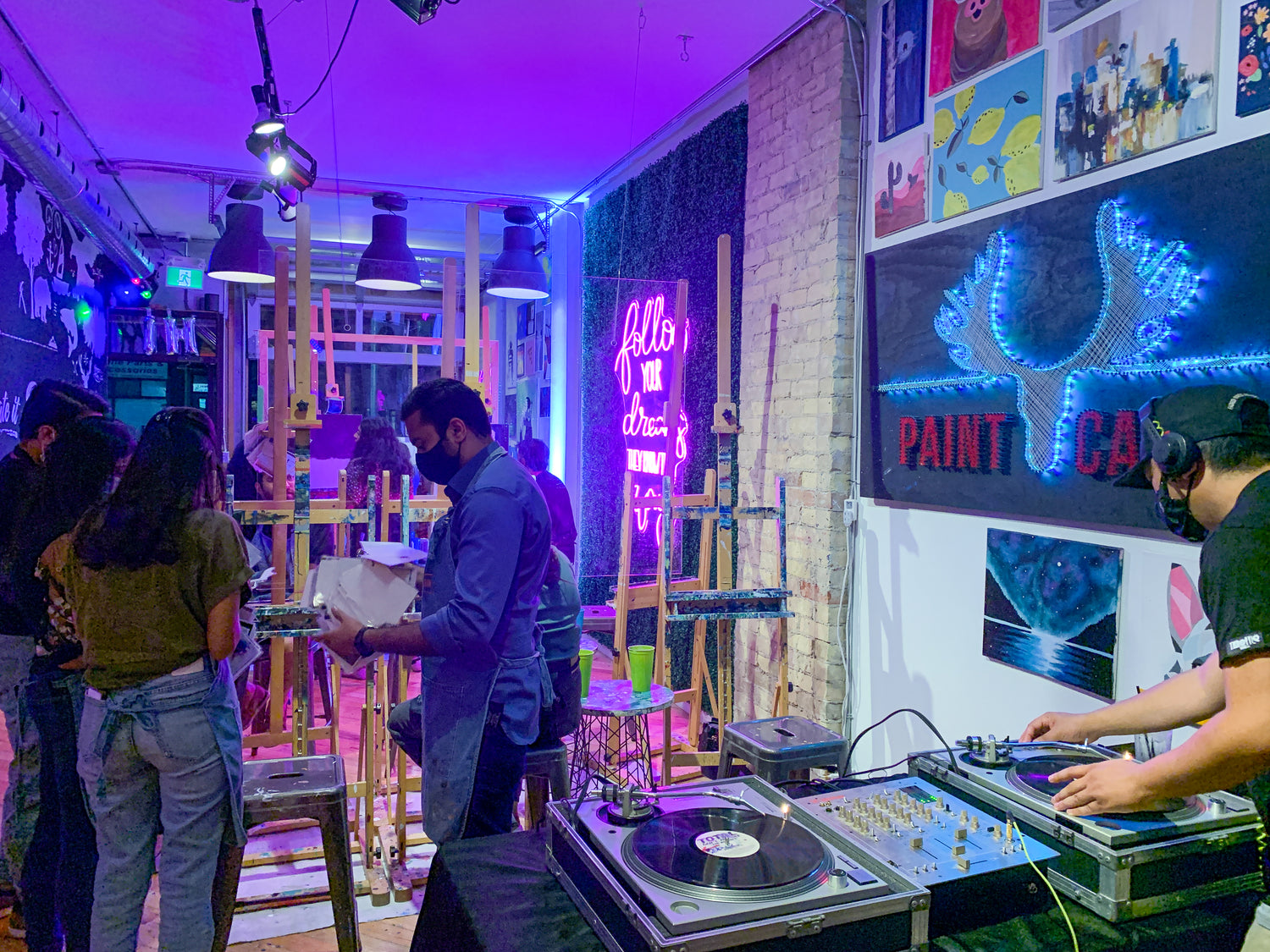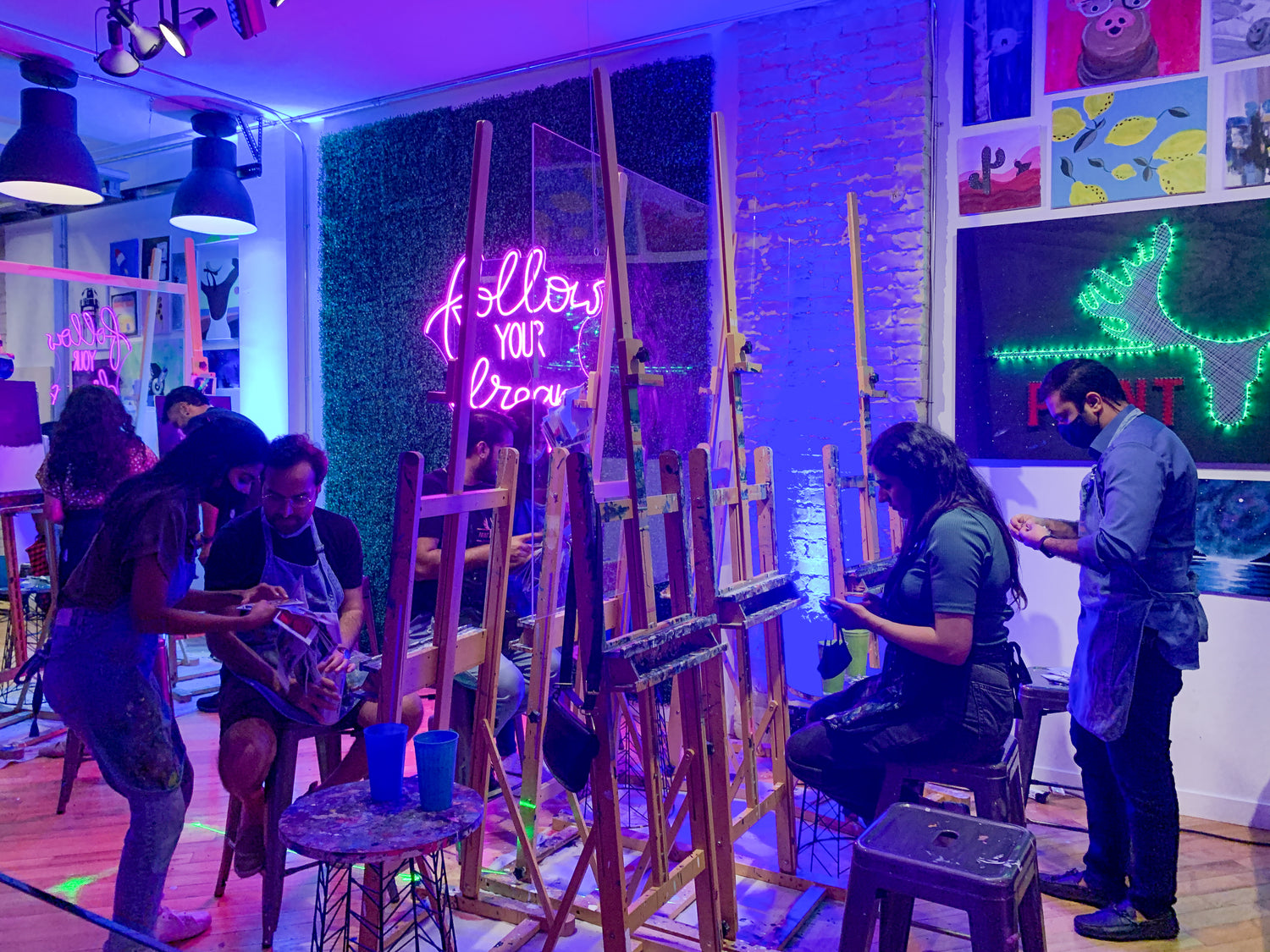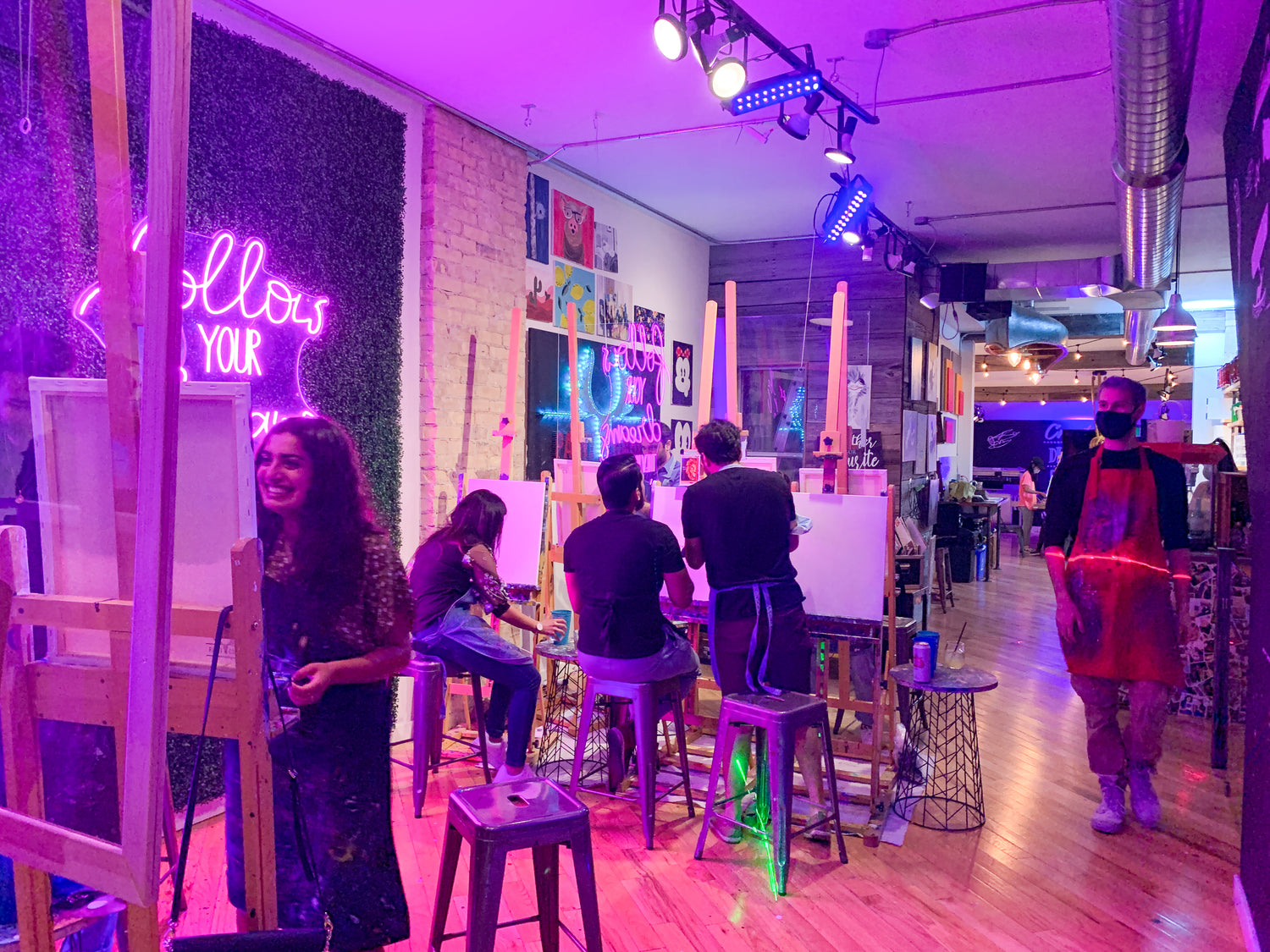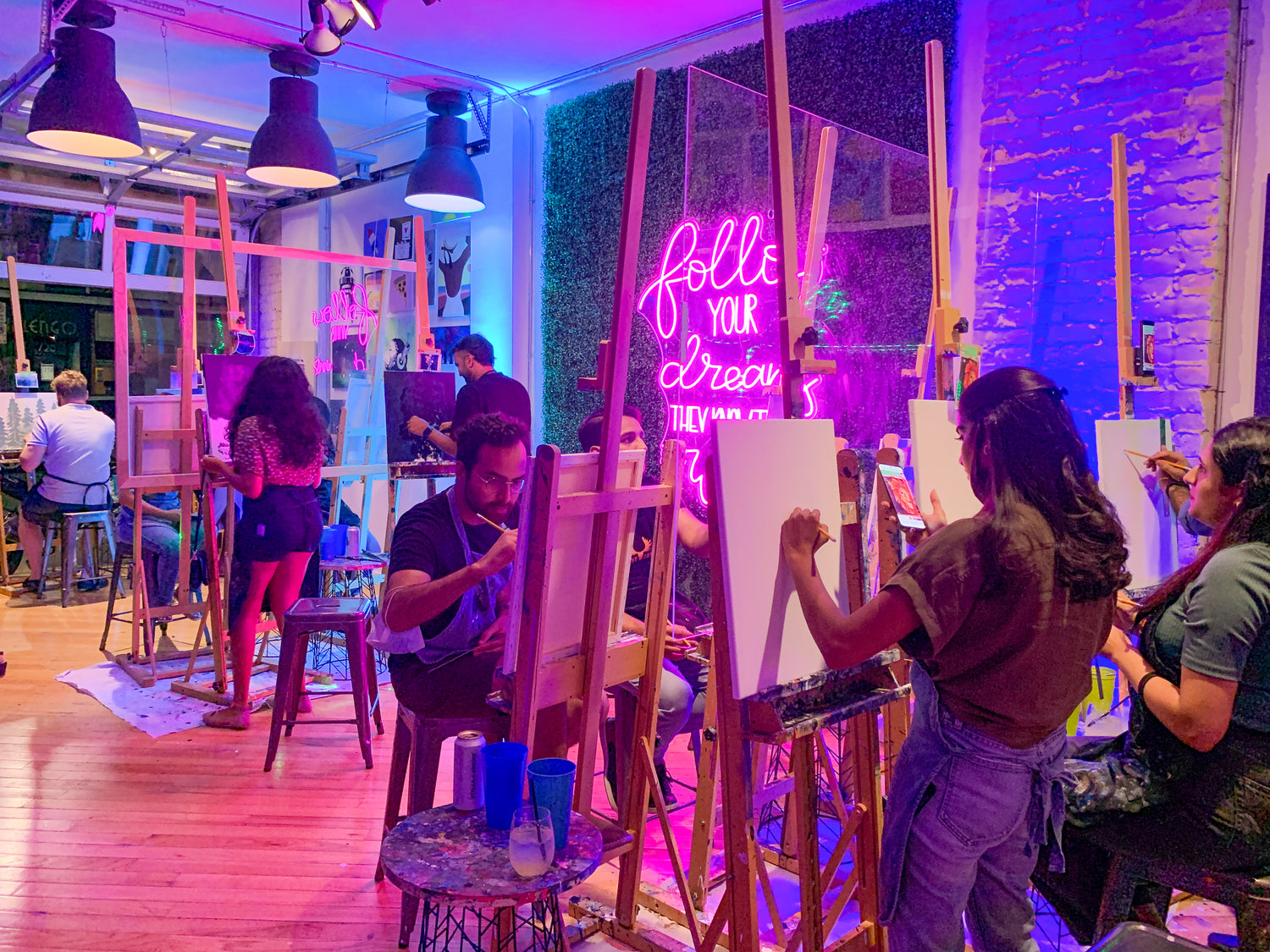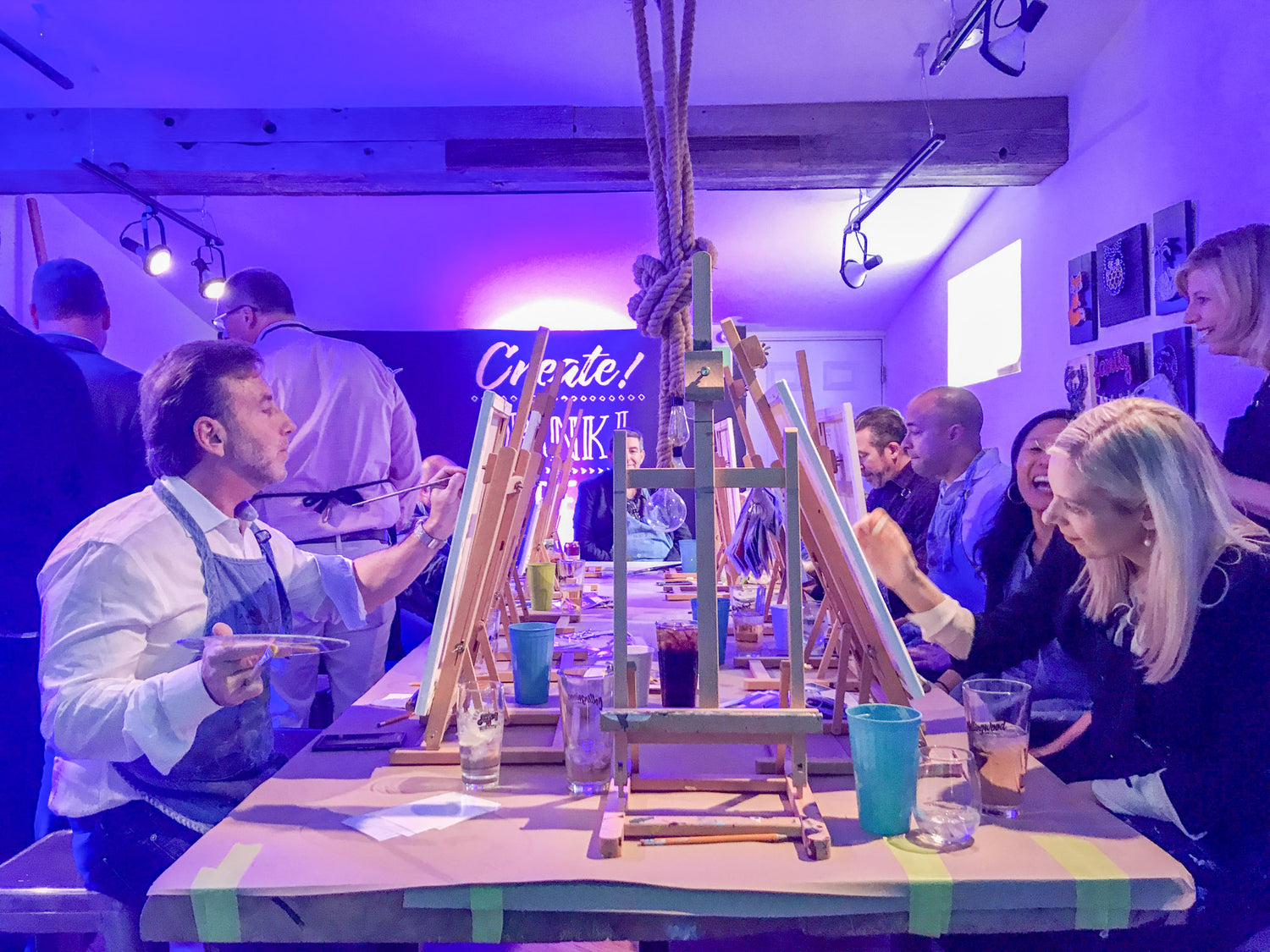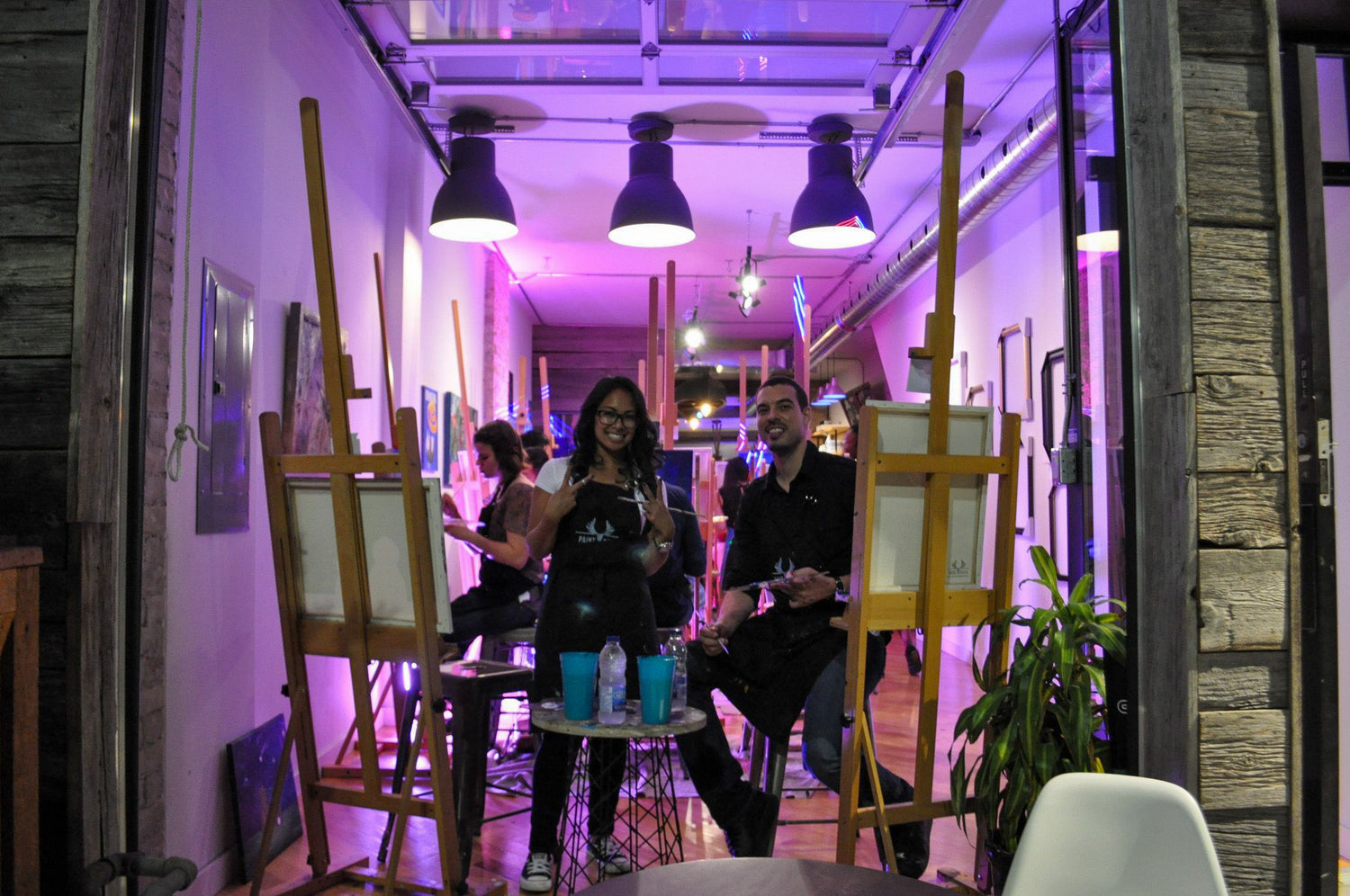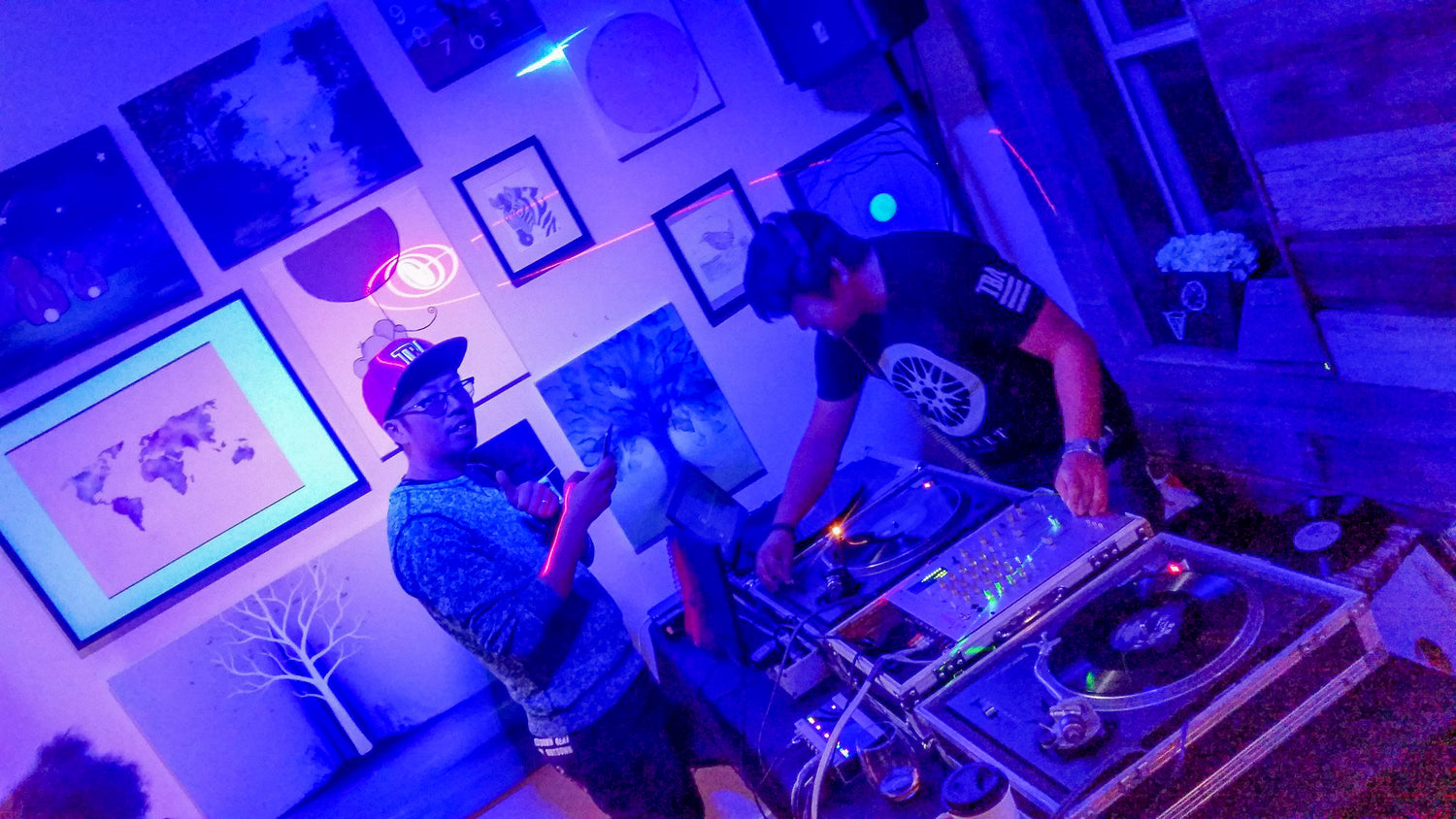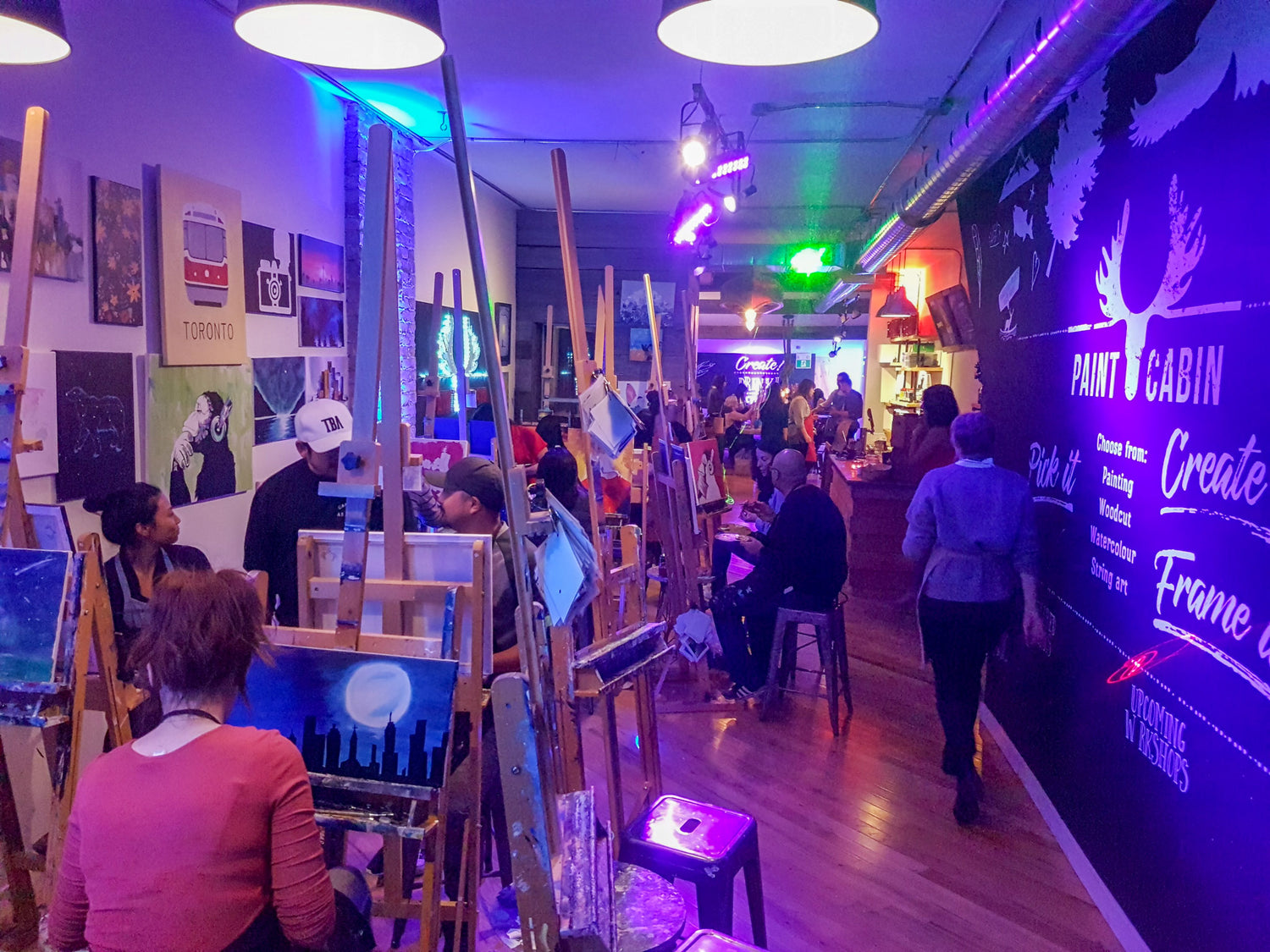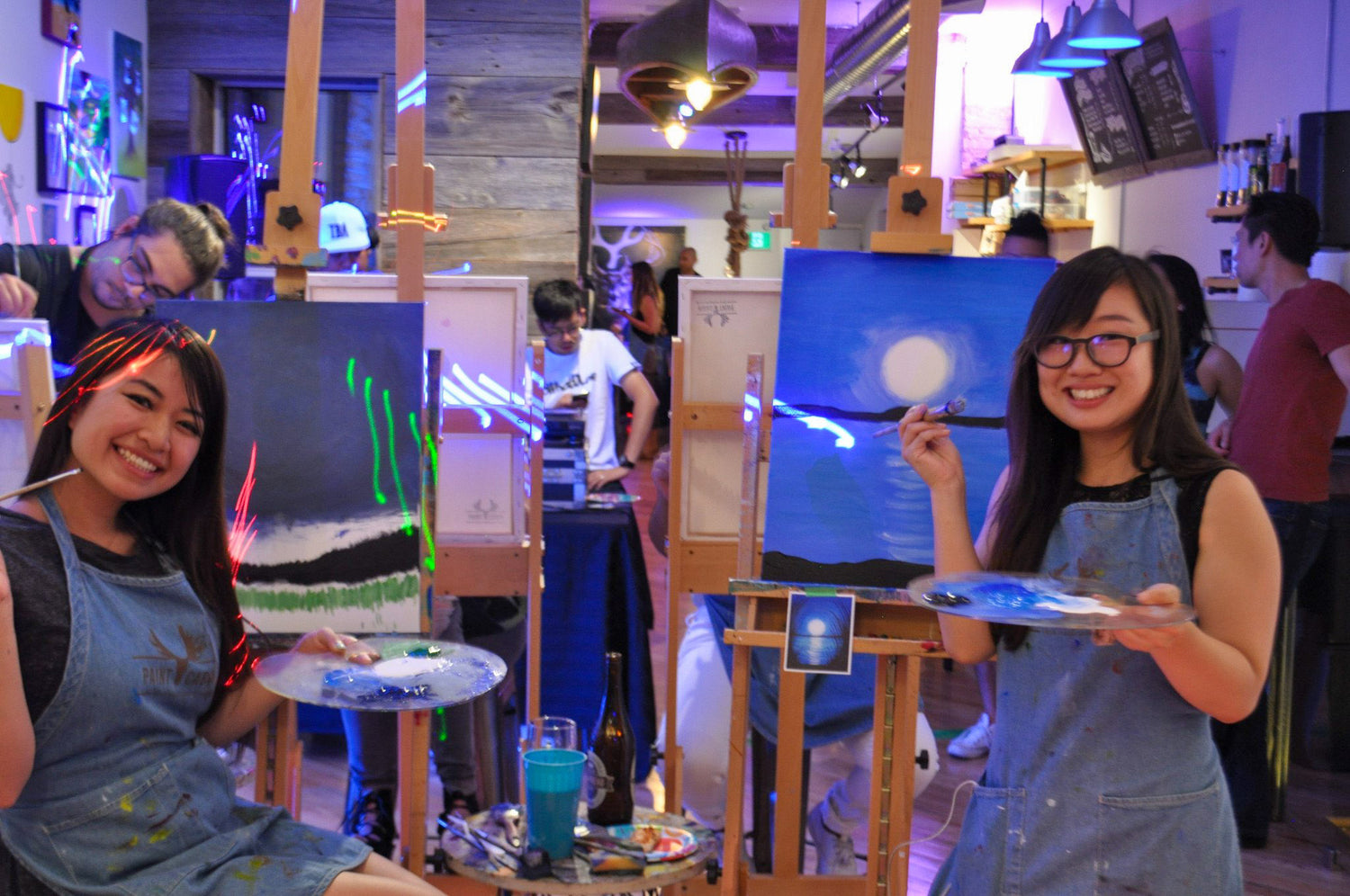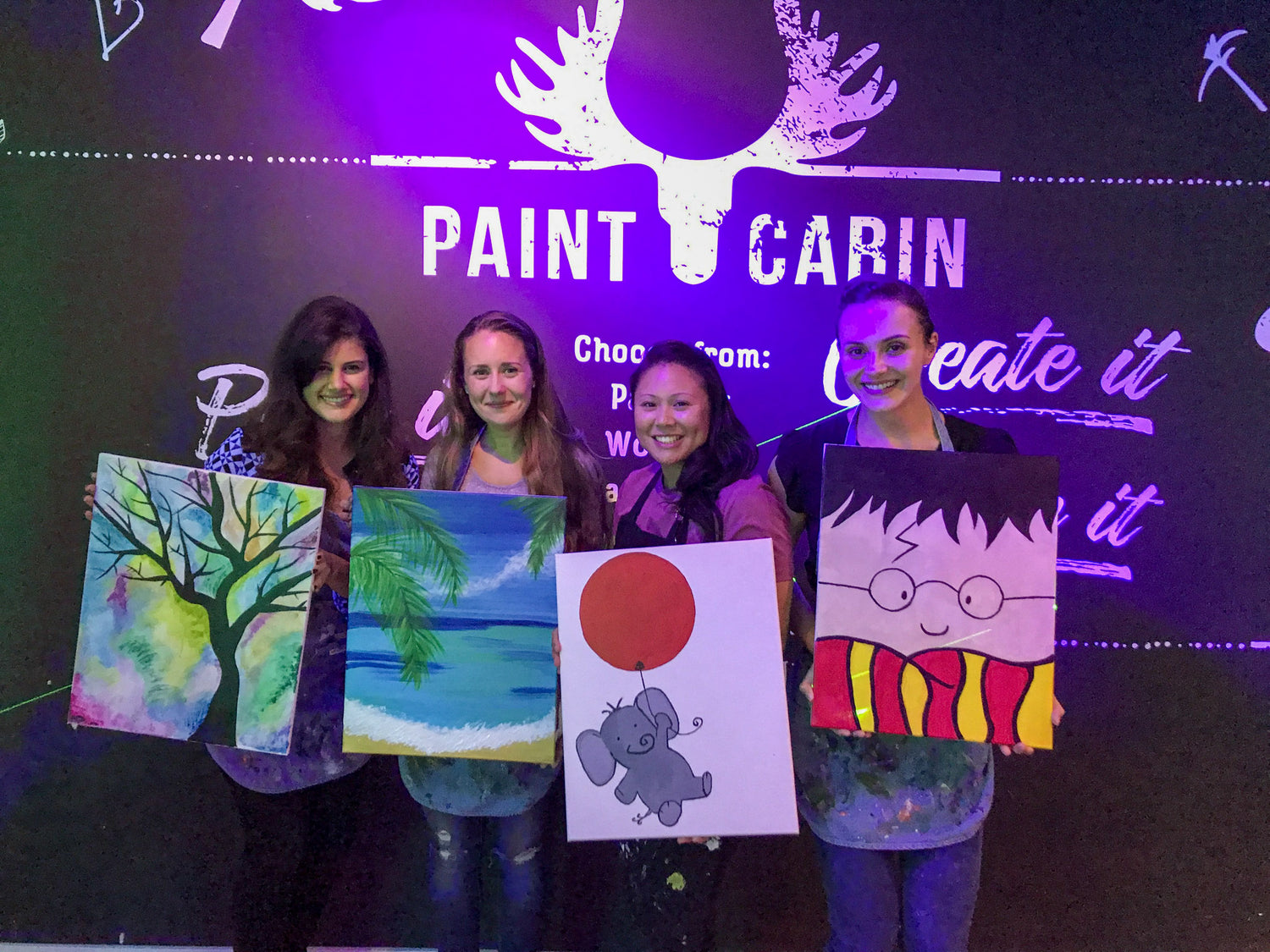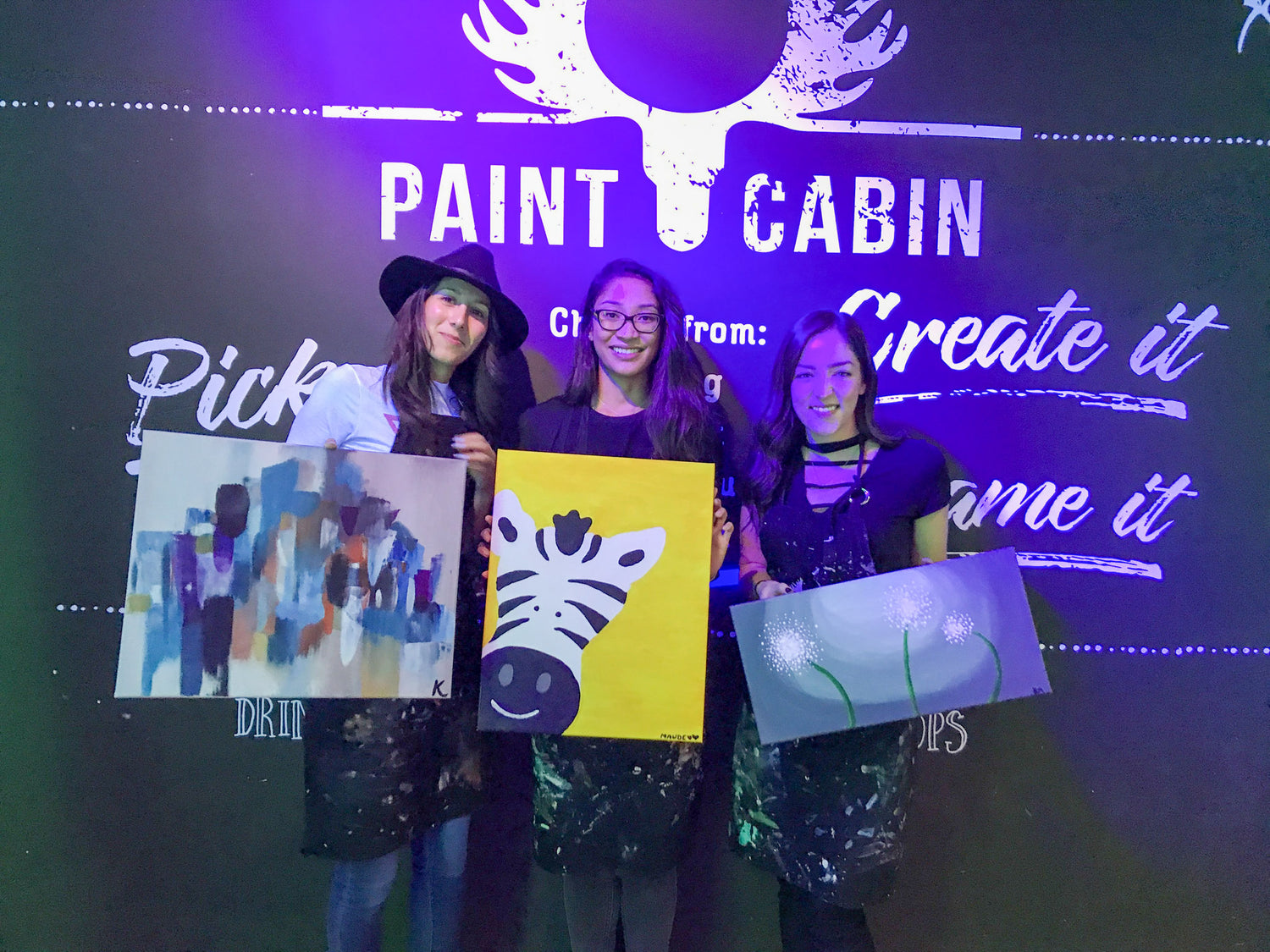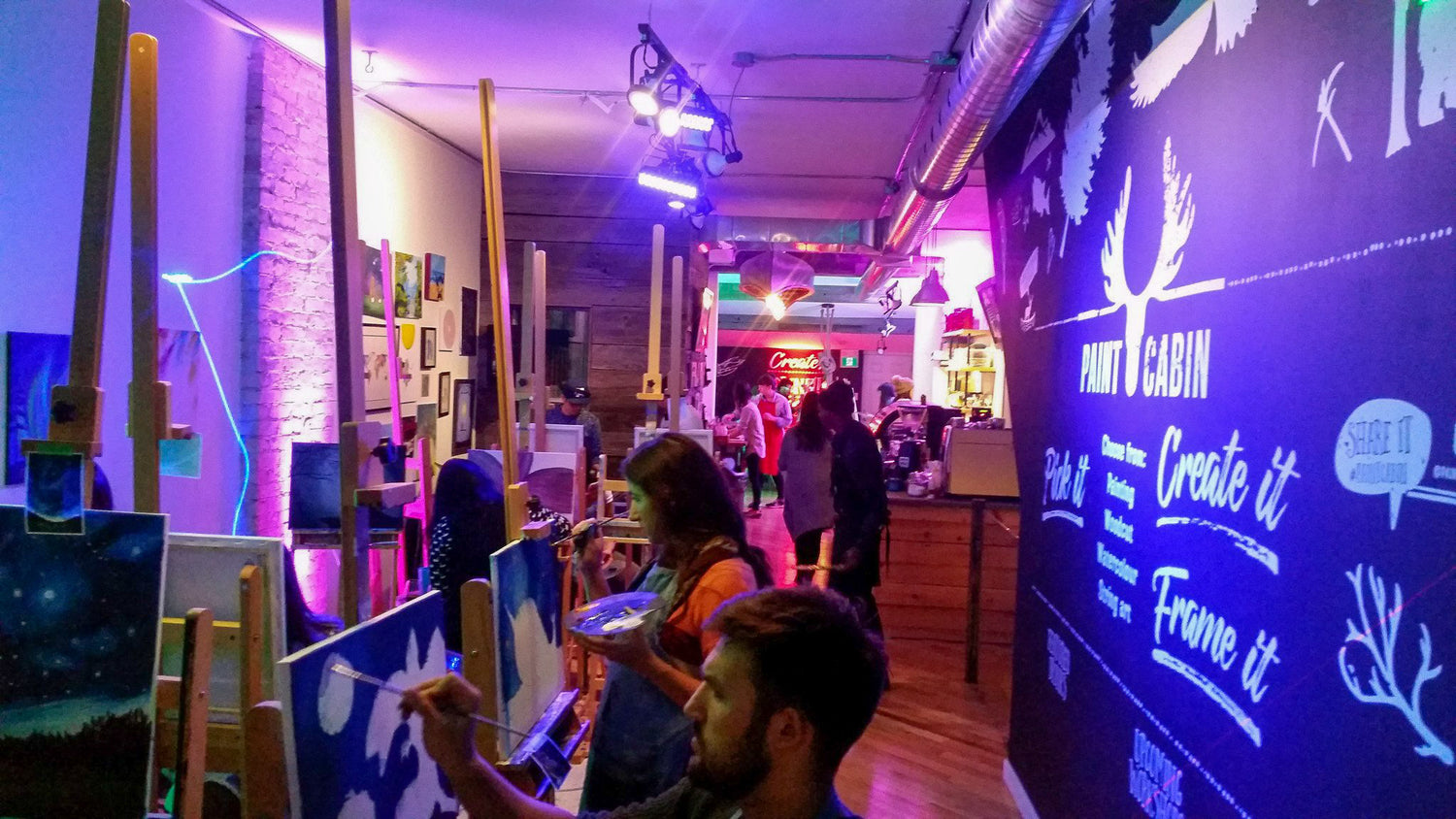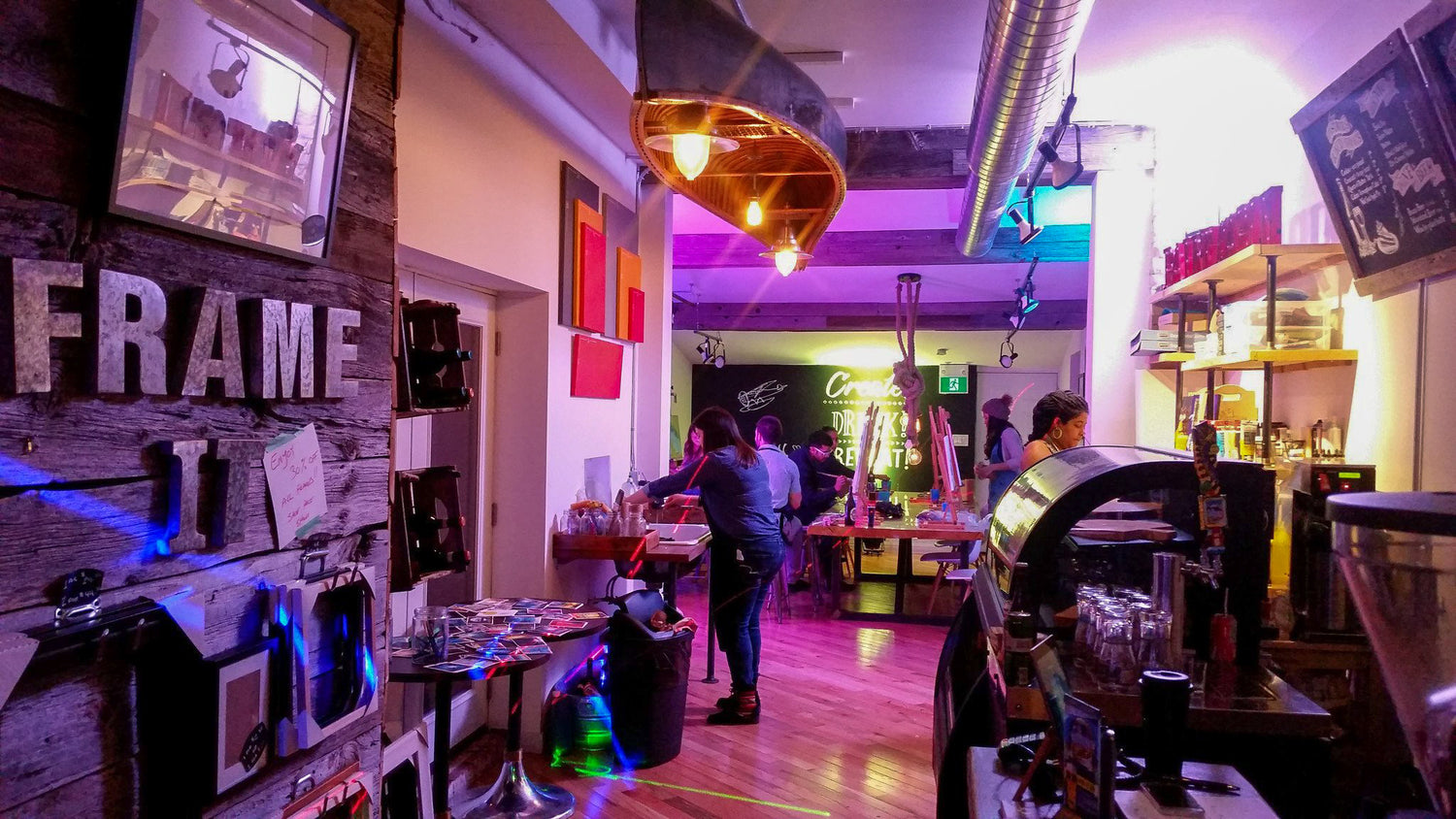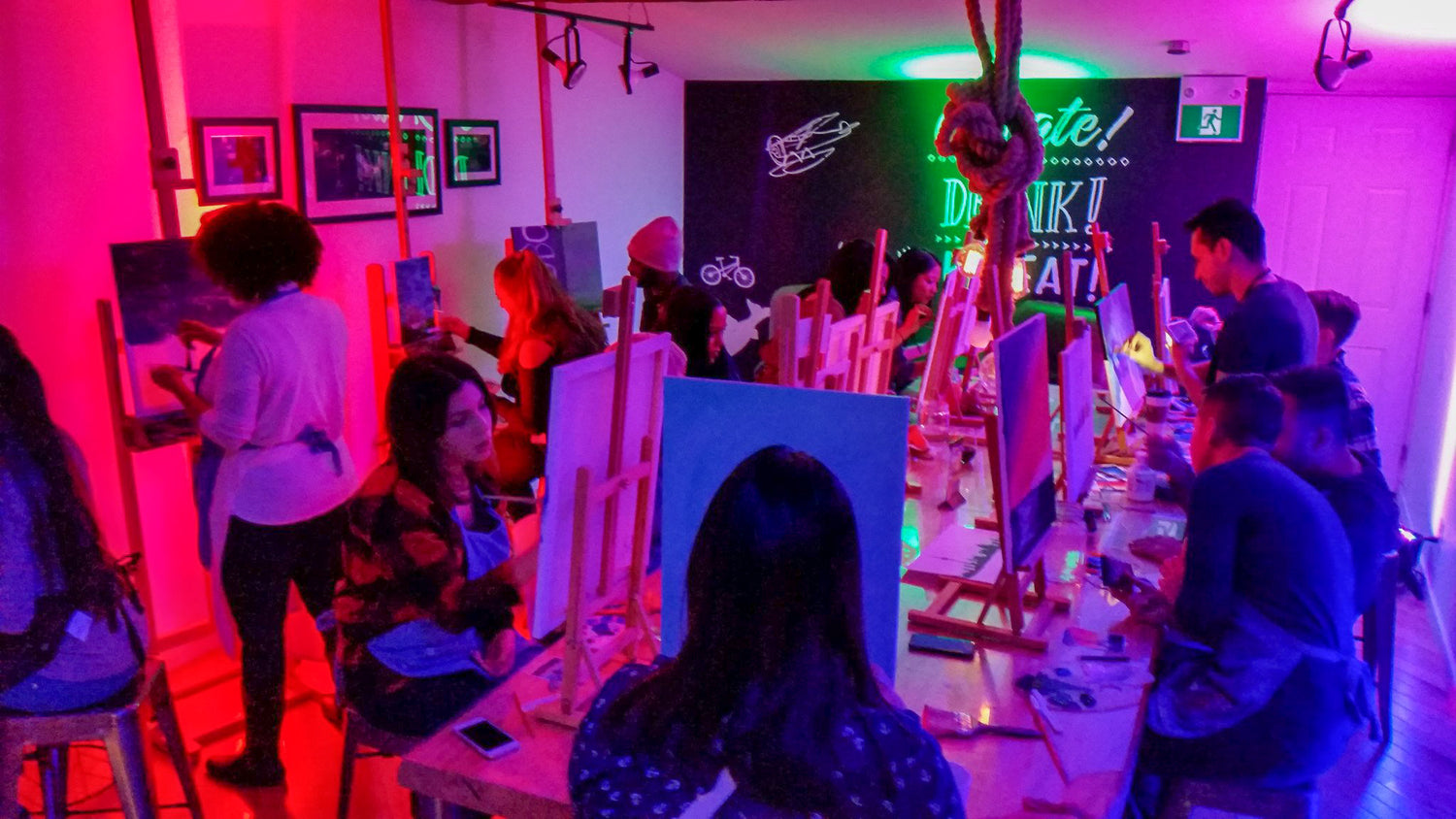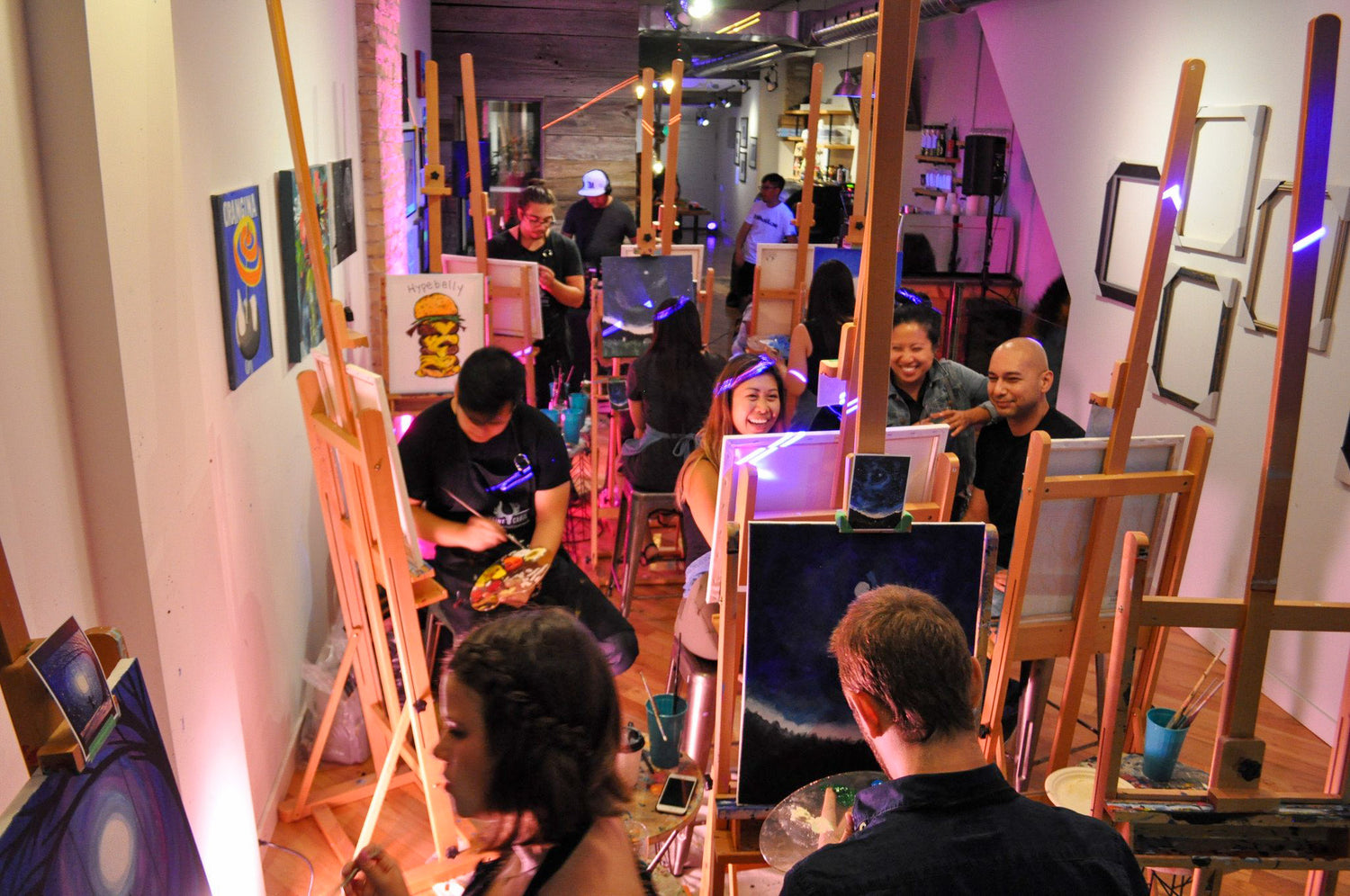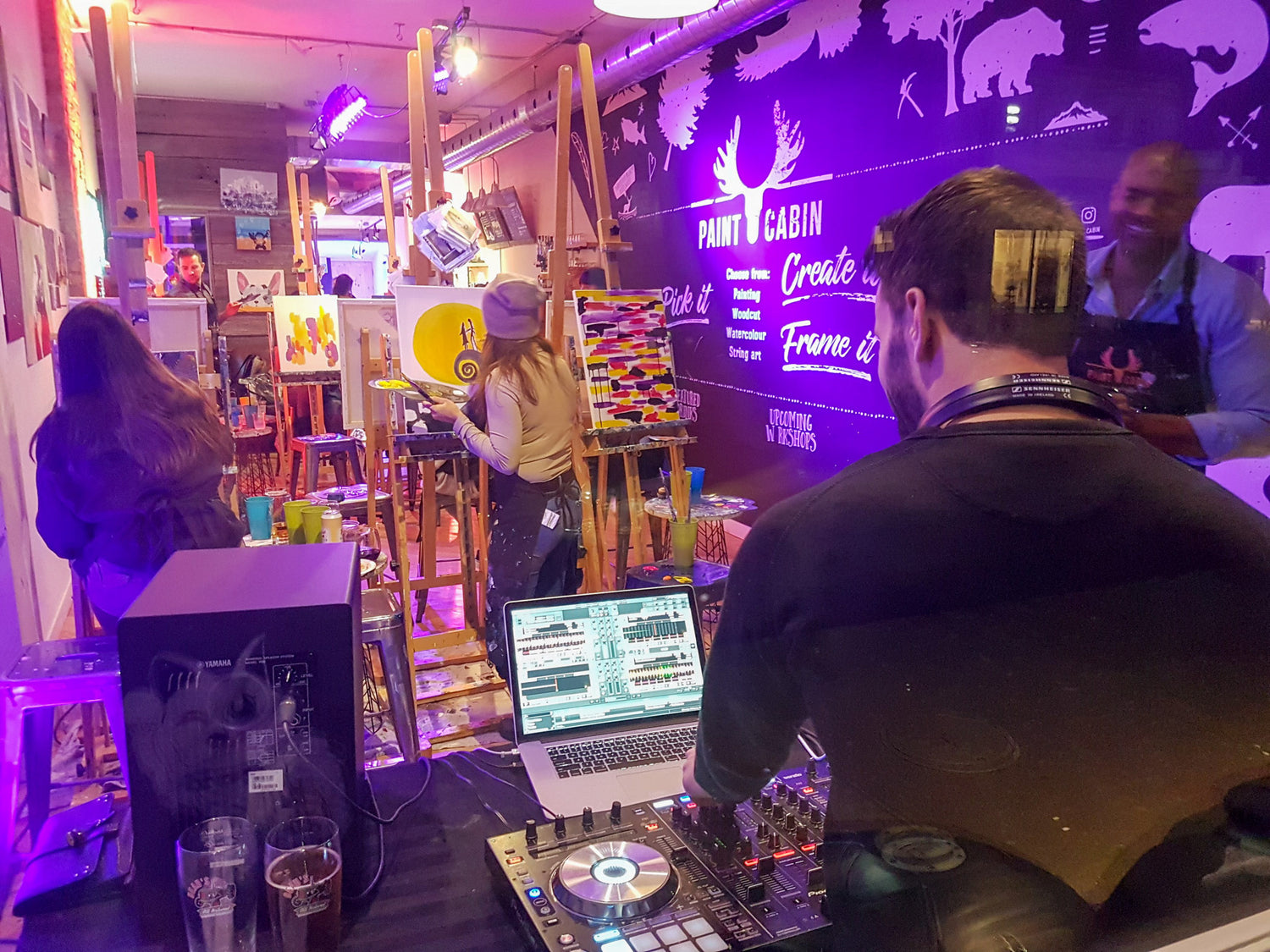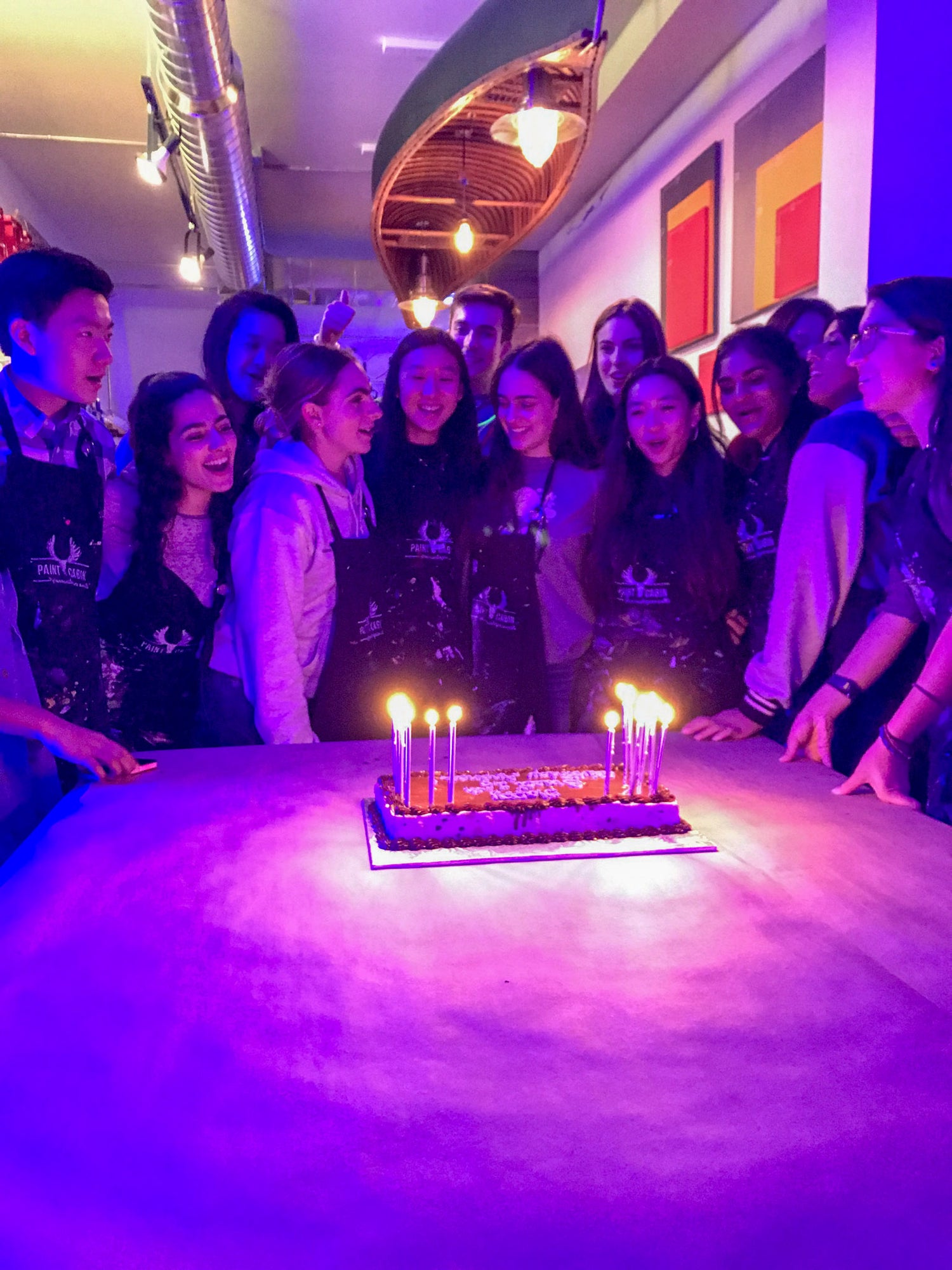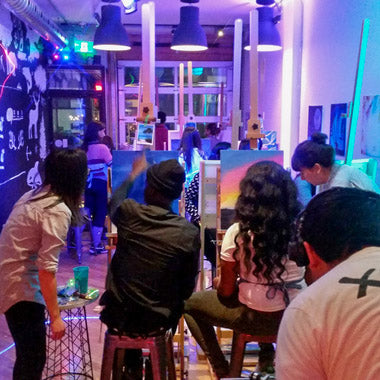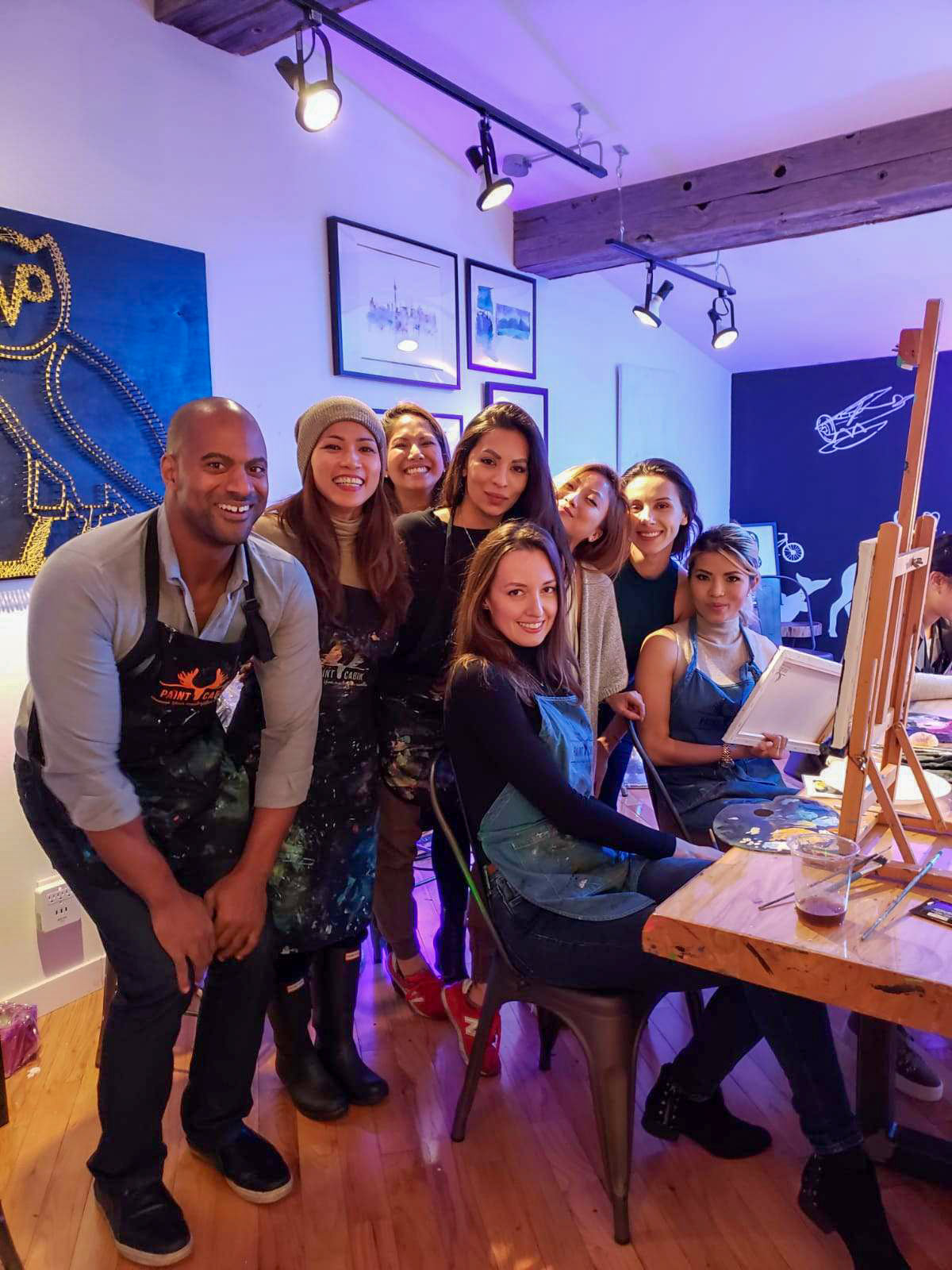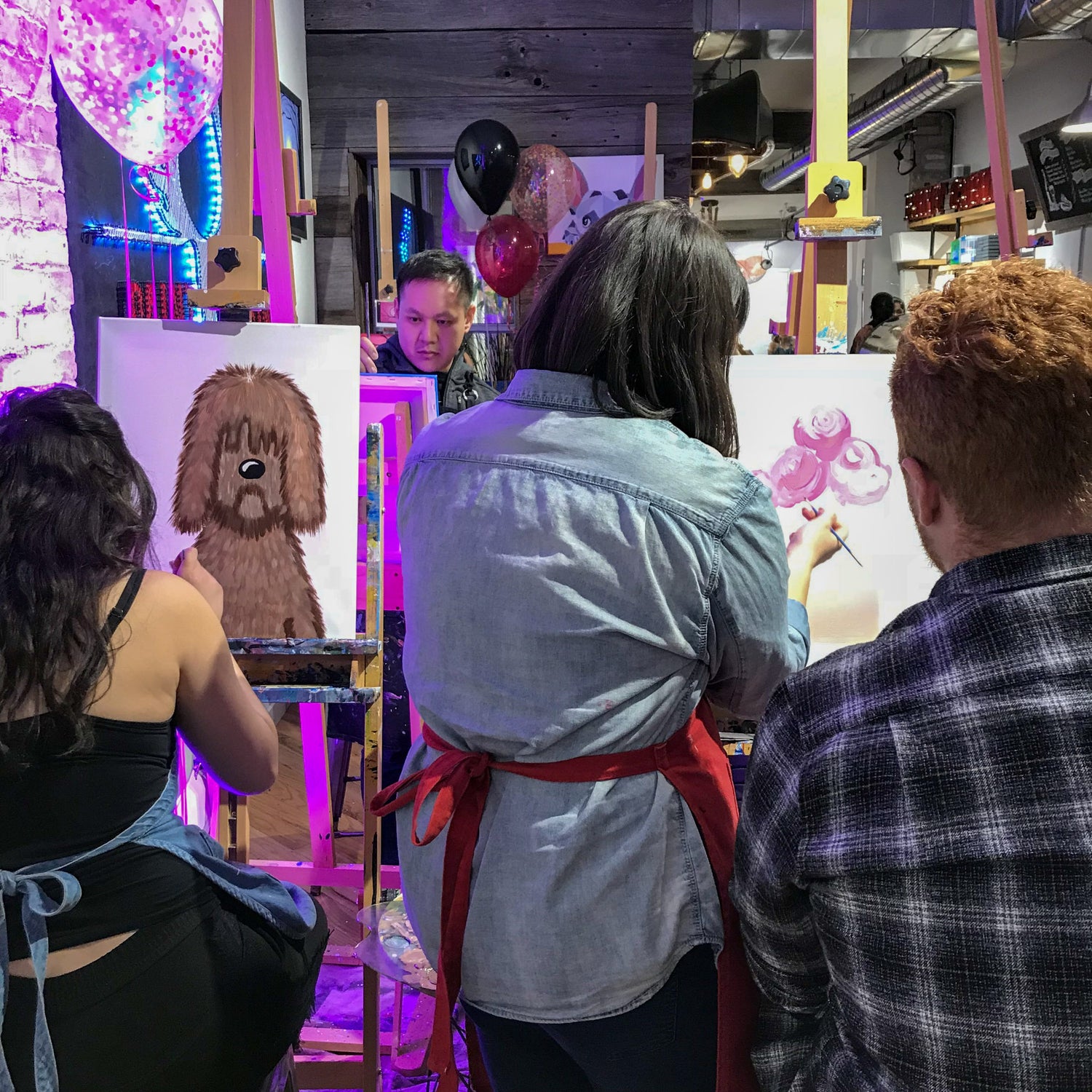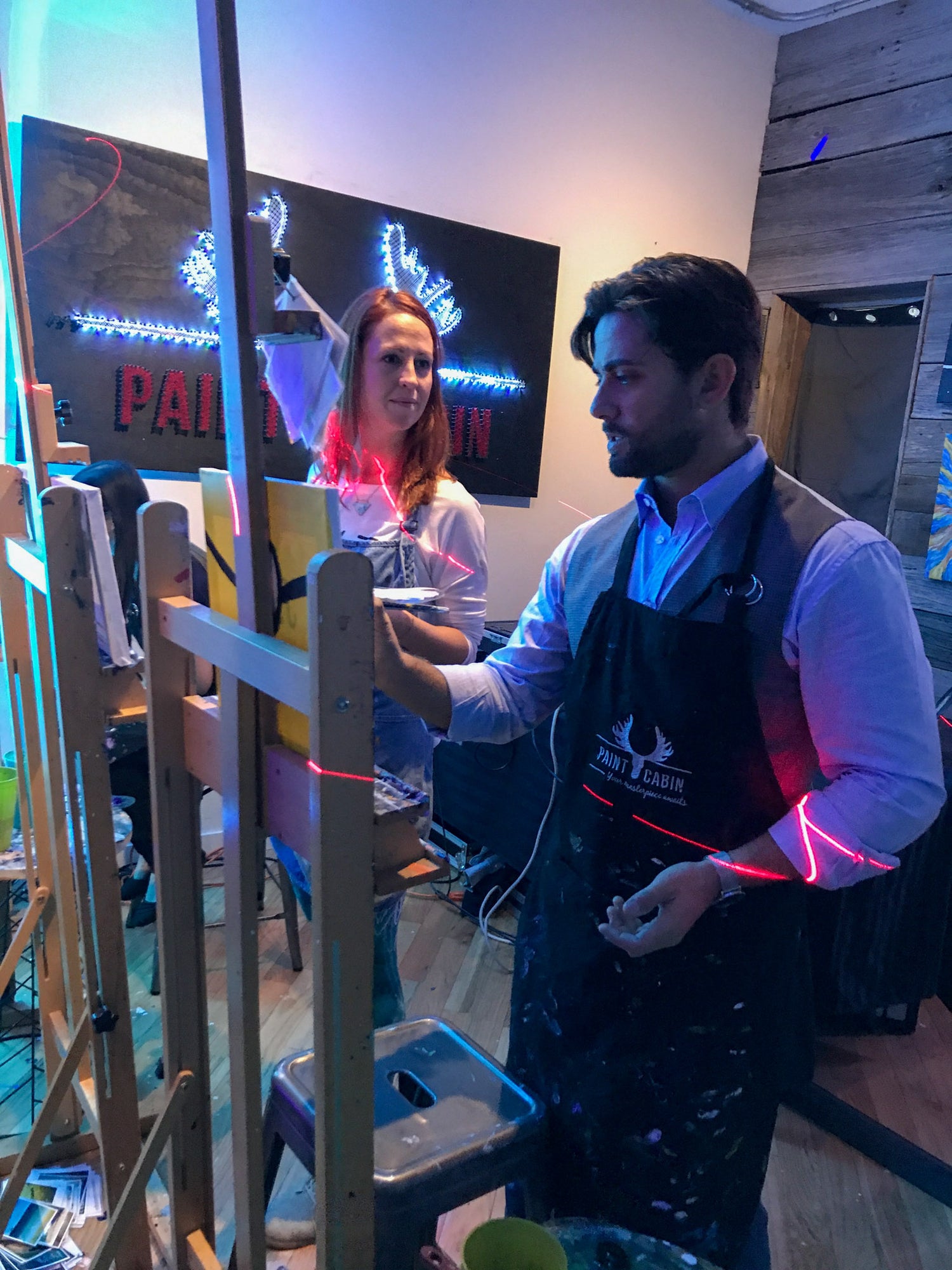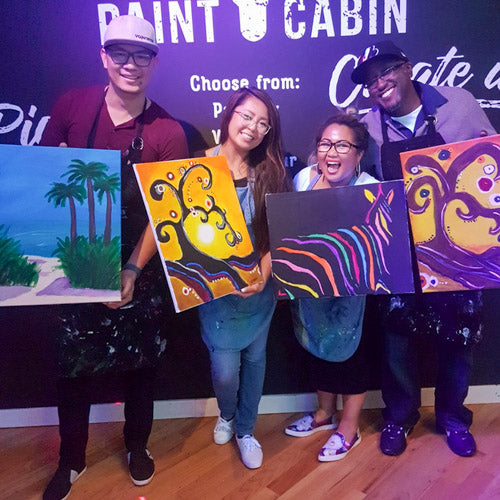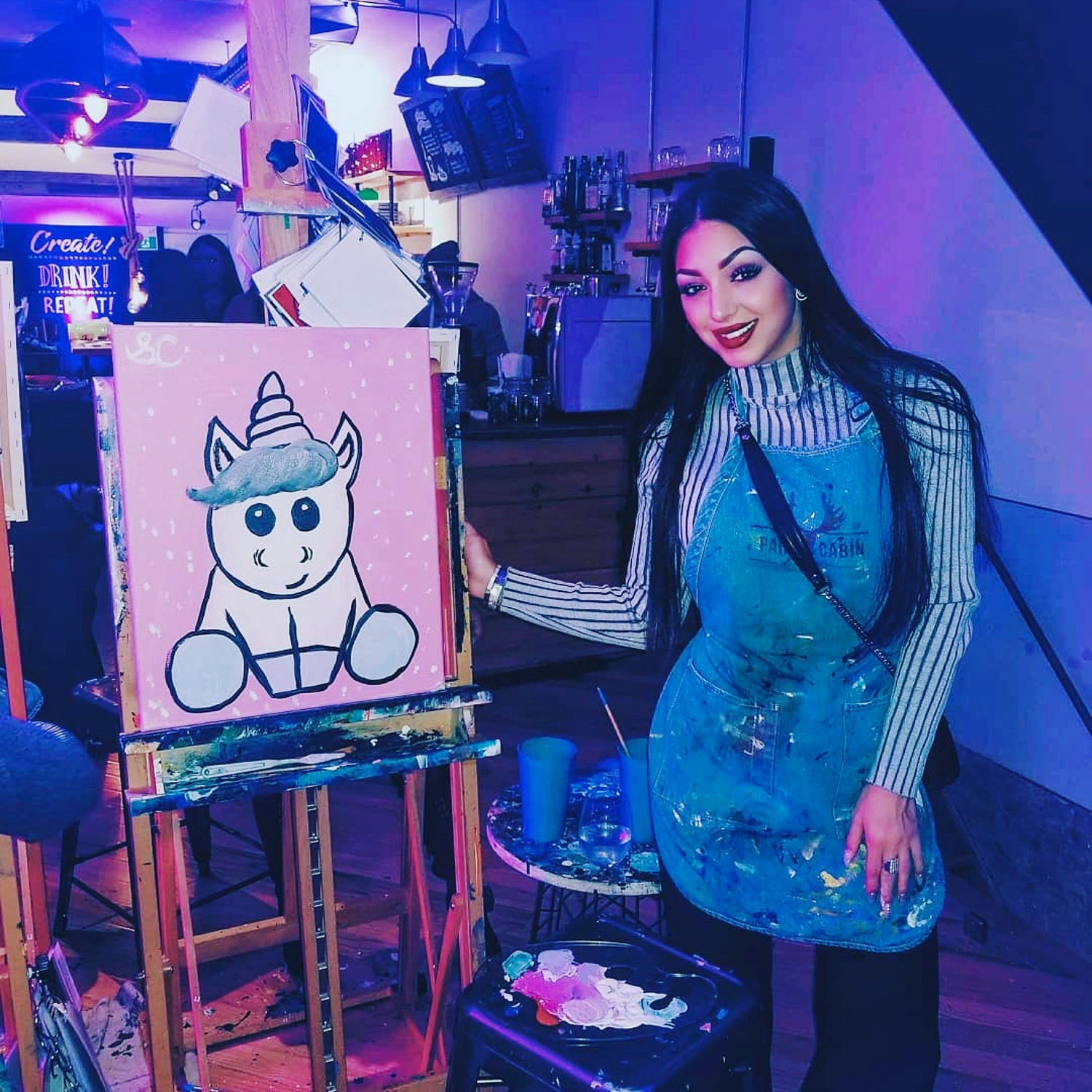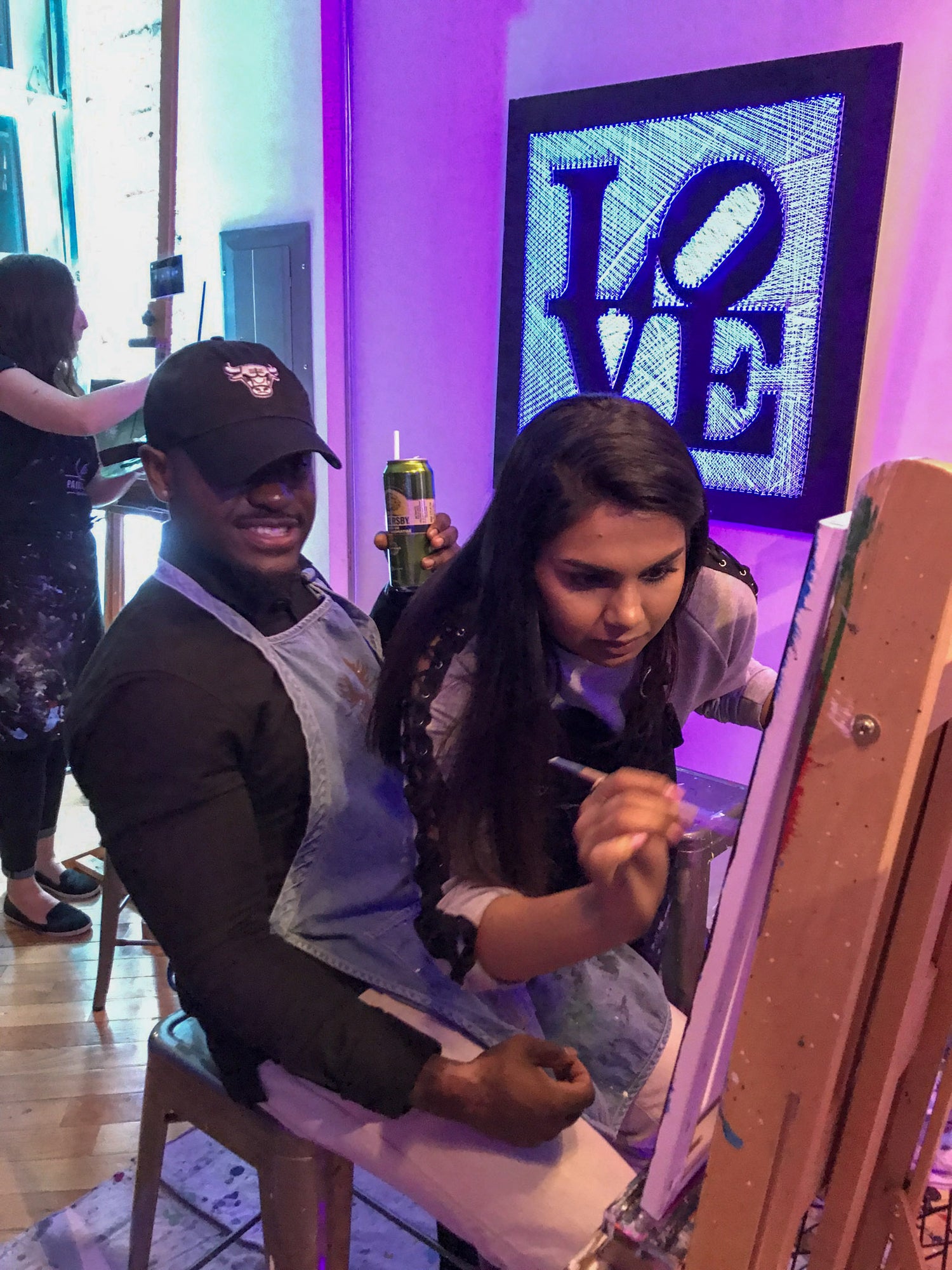 Glow in the Dark DJ Paint Party : The Ultimate Kind of Paint Night
Regular price

Sale price

$57.25
Share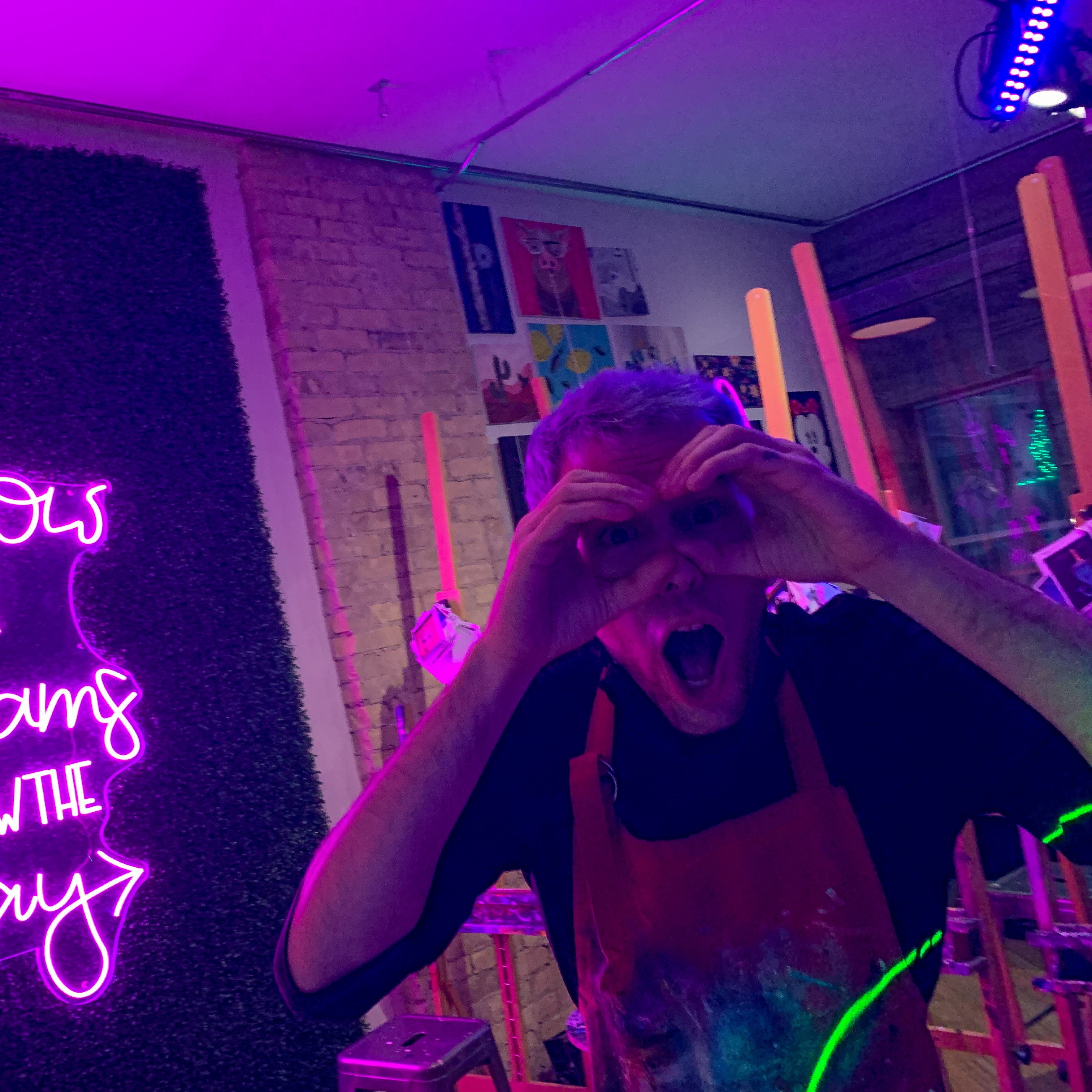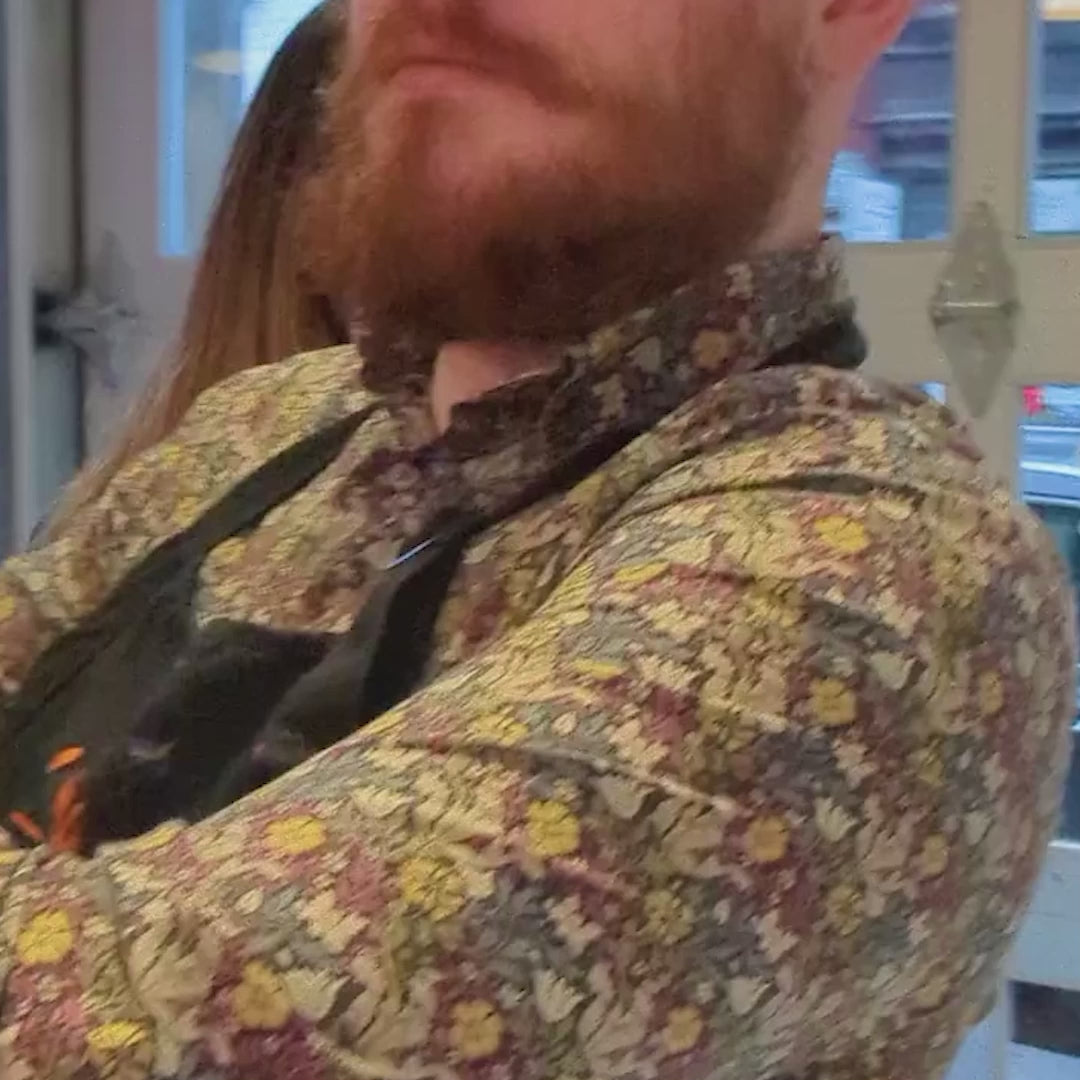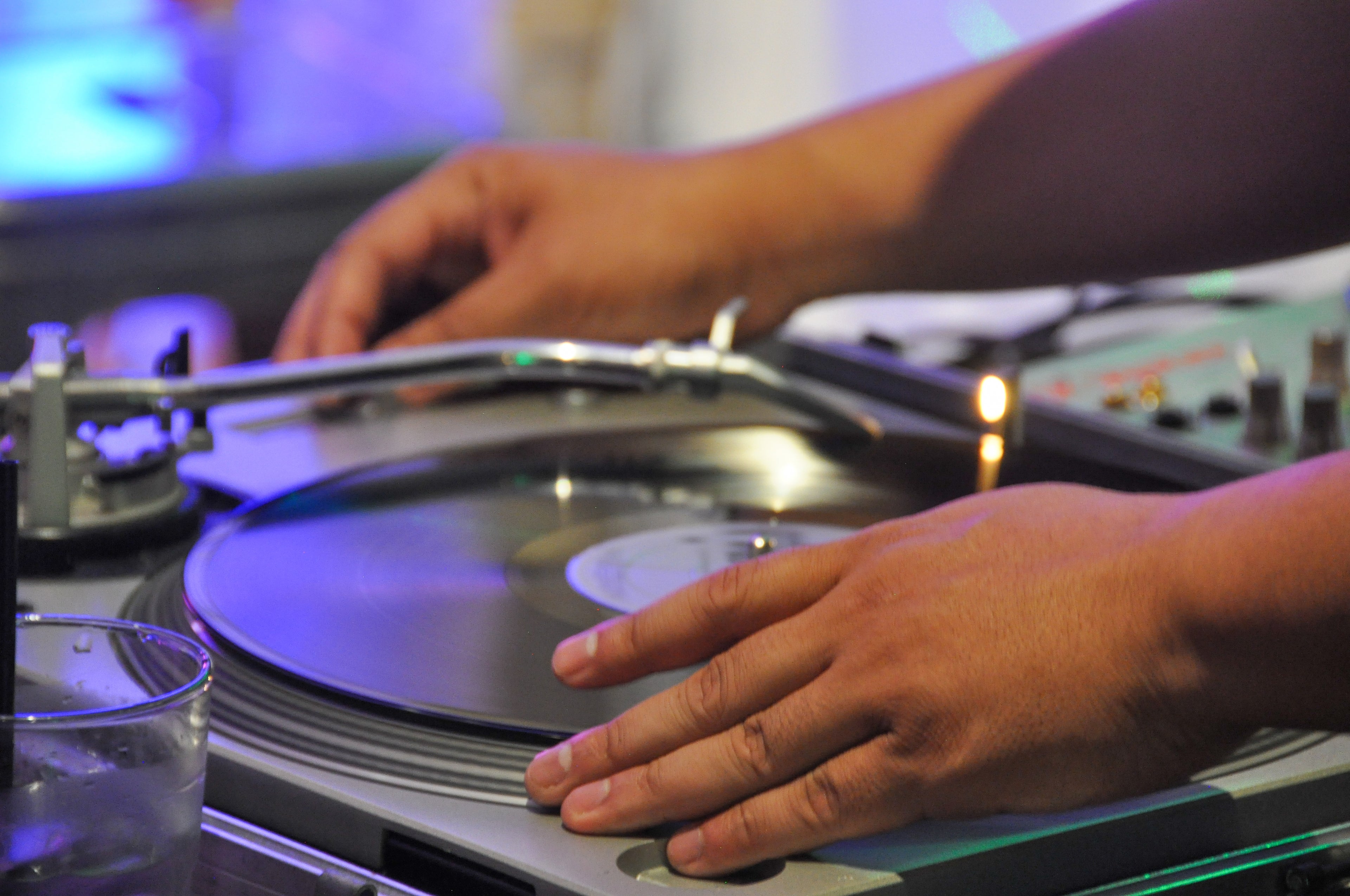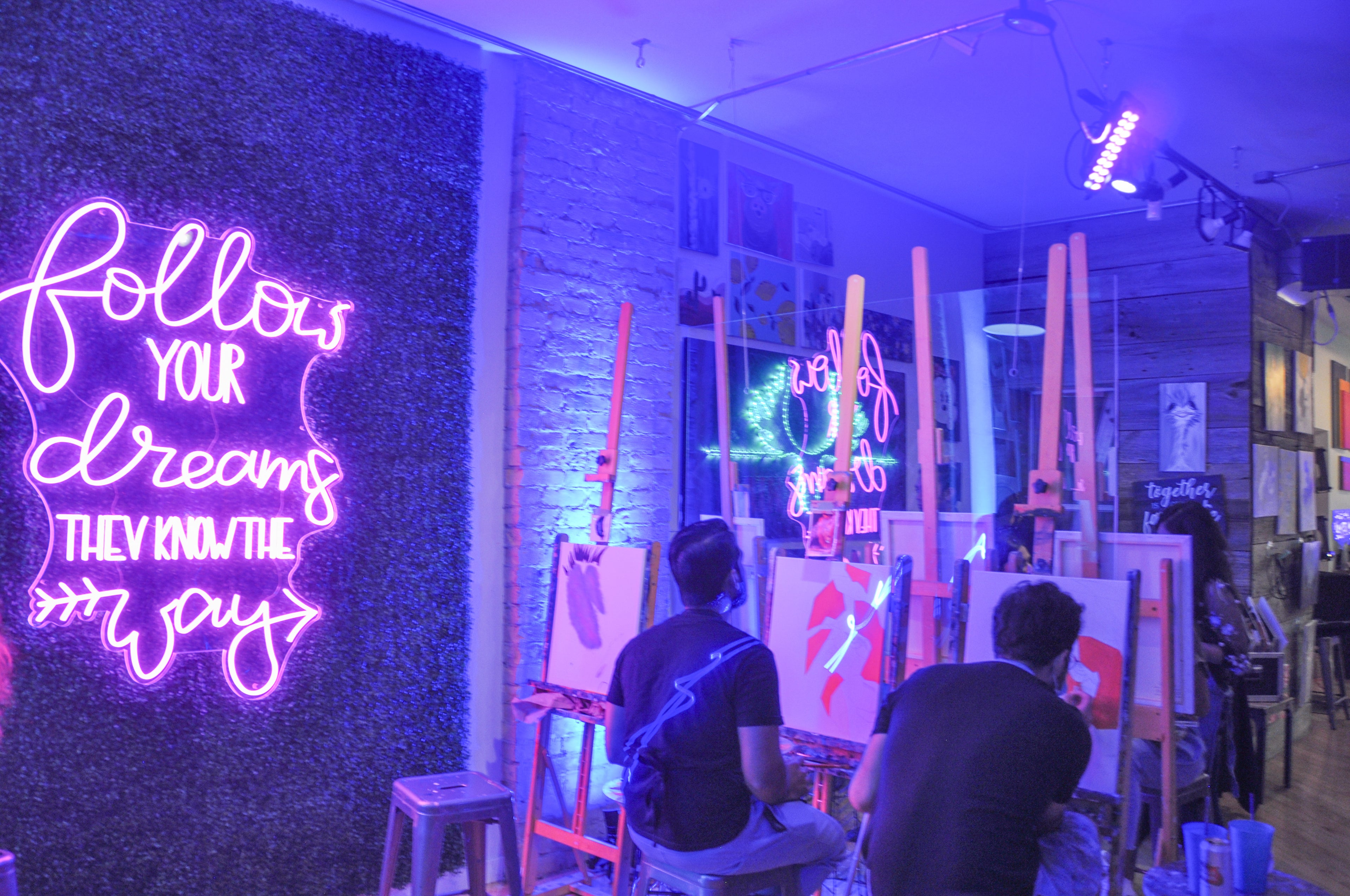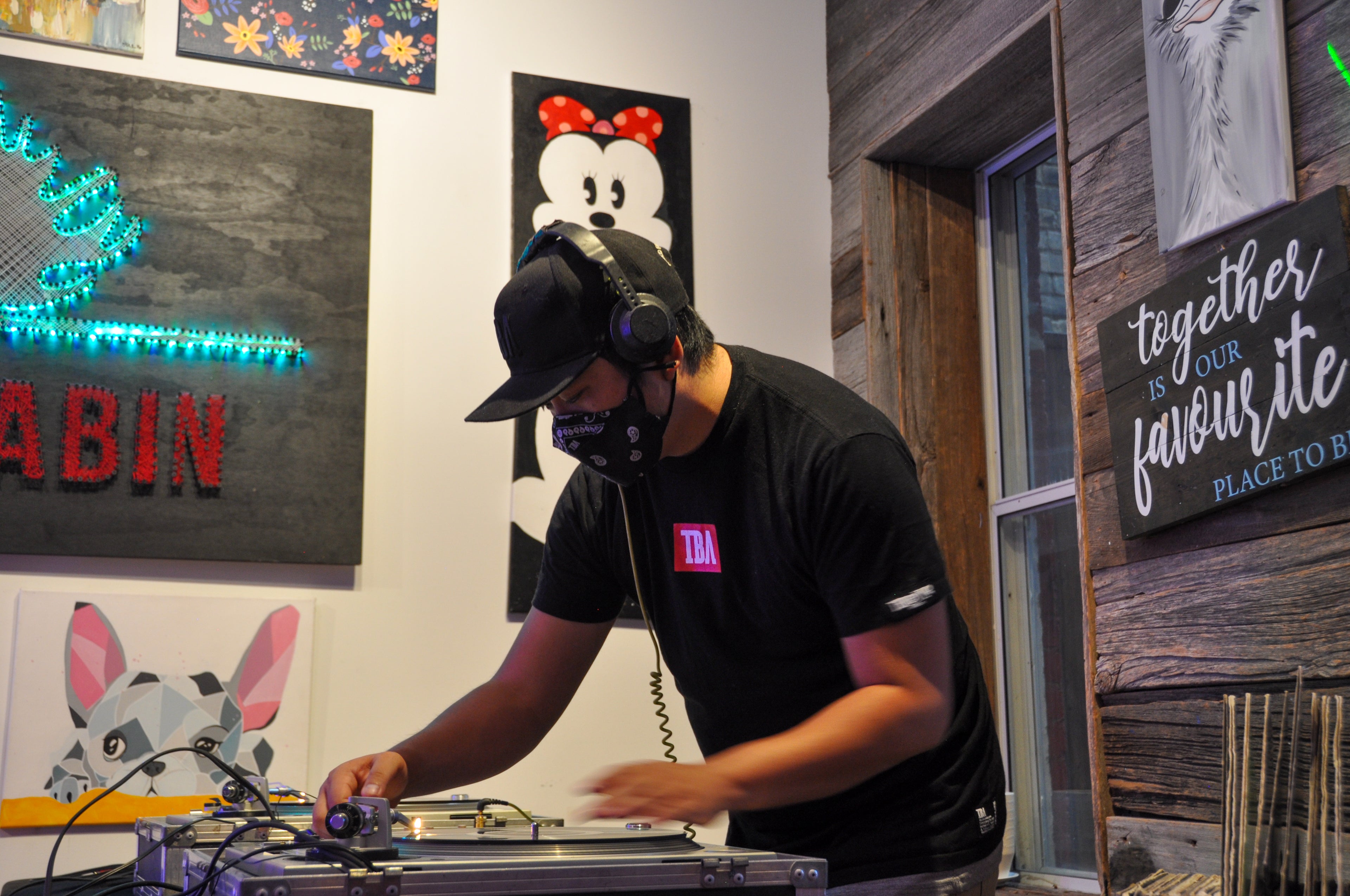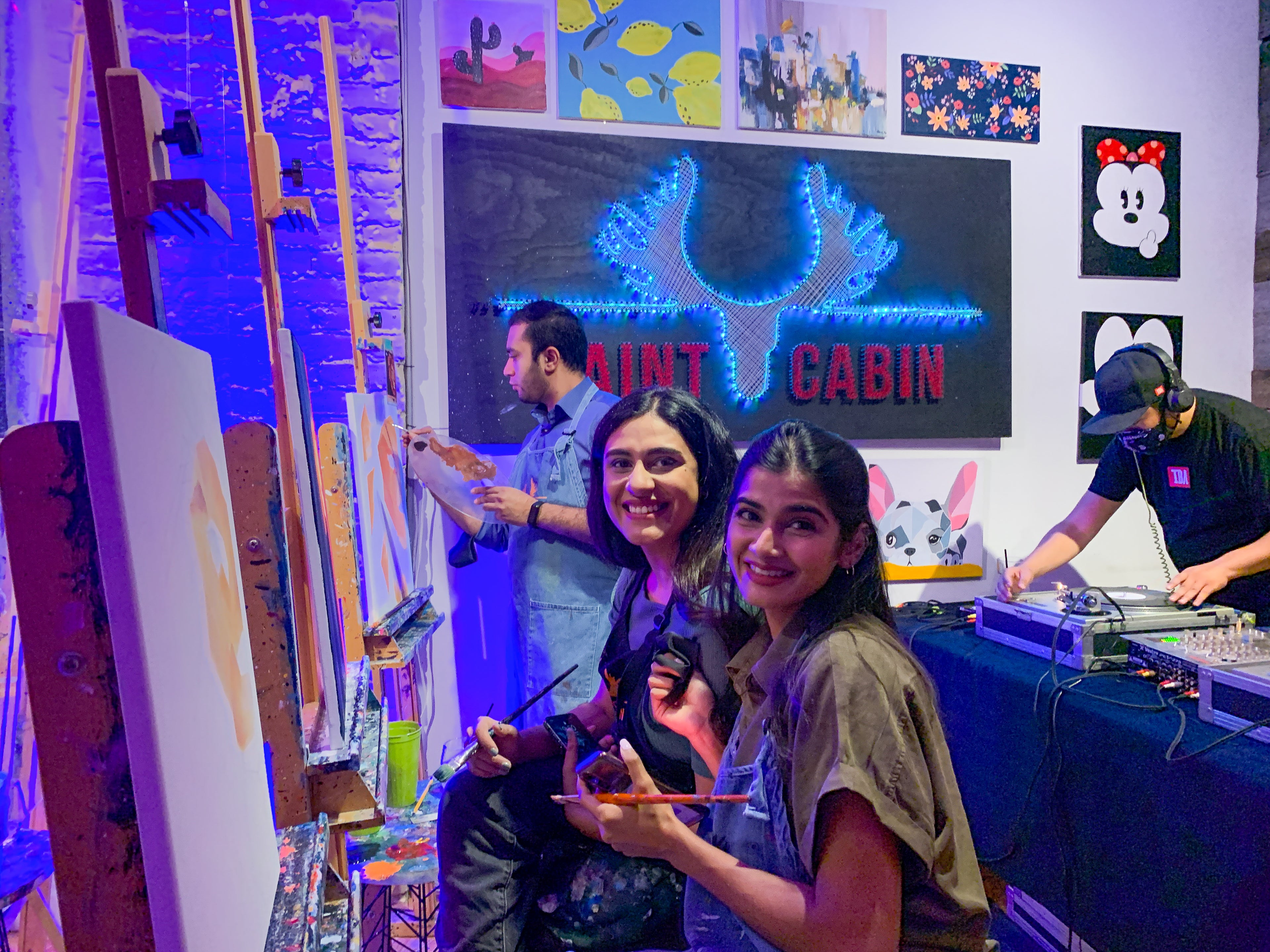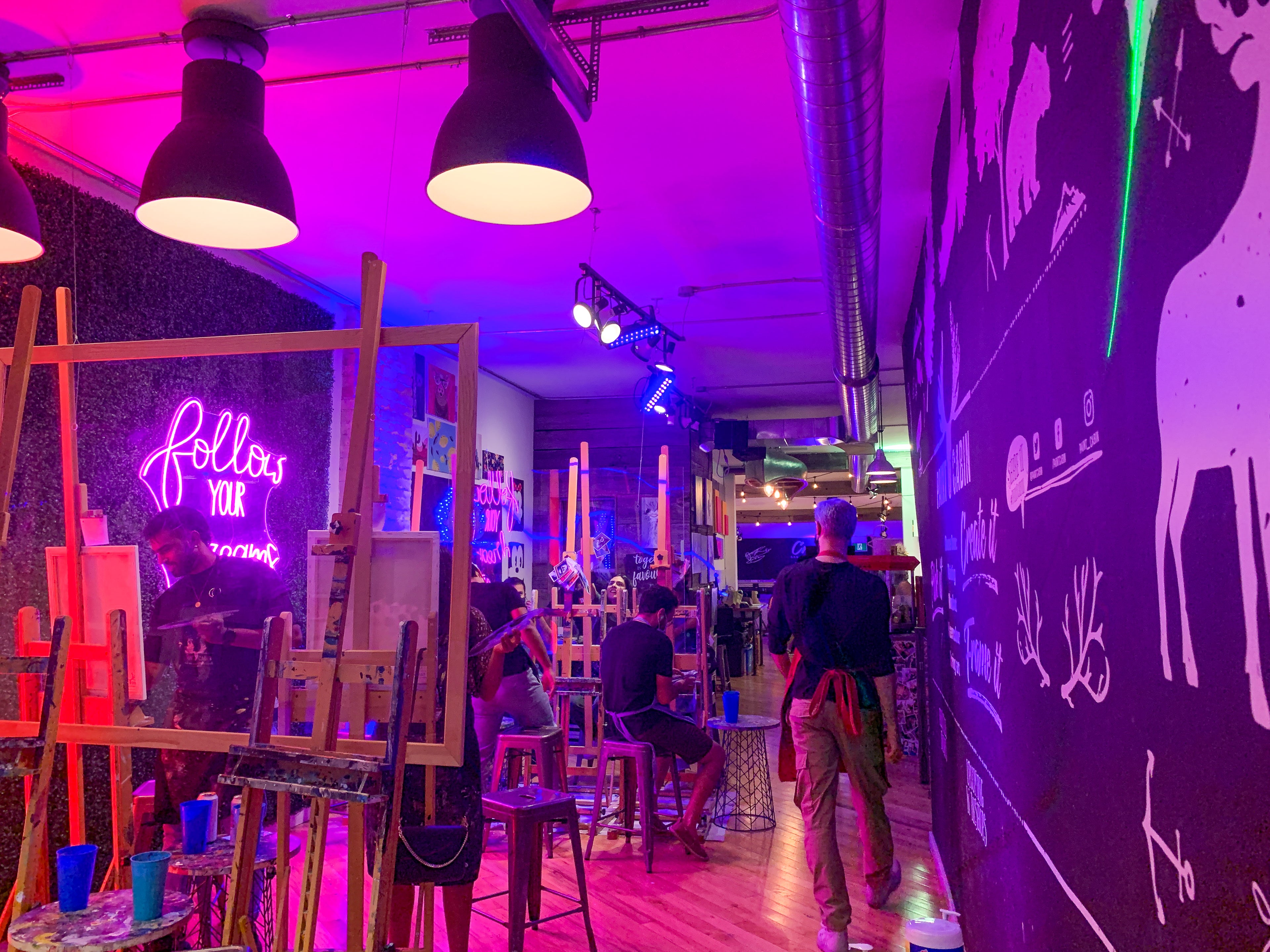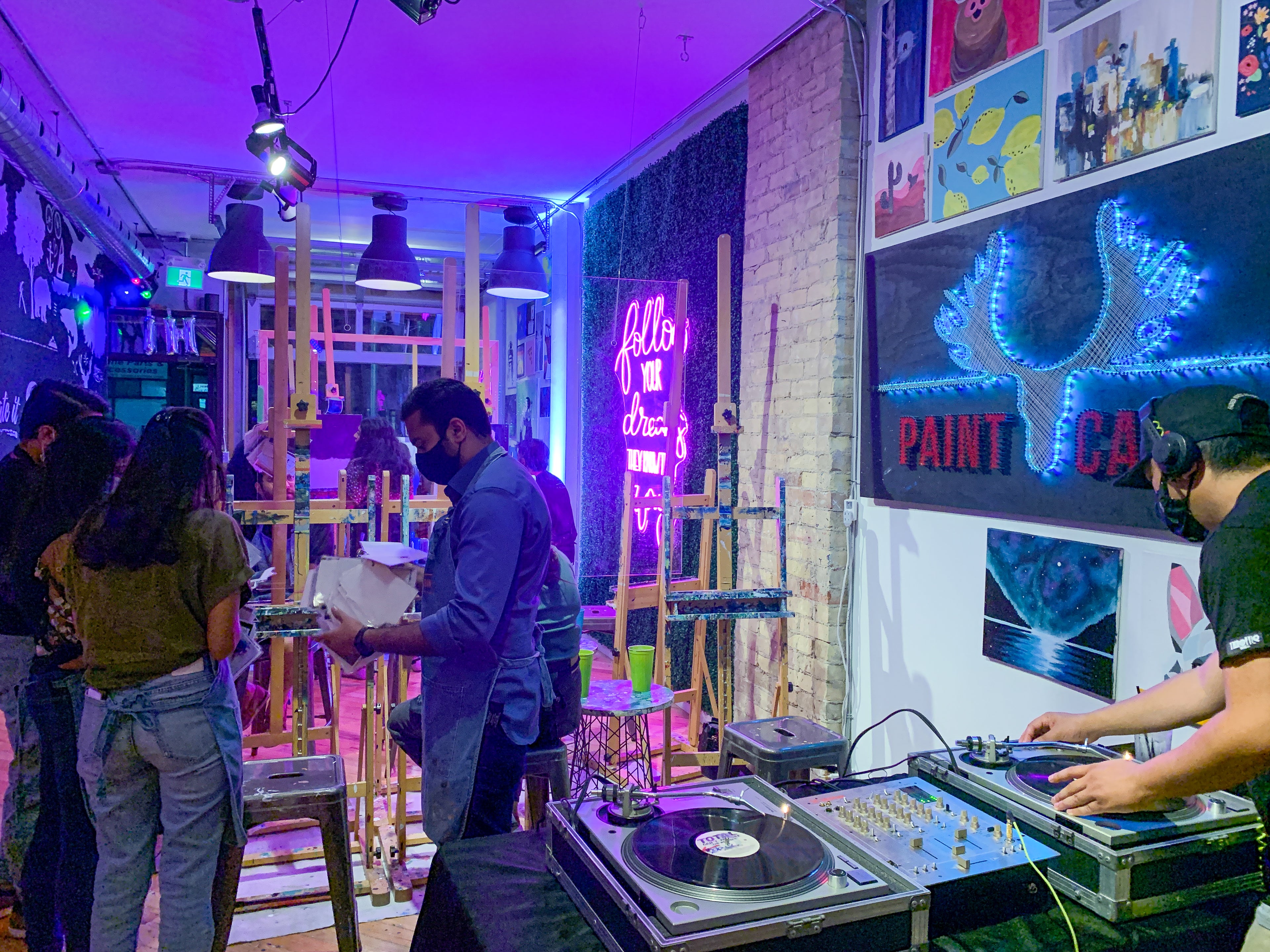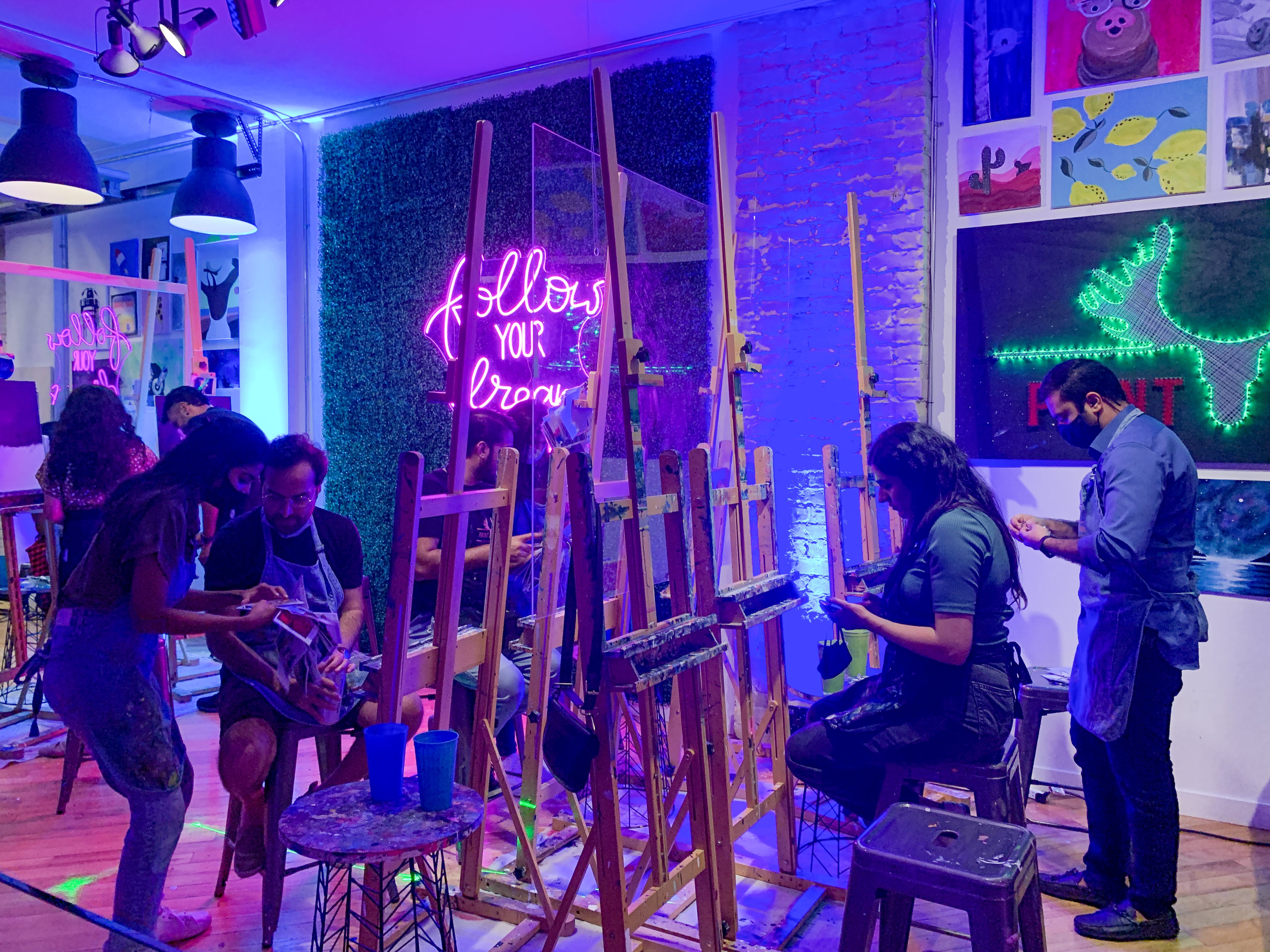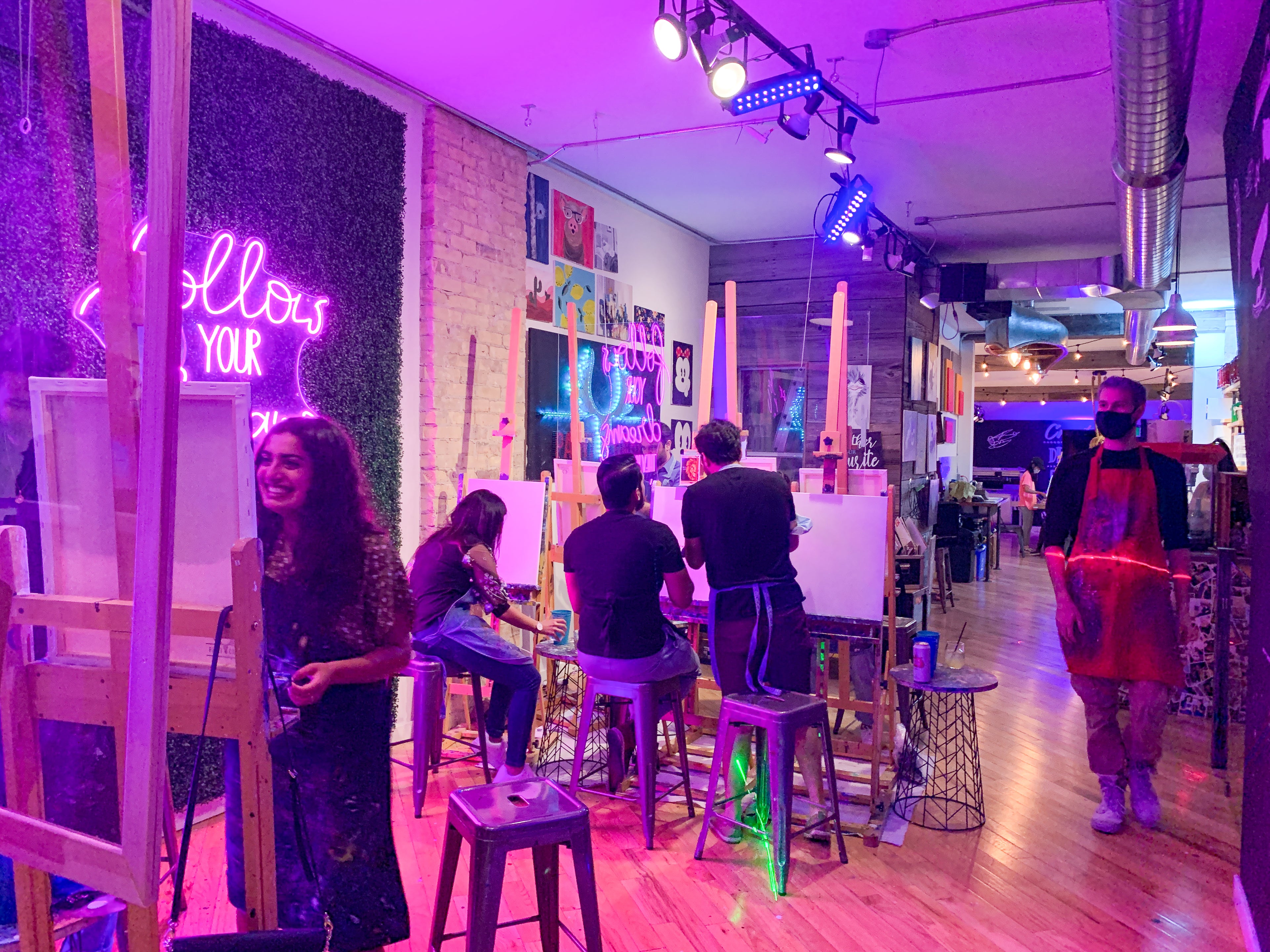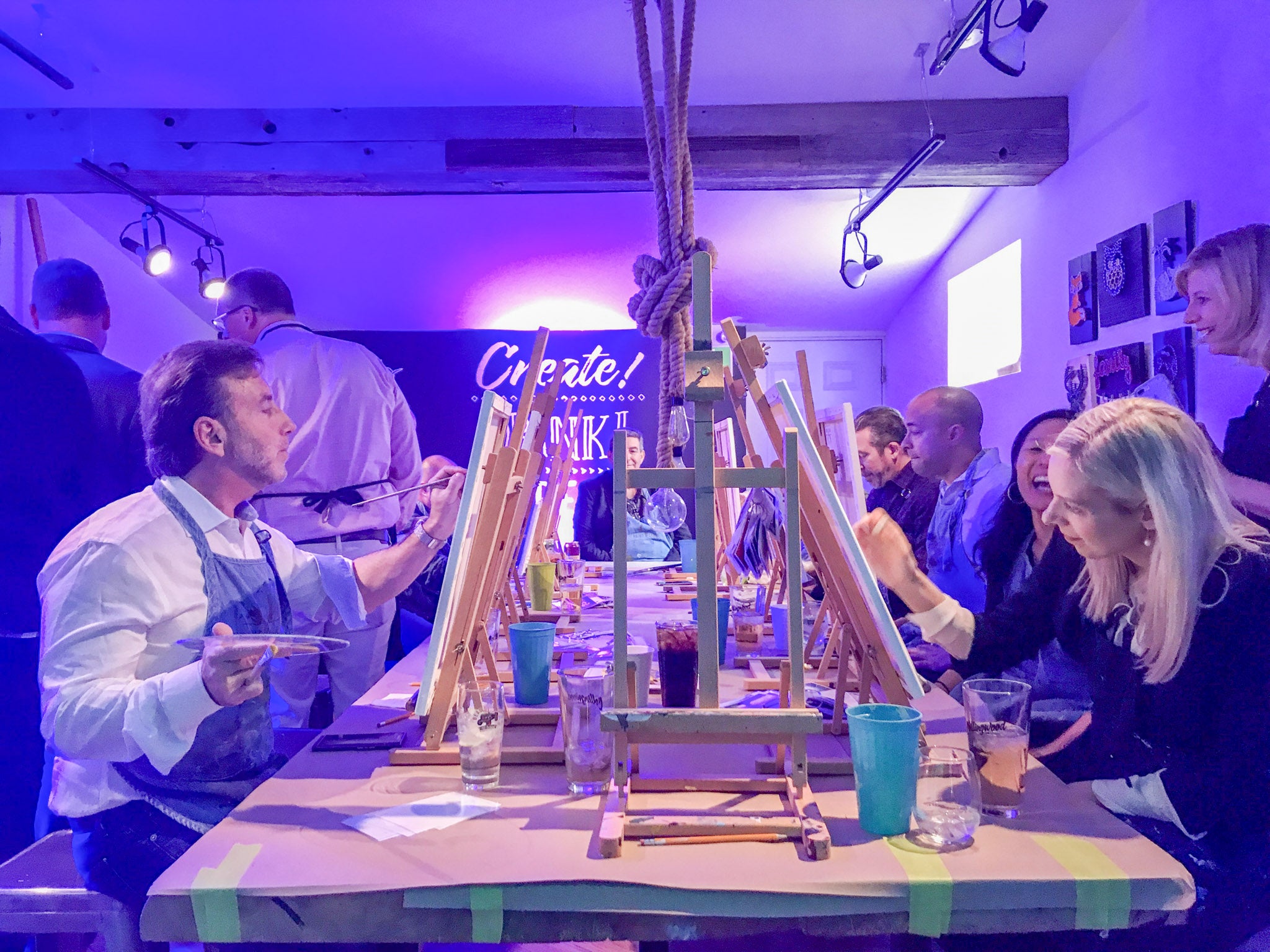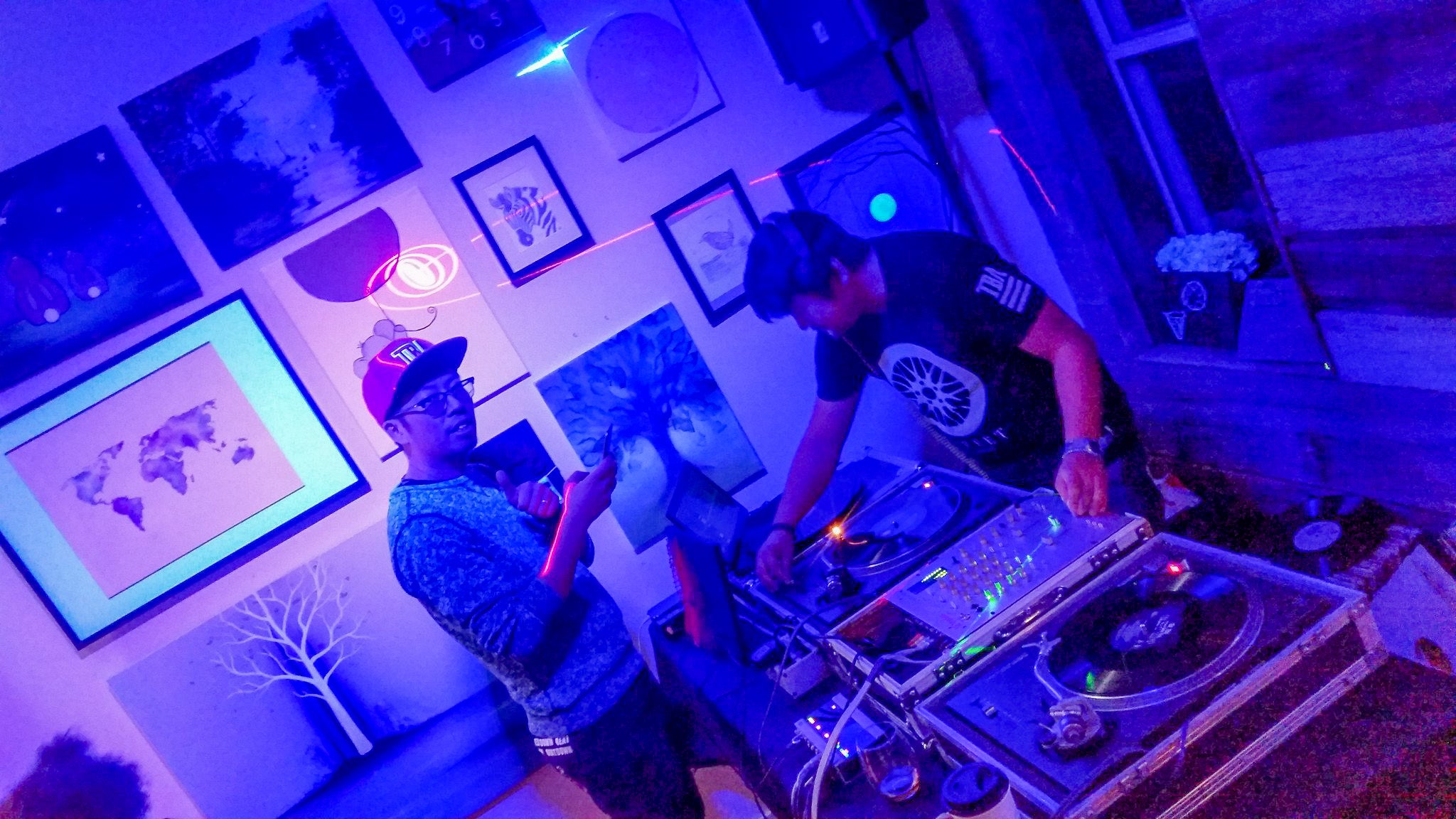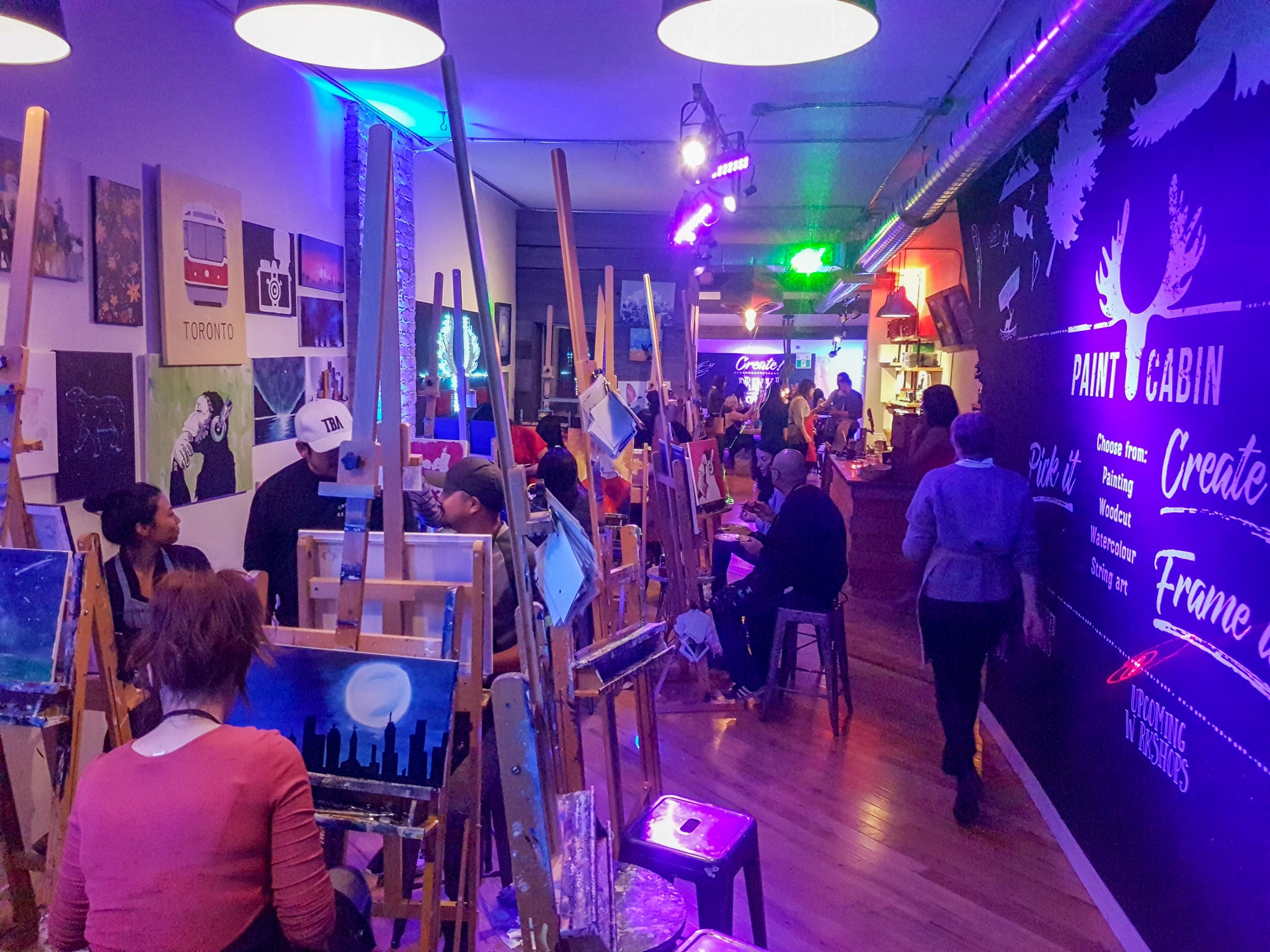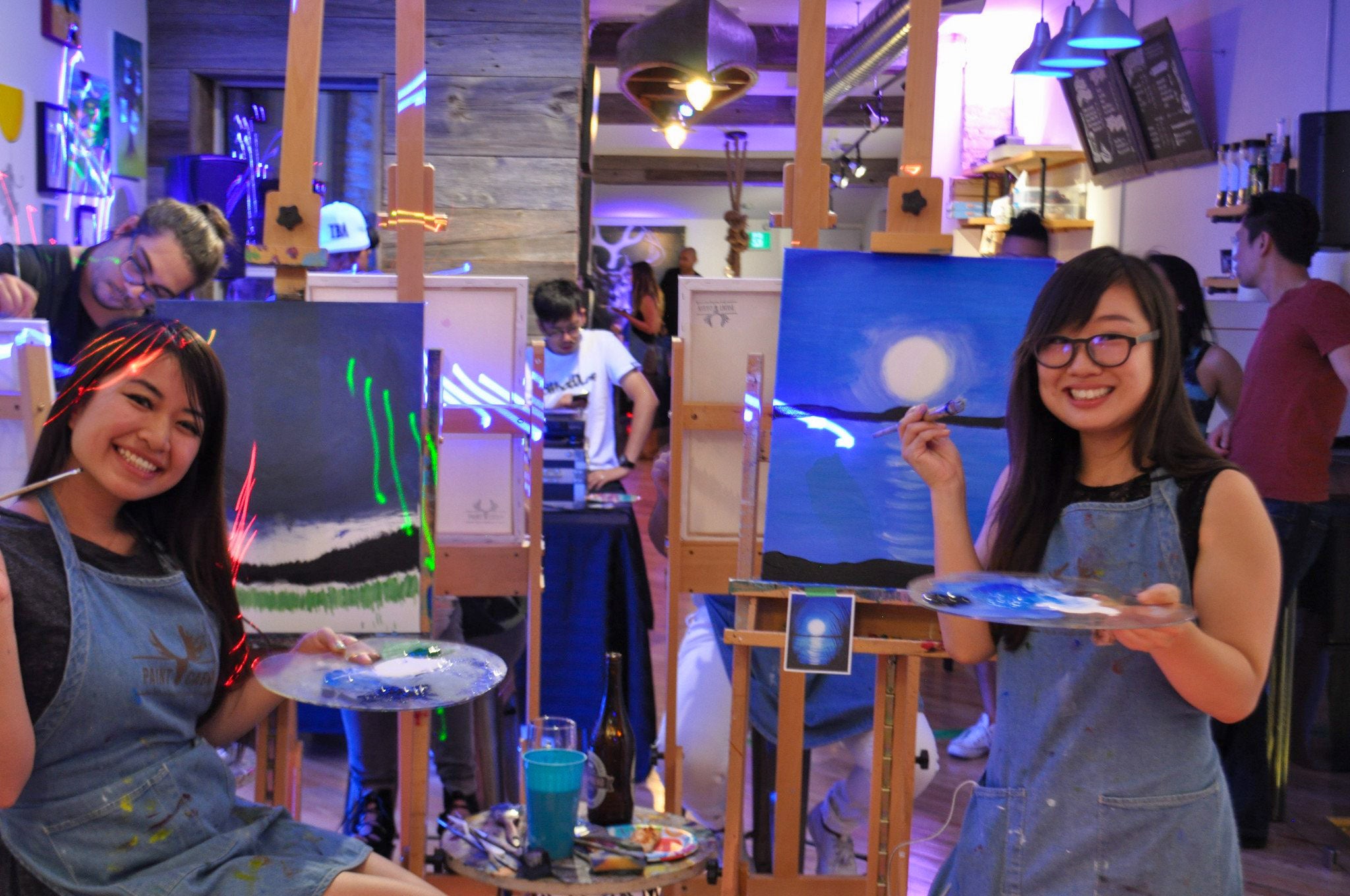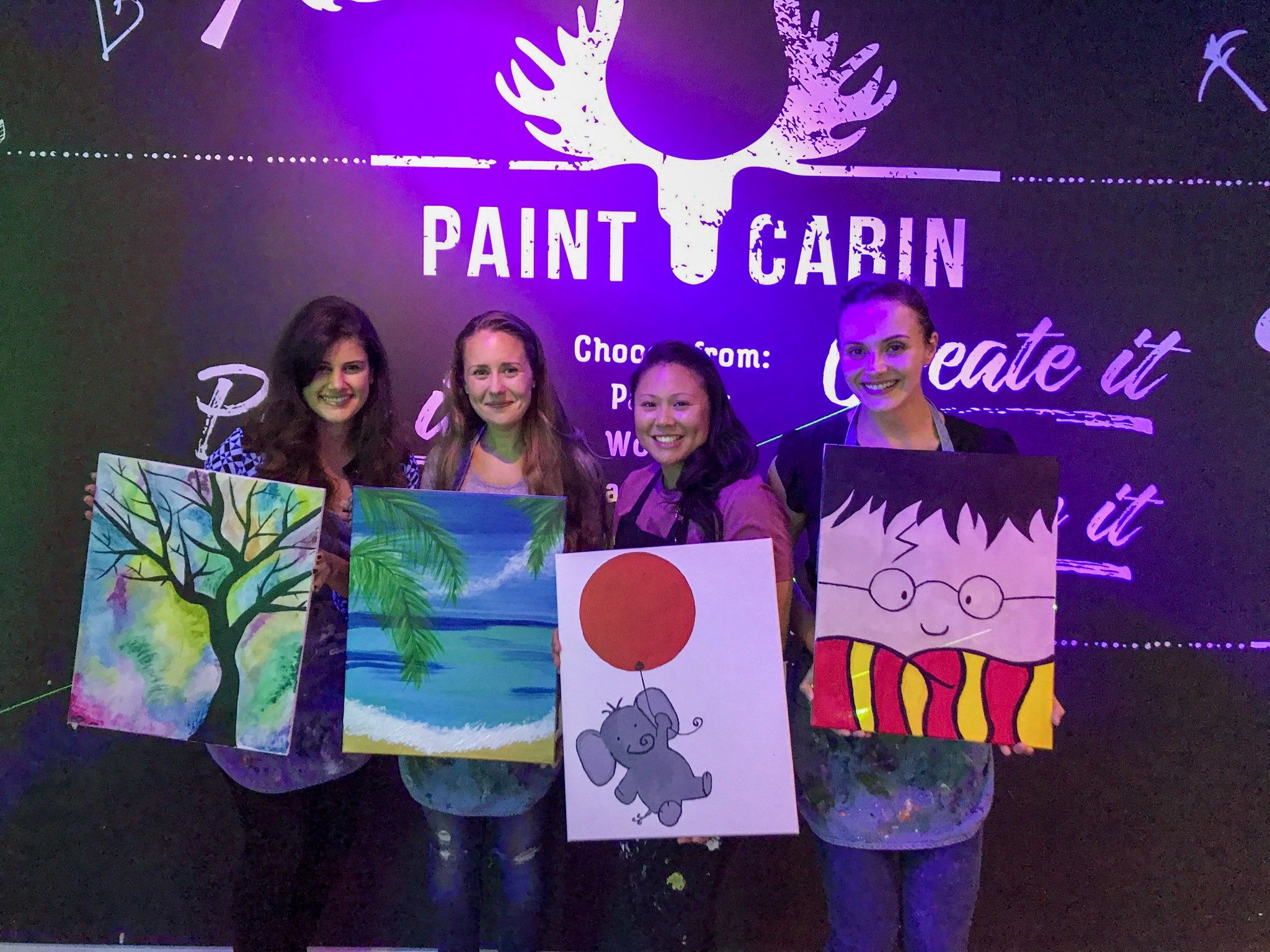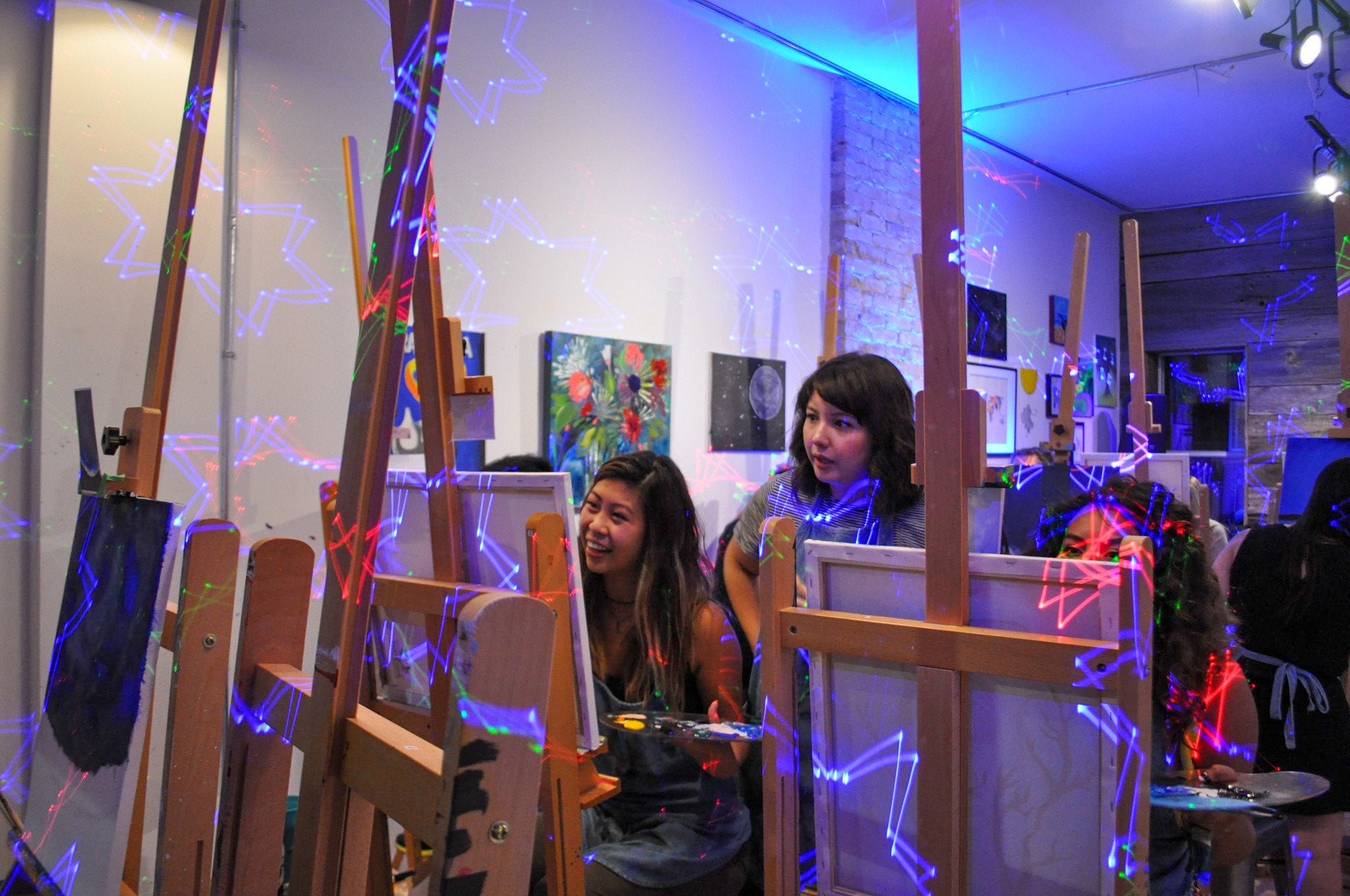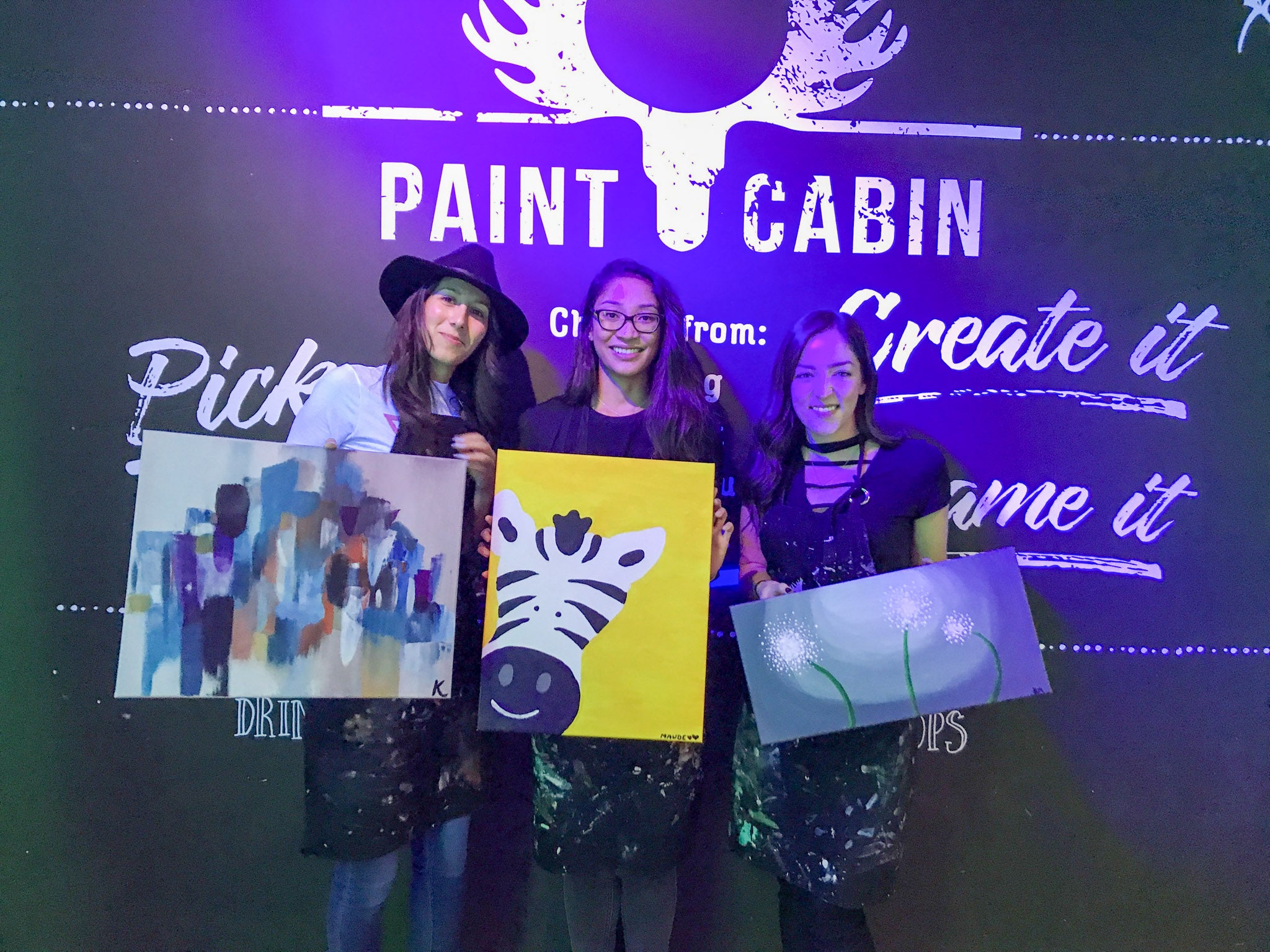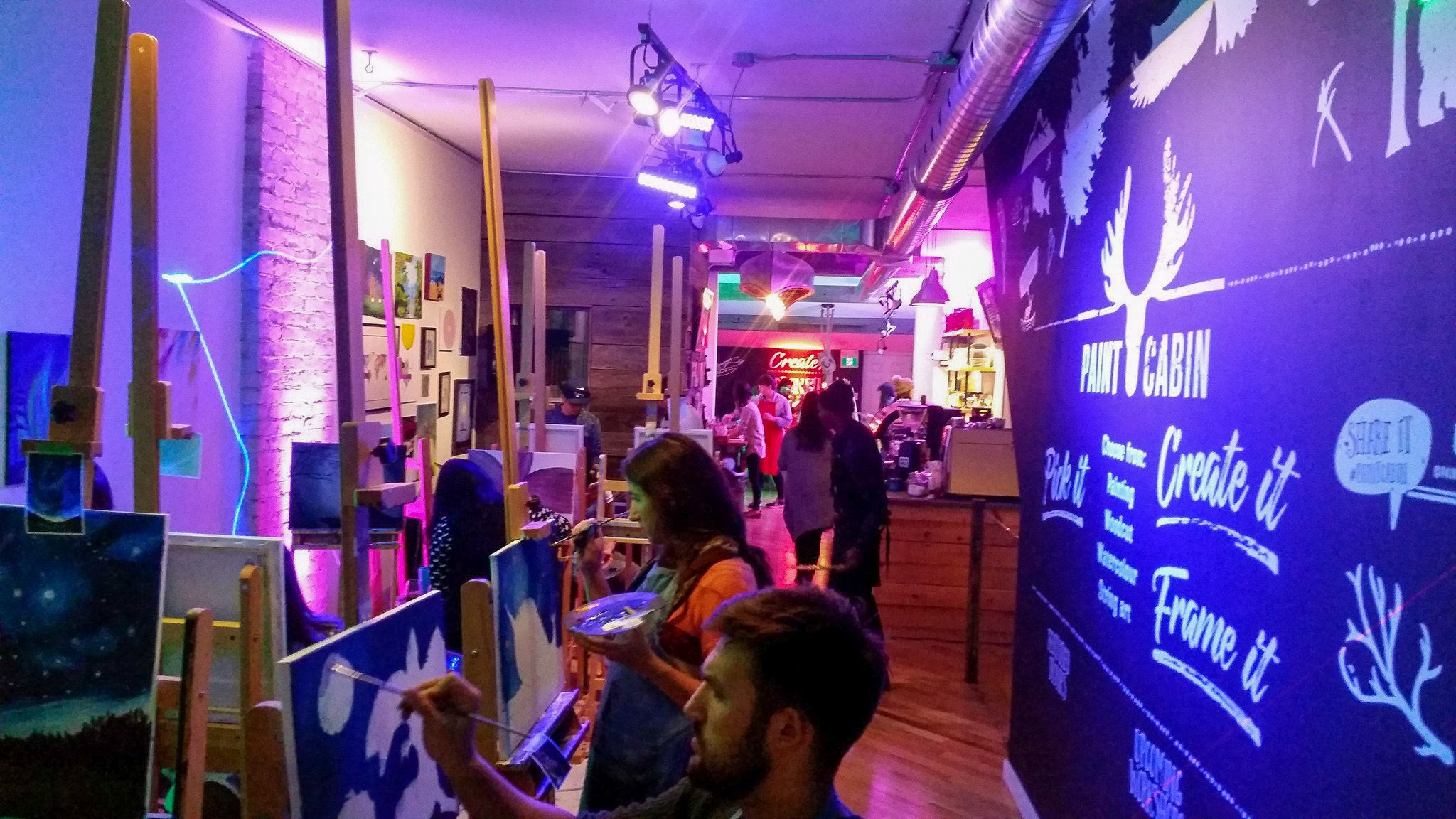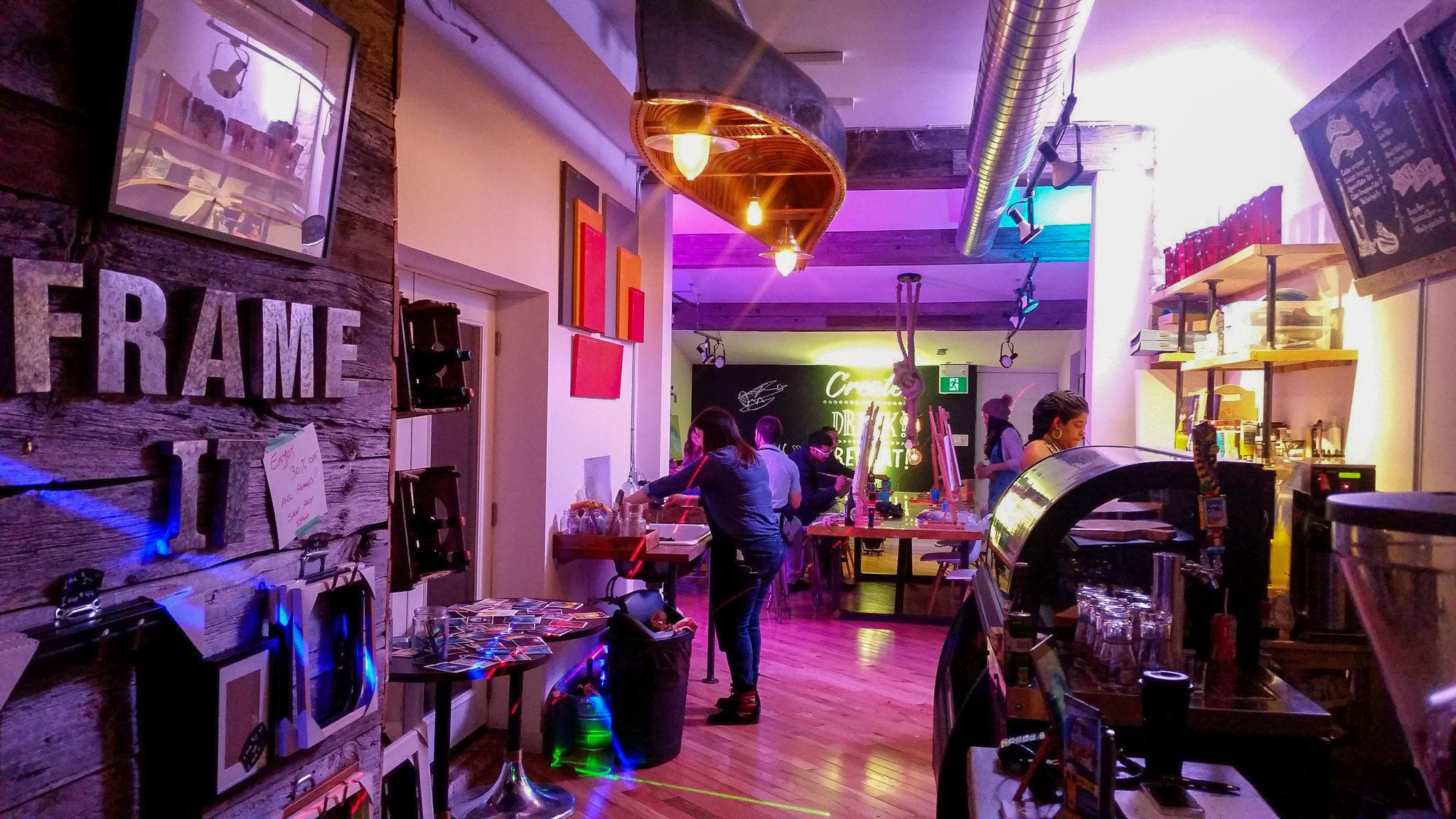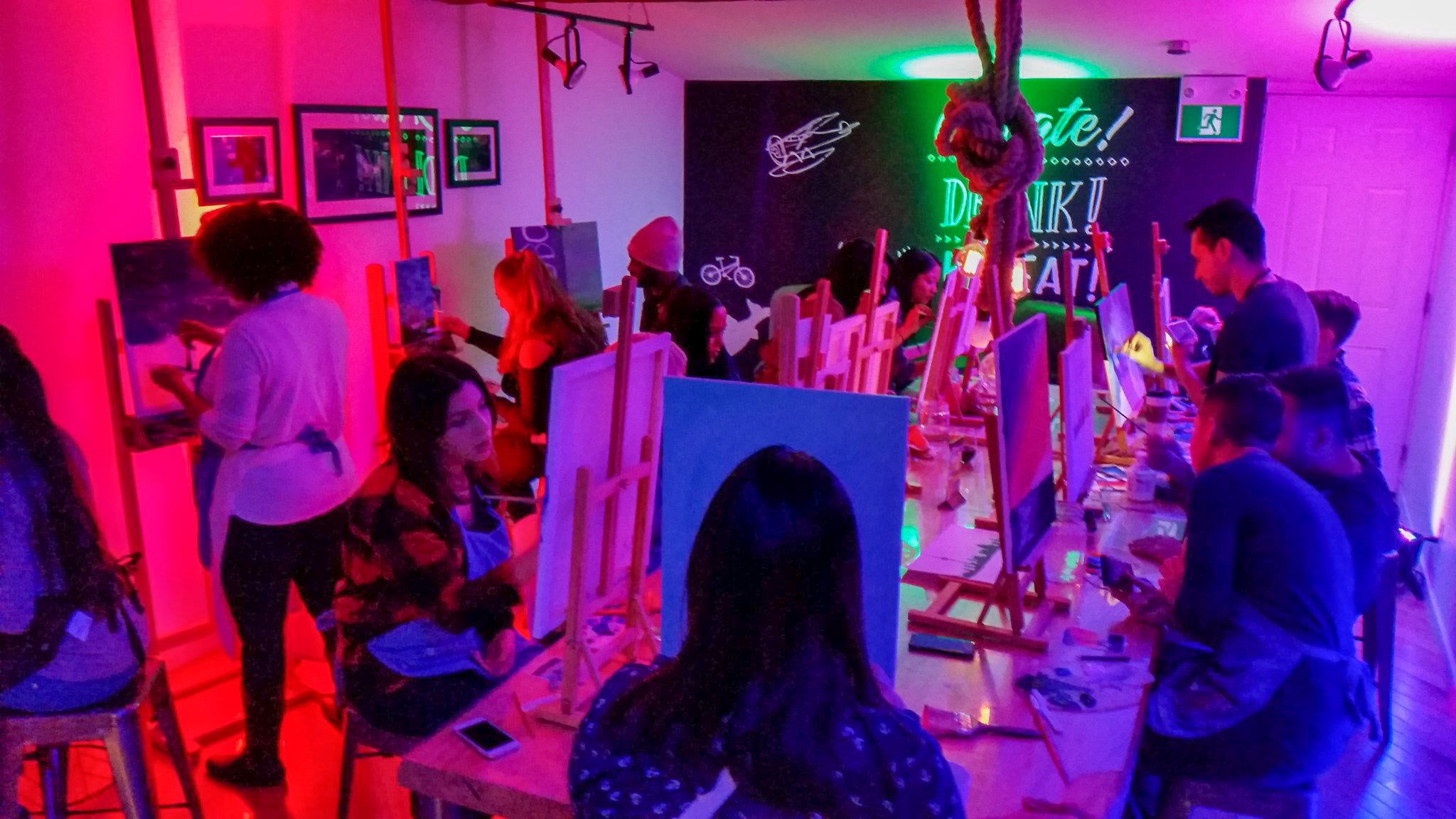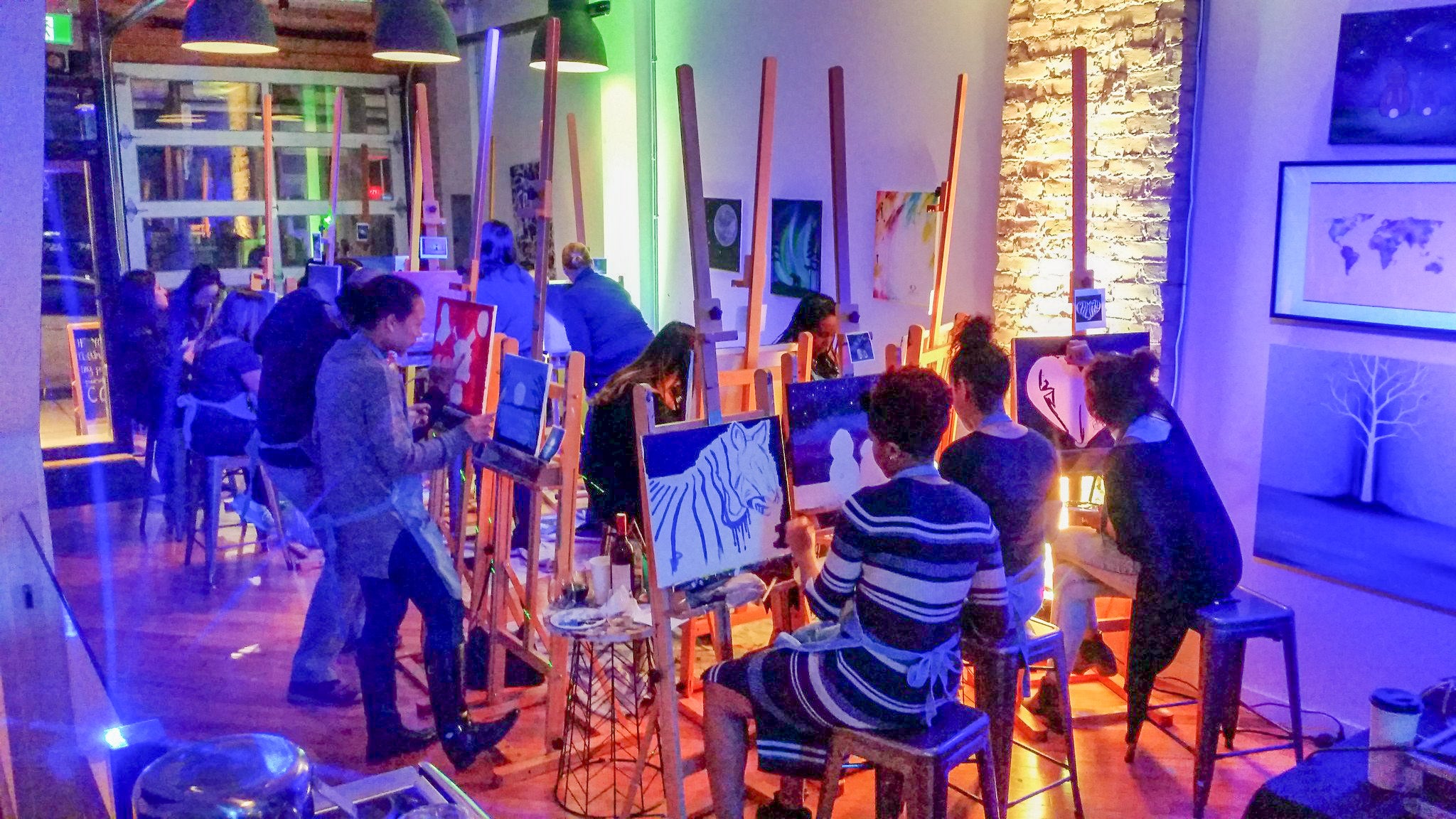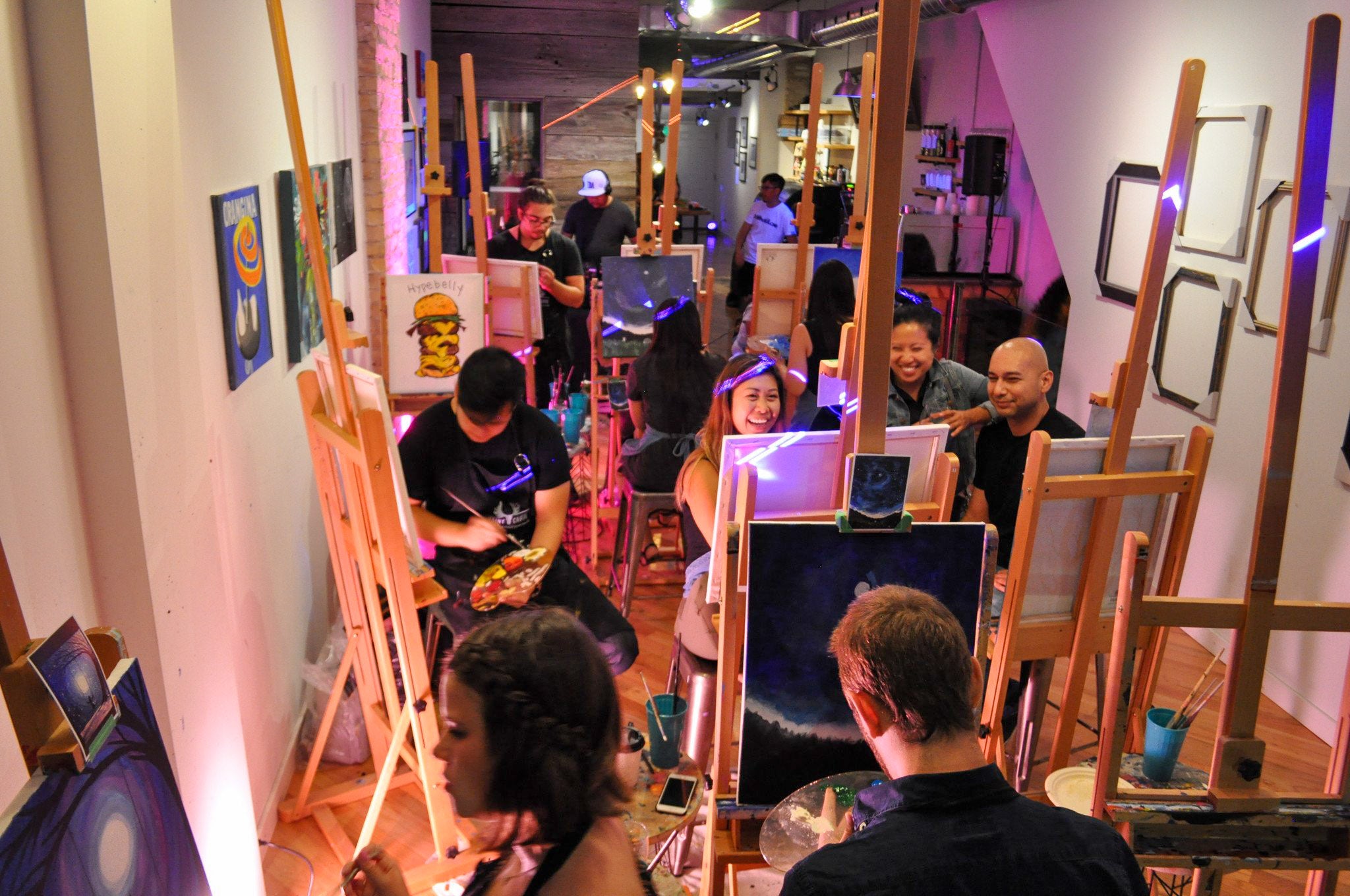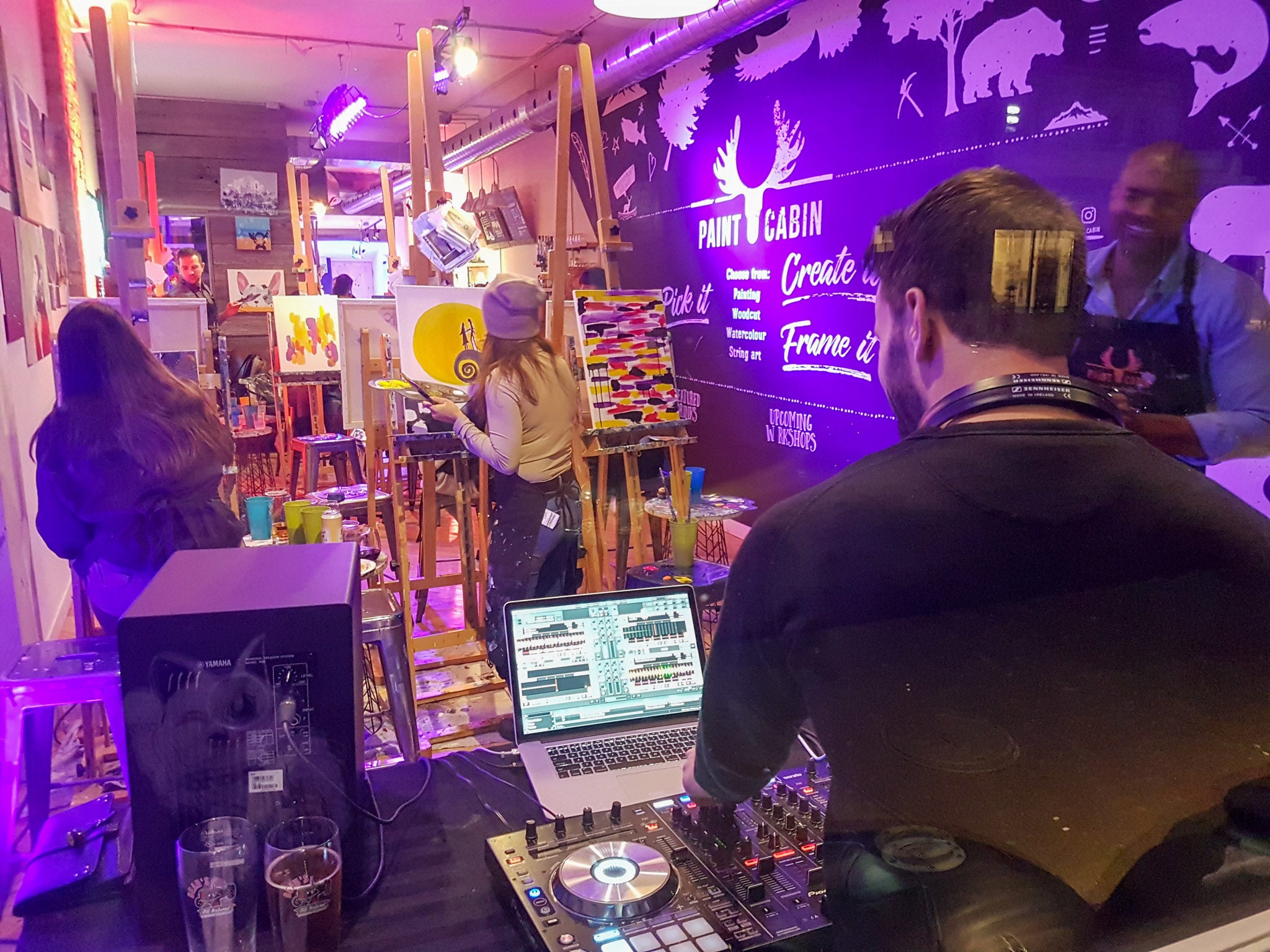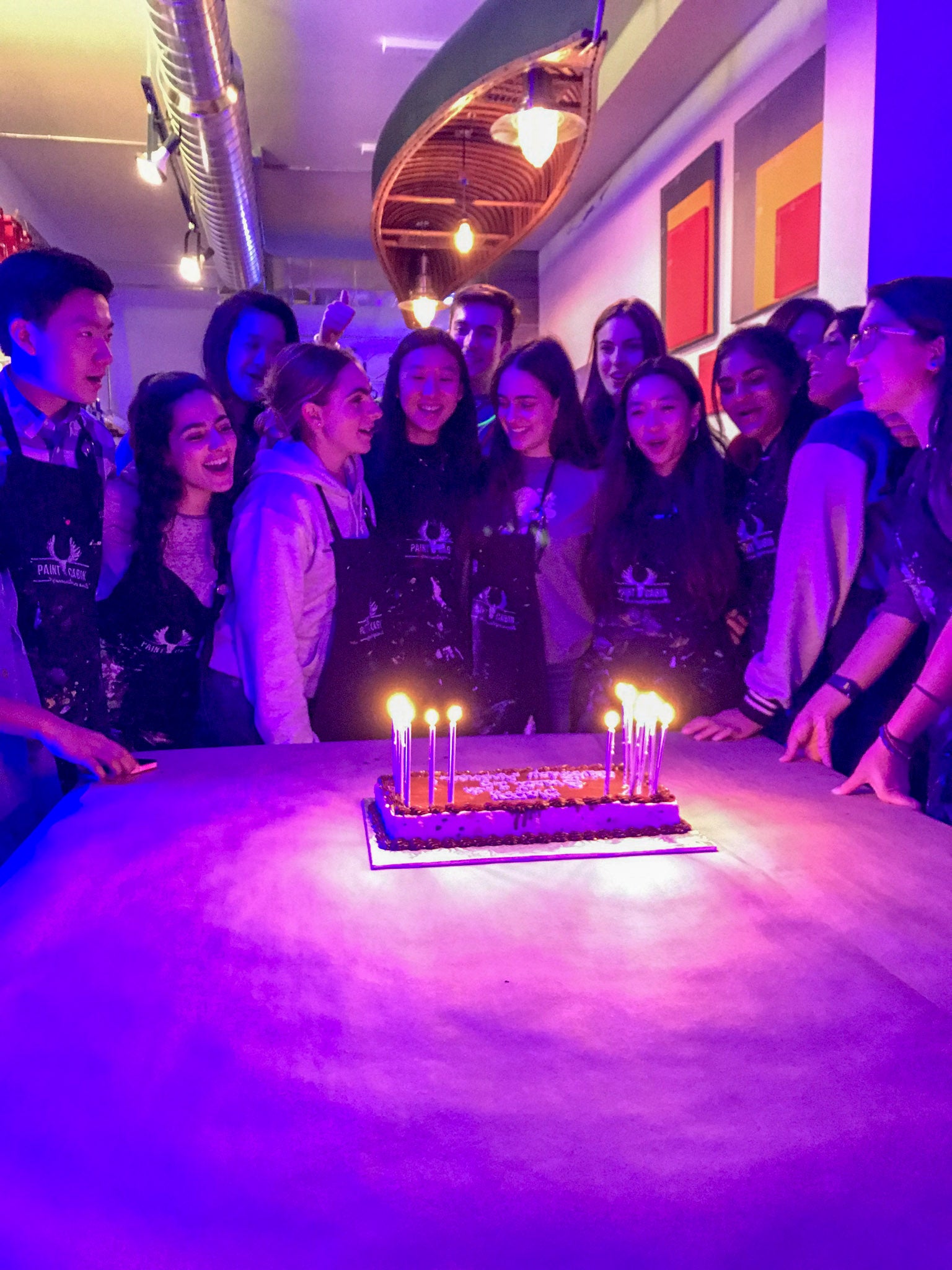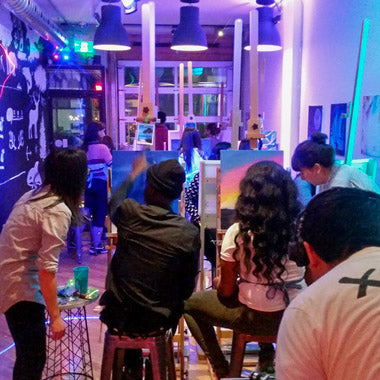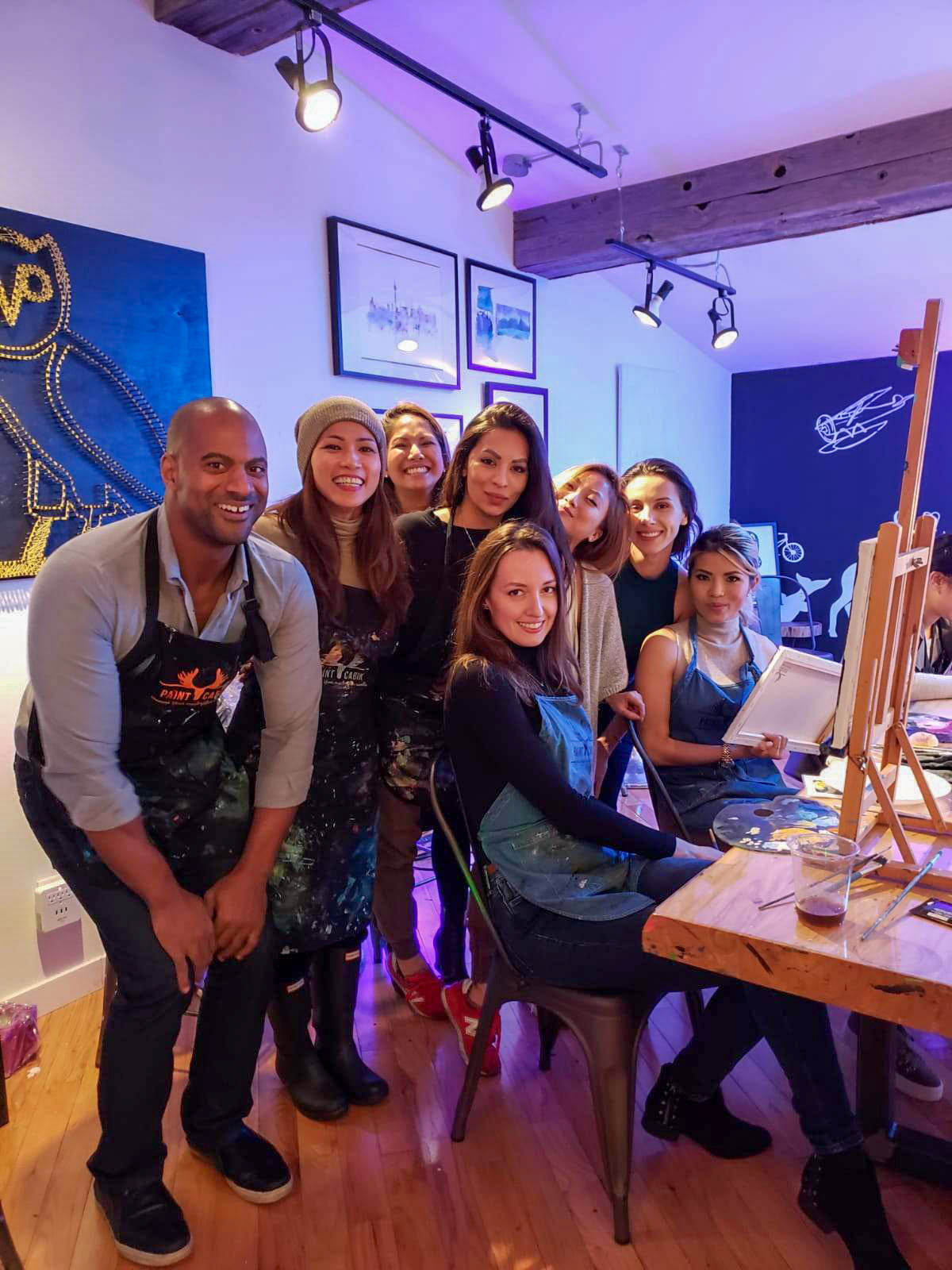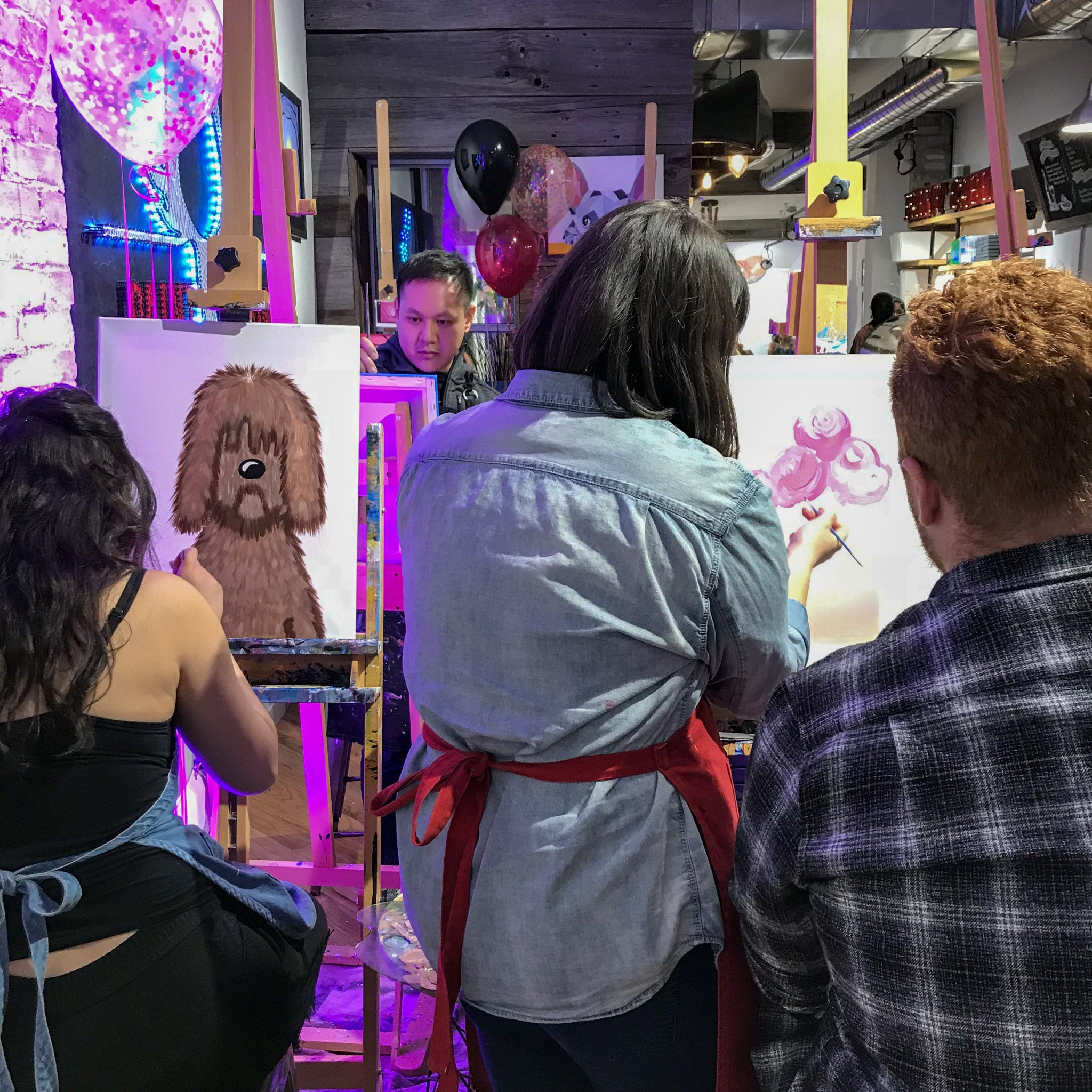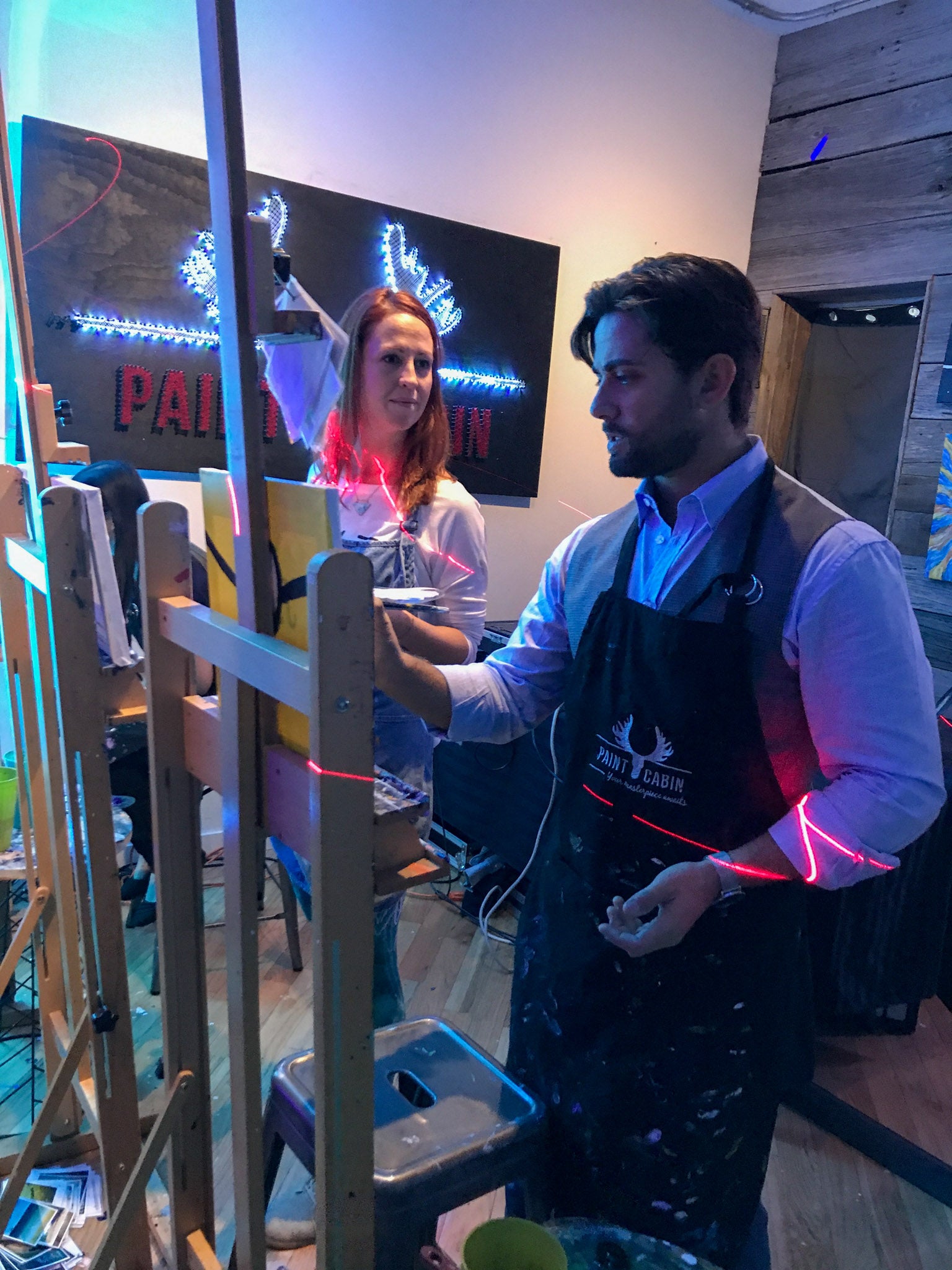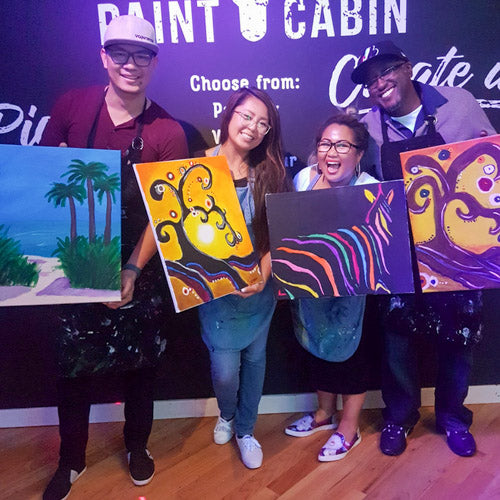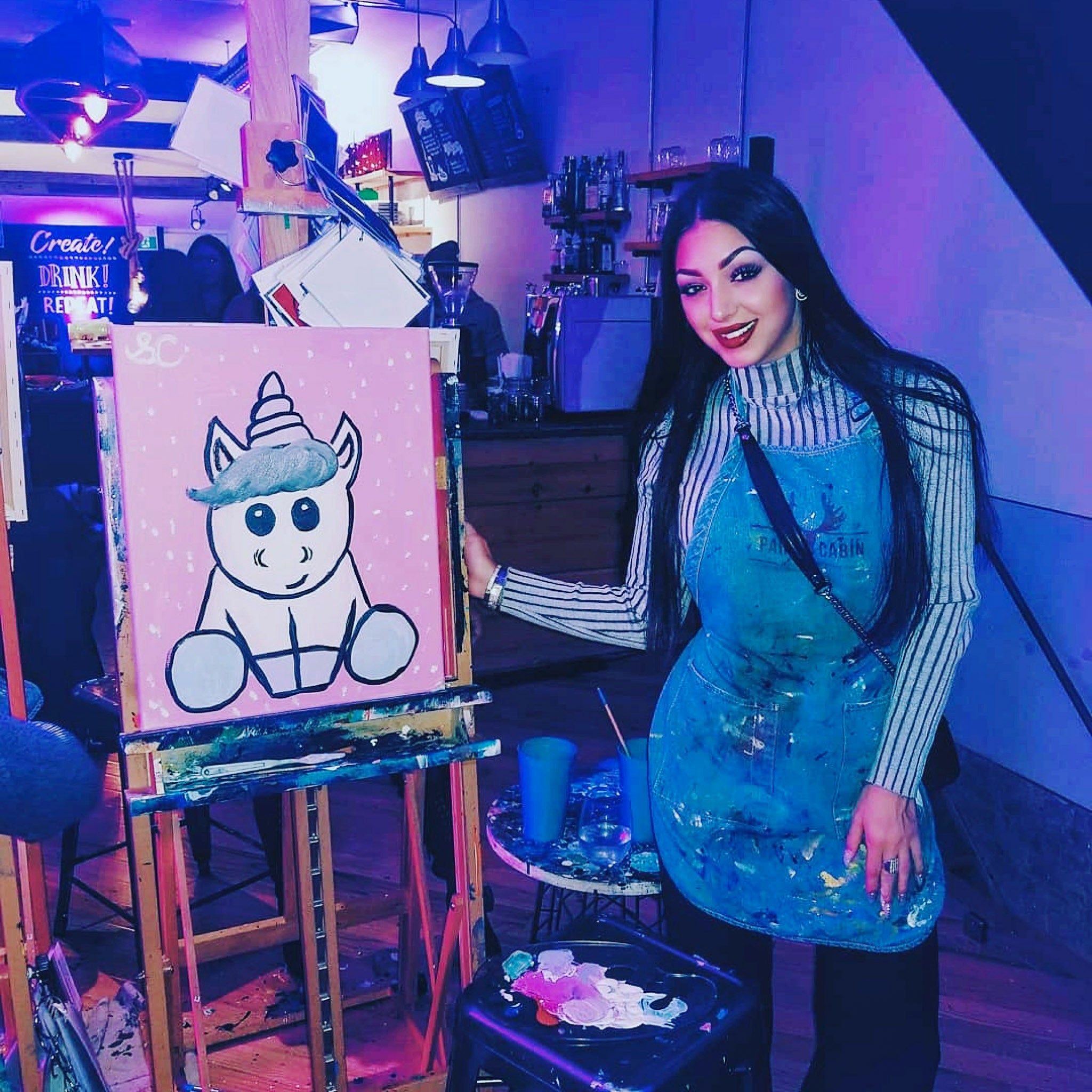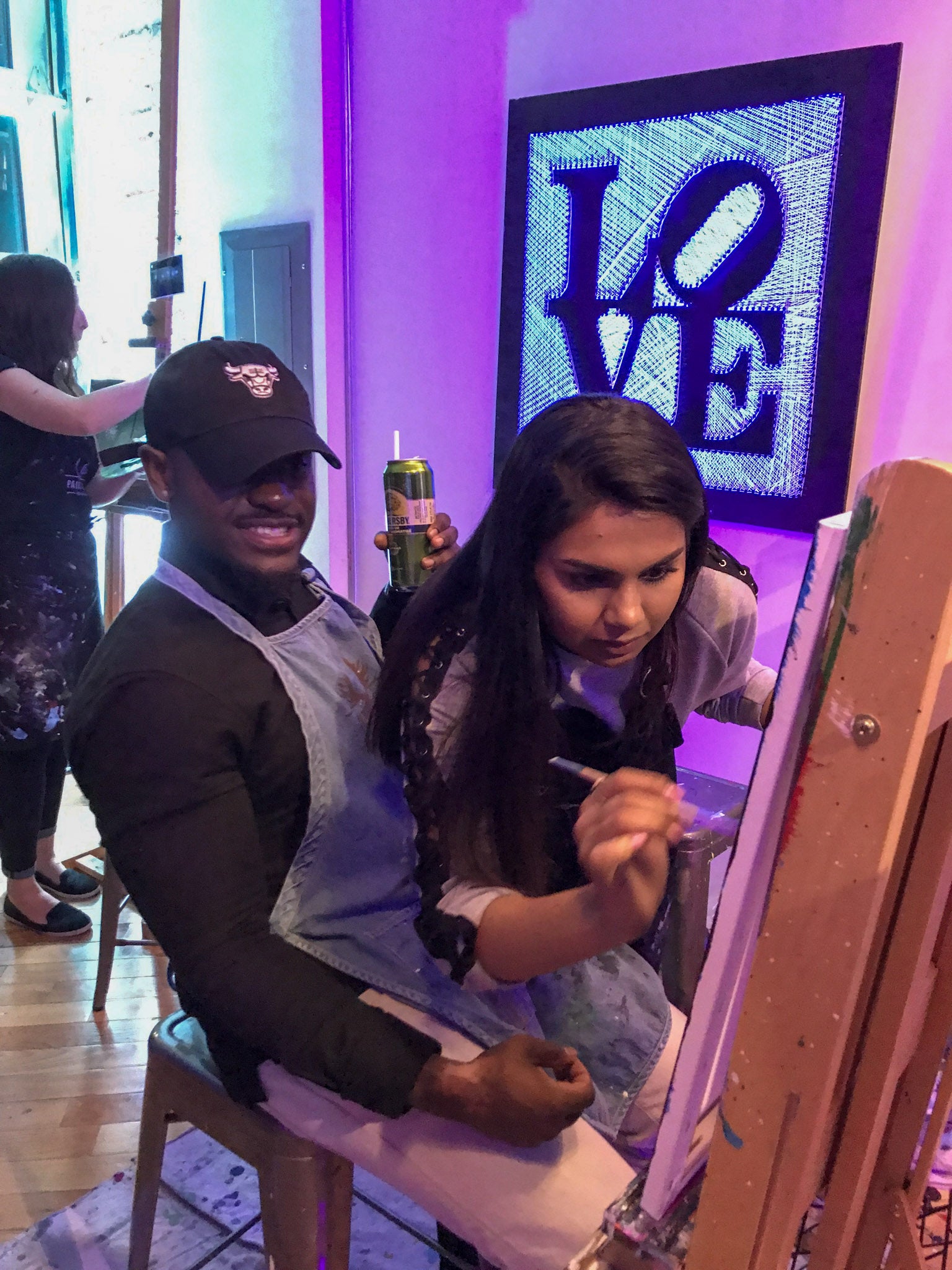 Pre-Recorded On-Demand Virtual Paint Party Kits
Regular price

Sale price

$79.95
How it Works

Offering a paint party at your own pace and time. Pre-recorded videos of our instructors guiding you step by step to create your painting.

What's included (per participant):

Canvas, Paint Brushes, Paint Colours, Caramel Popcorn, Rags & your paint kit box turns into an easel!

How it works:


Select an image from above
Select you a canvas size
Select the amount of paint kits you and your participants will need
We will email you to confirm your shipping address & delivery date 

Once you make your selections, you'll be sent all your paint materials, along with a link to an instructional video you can follow along with at home, anytime!

After your purchase, we will contact you to confirm shipping details & information.

 
Share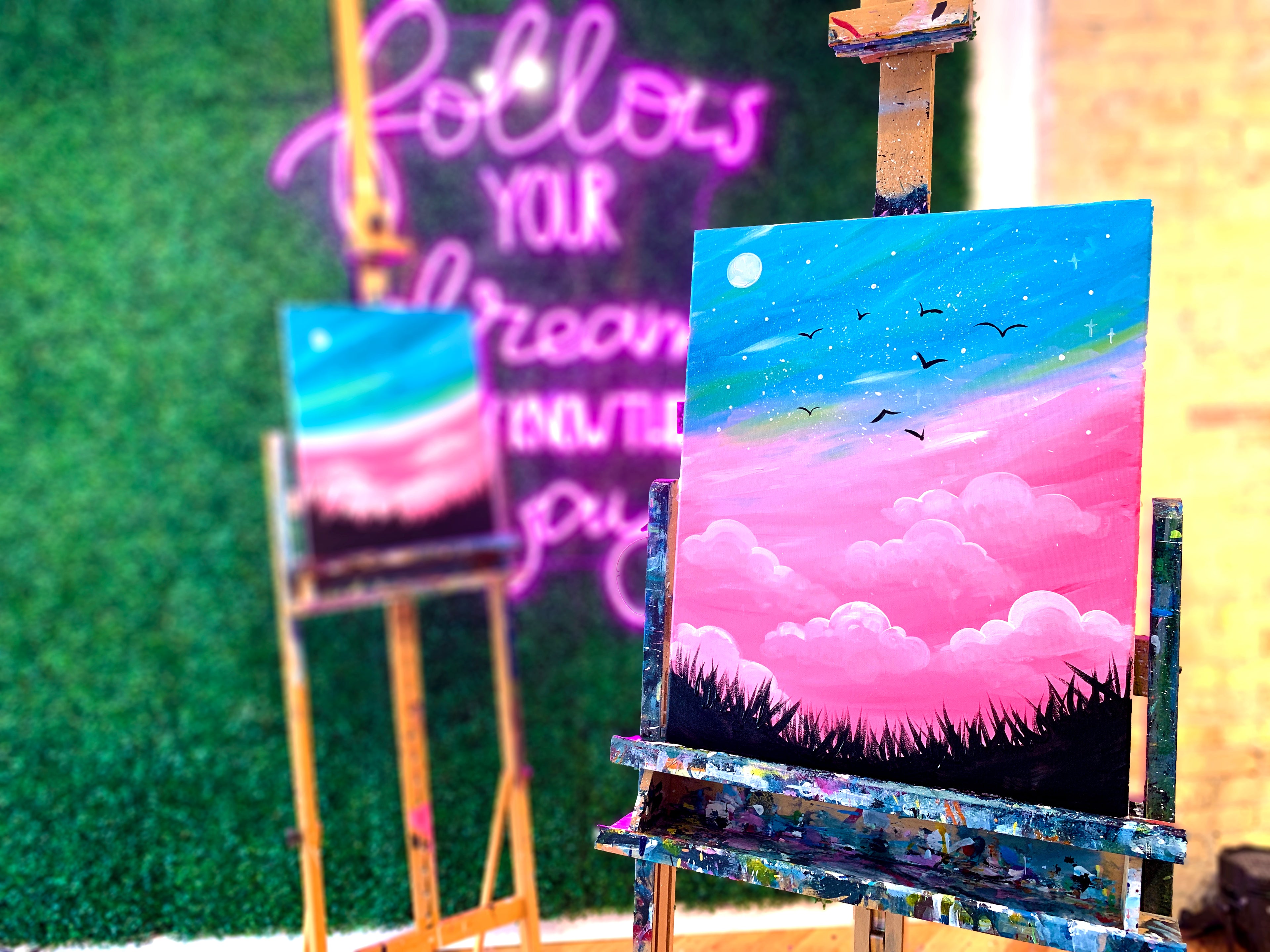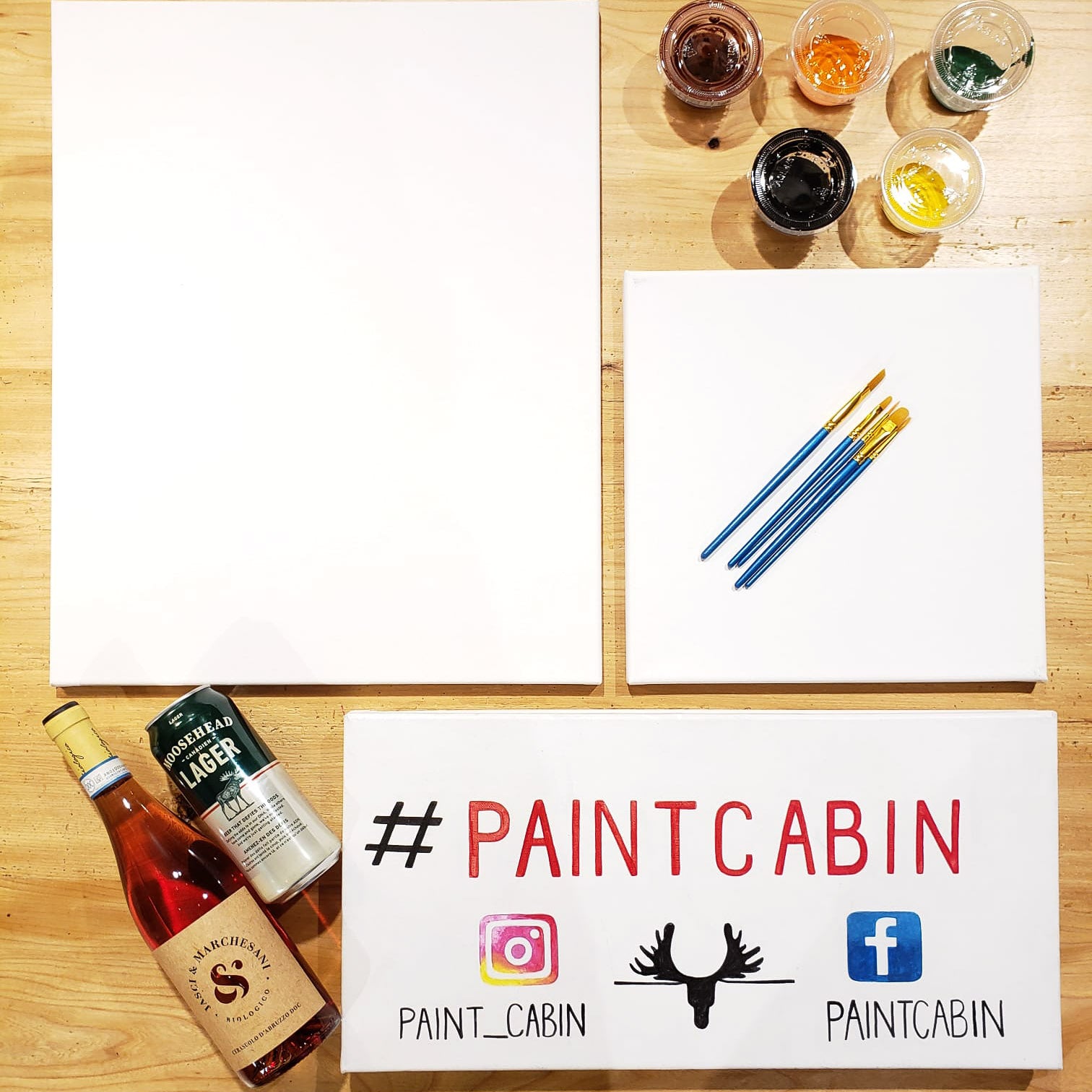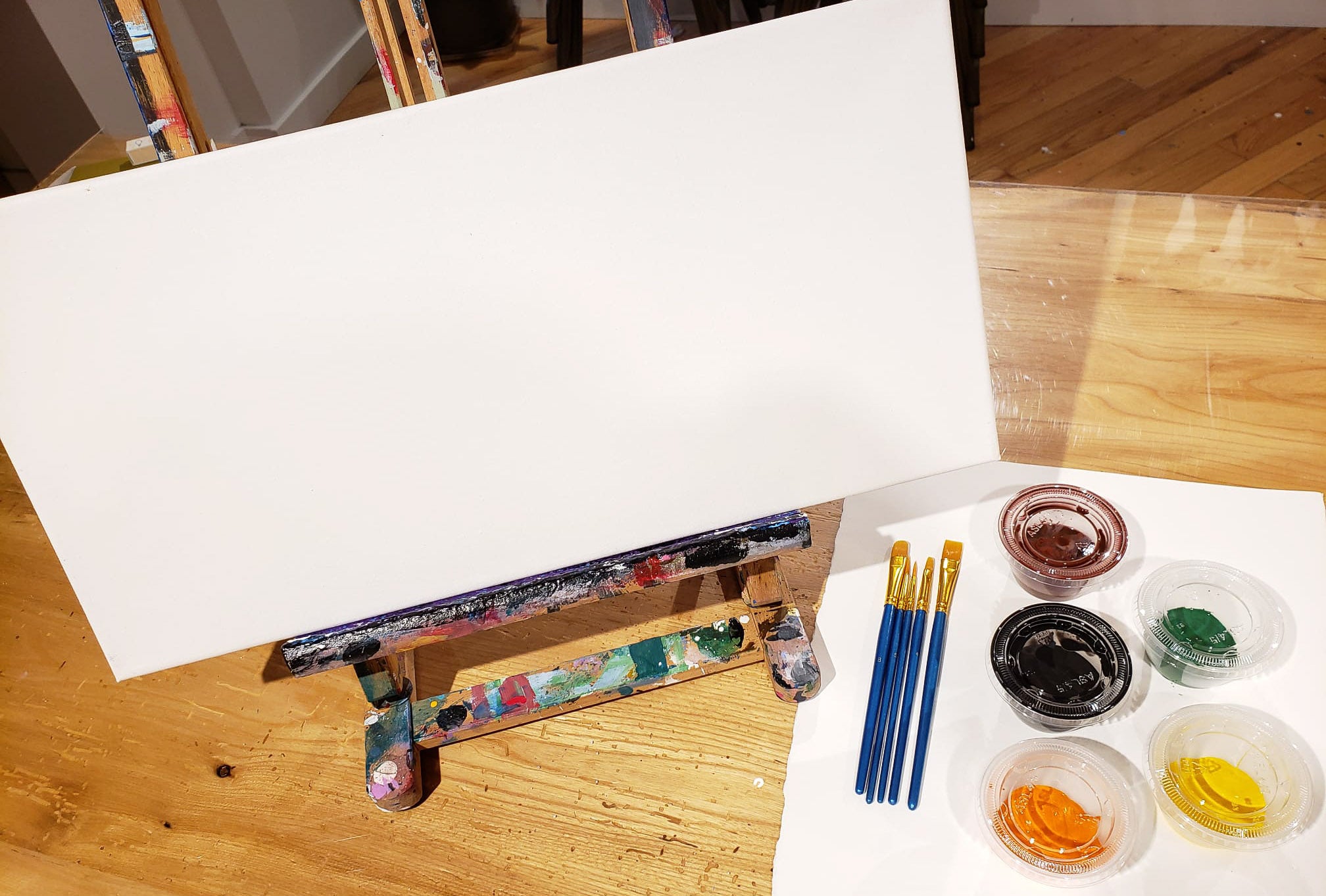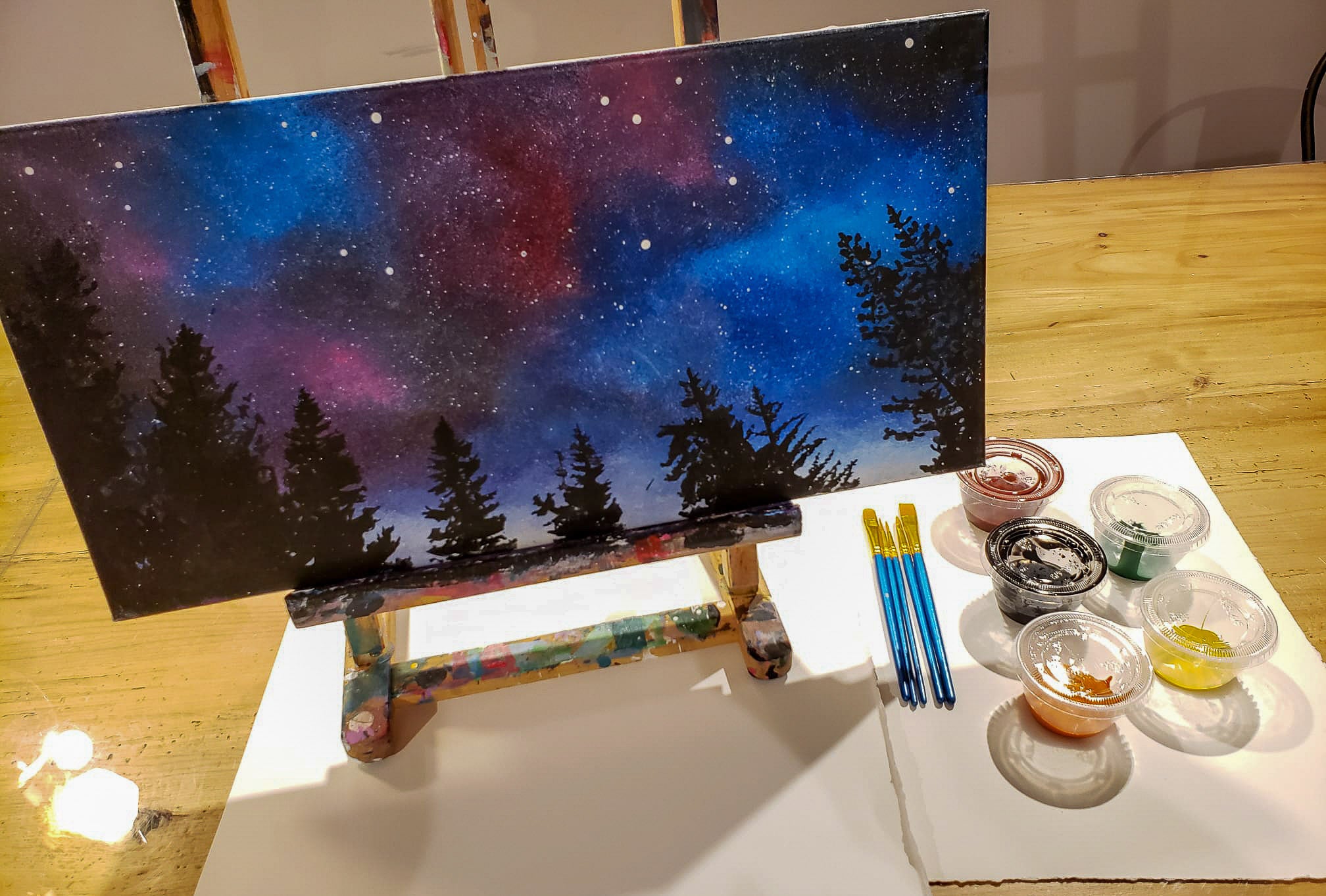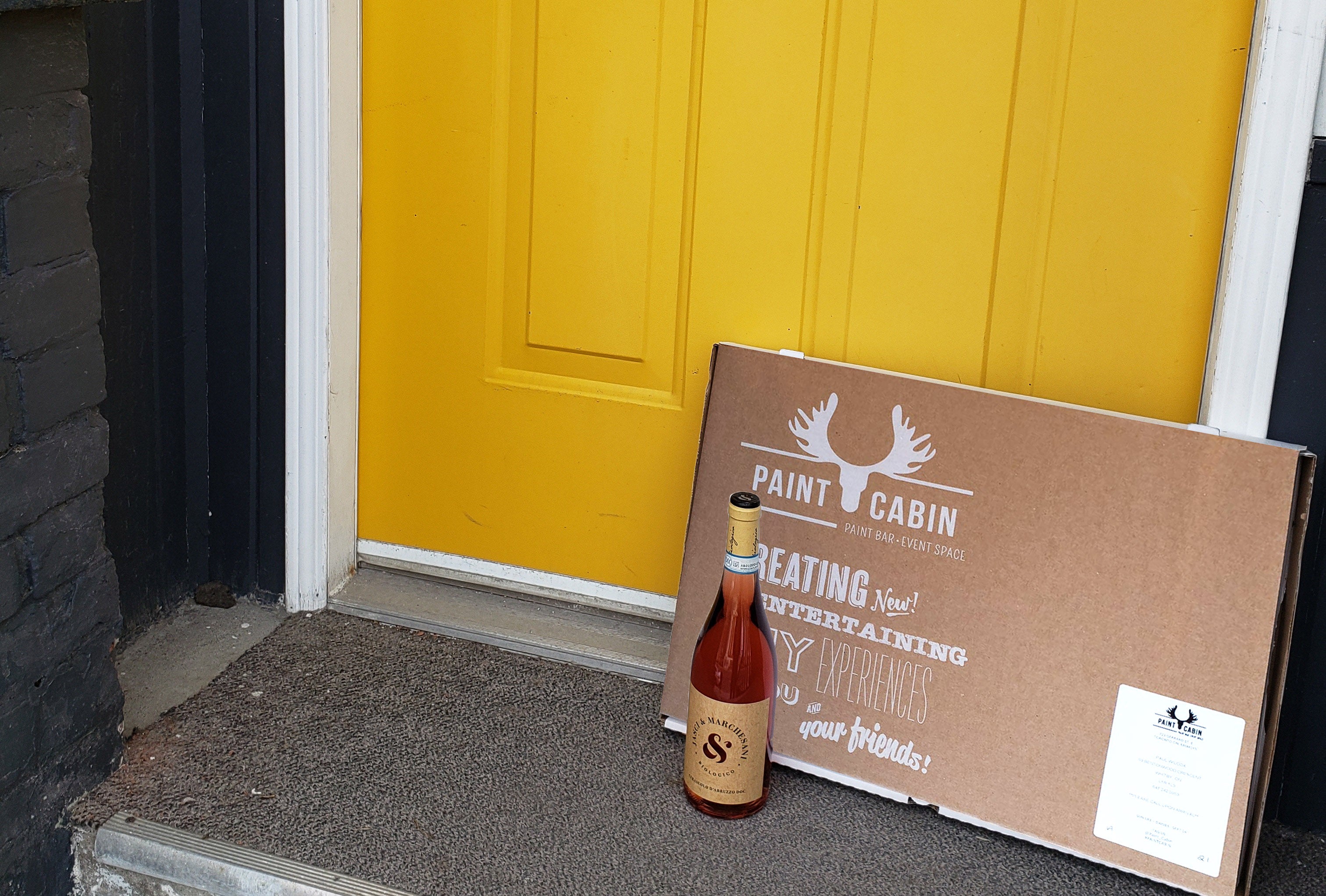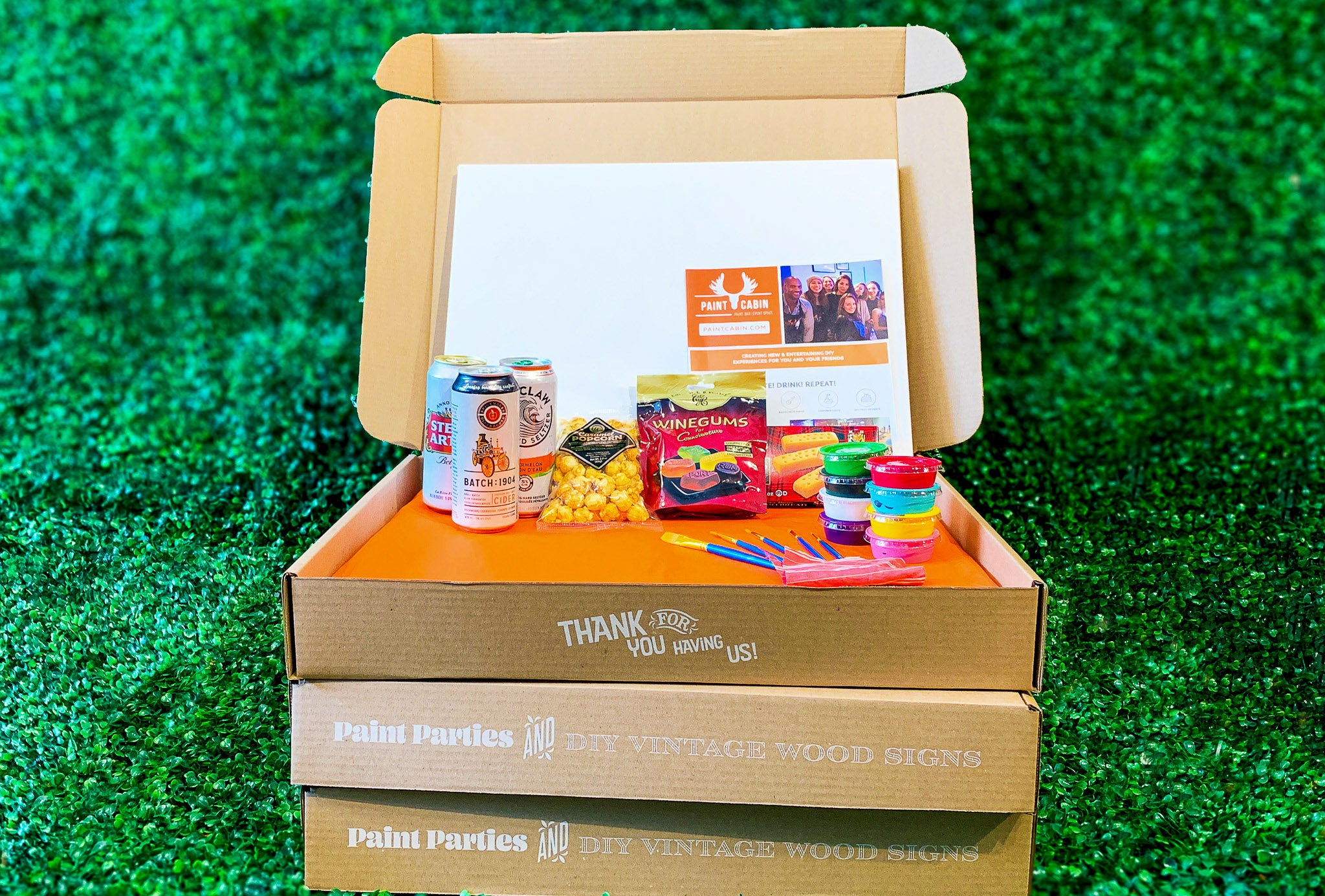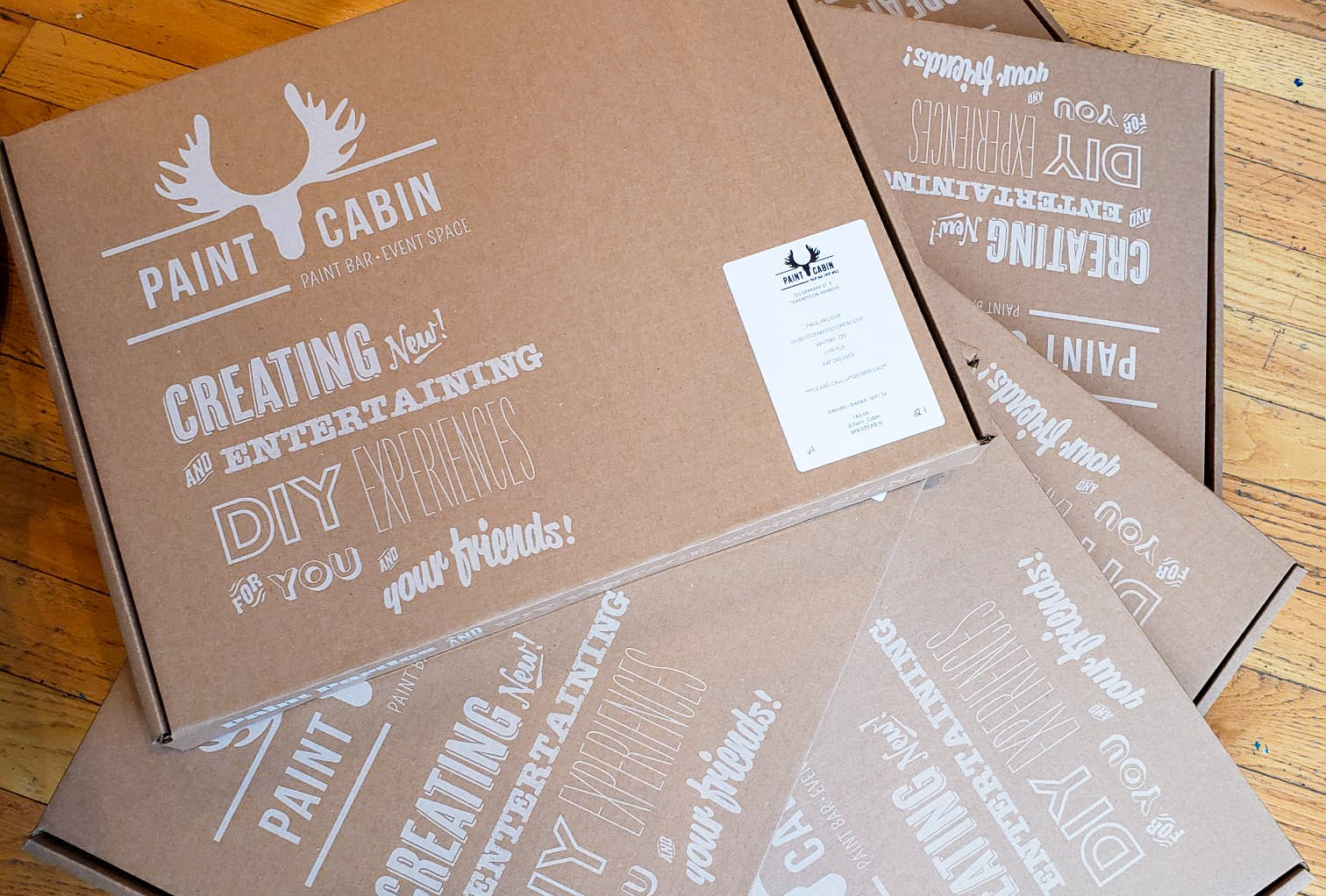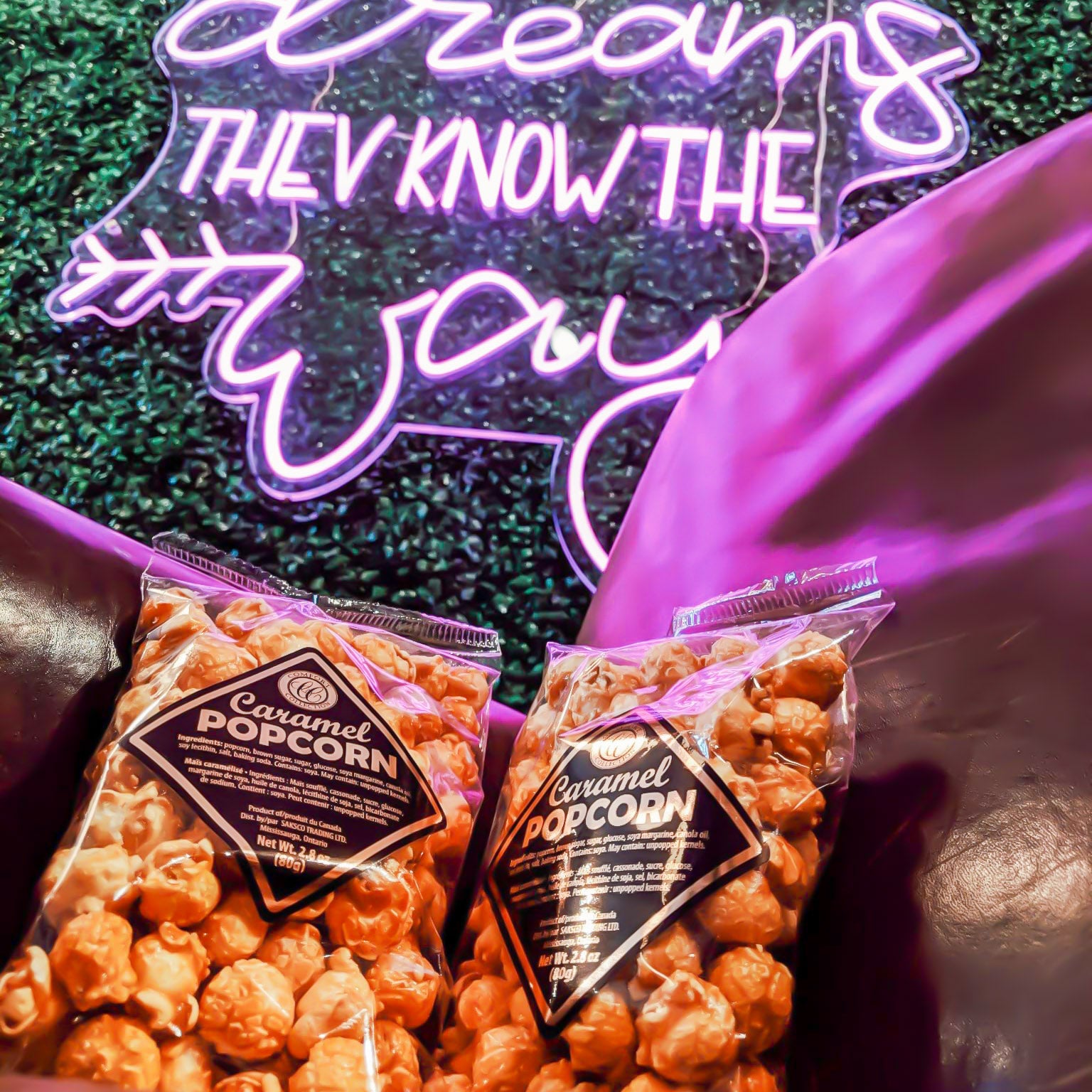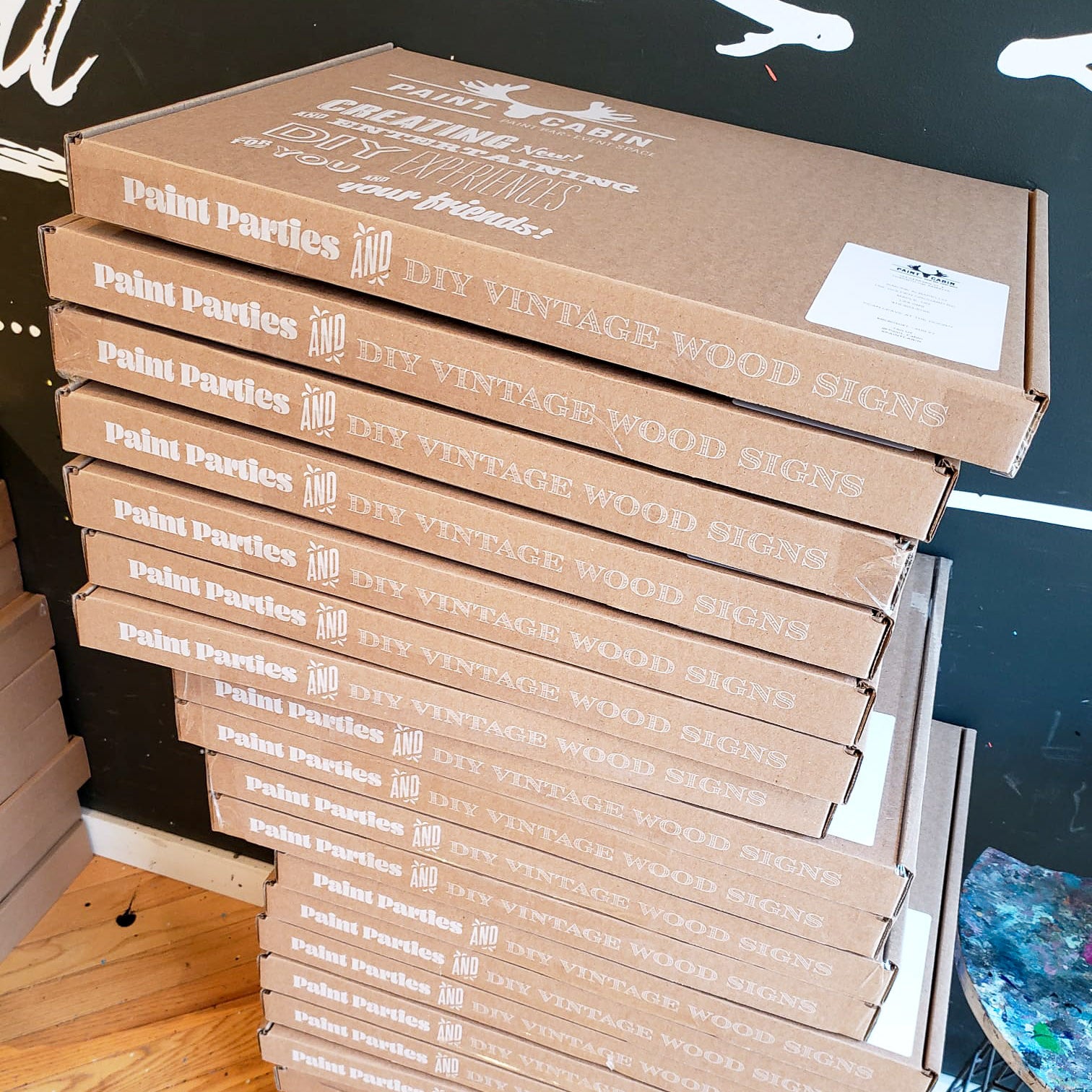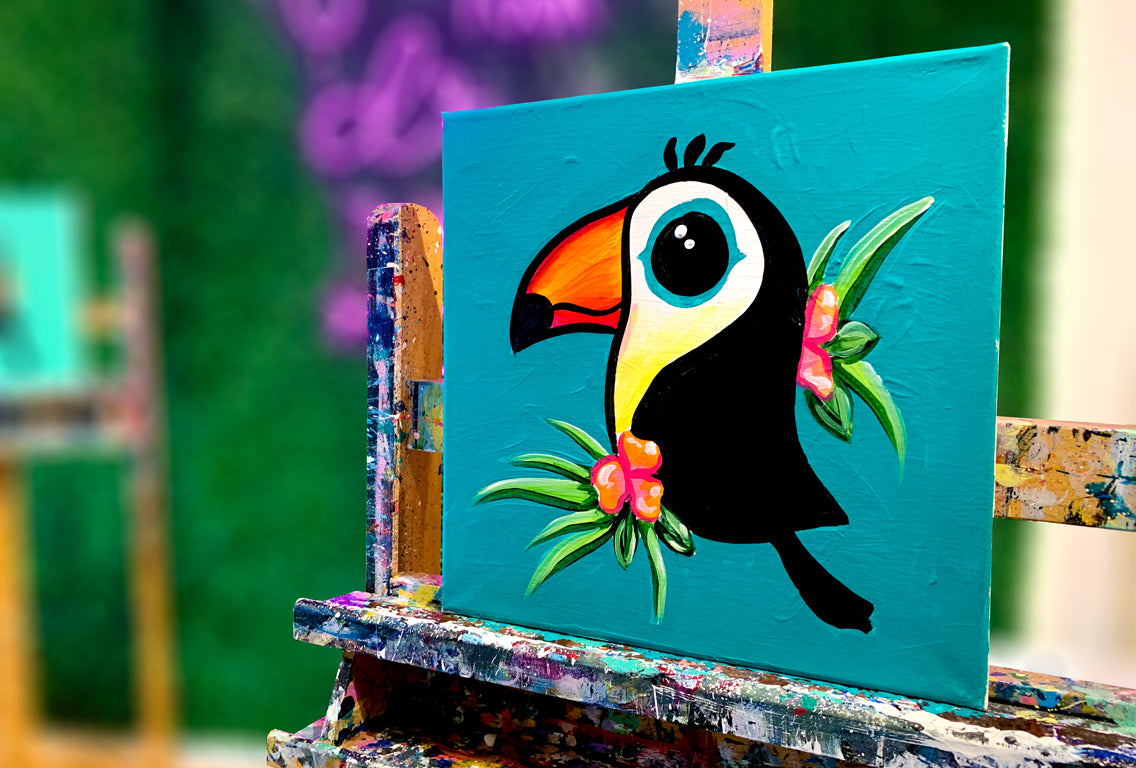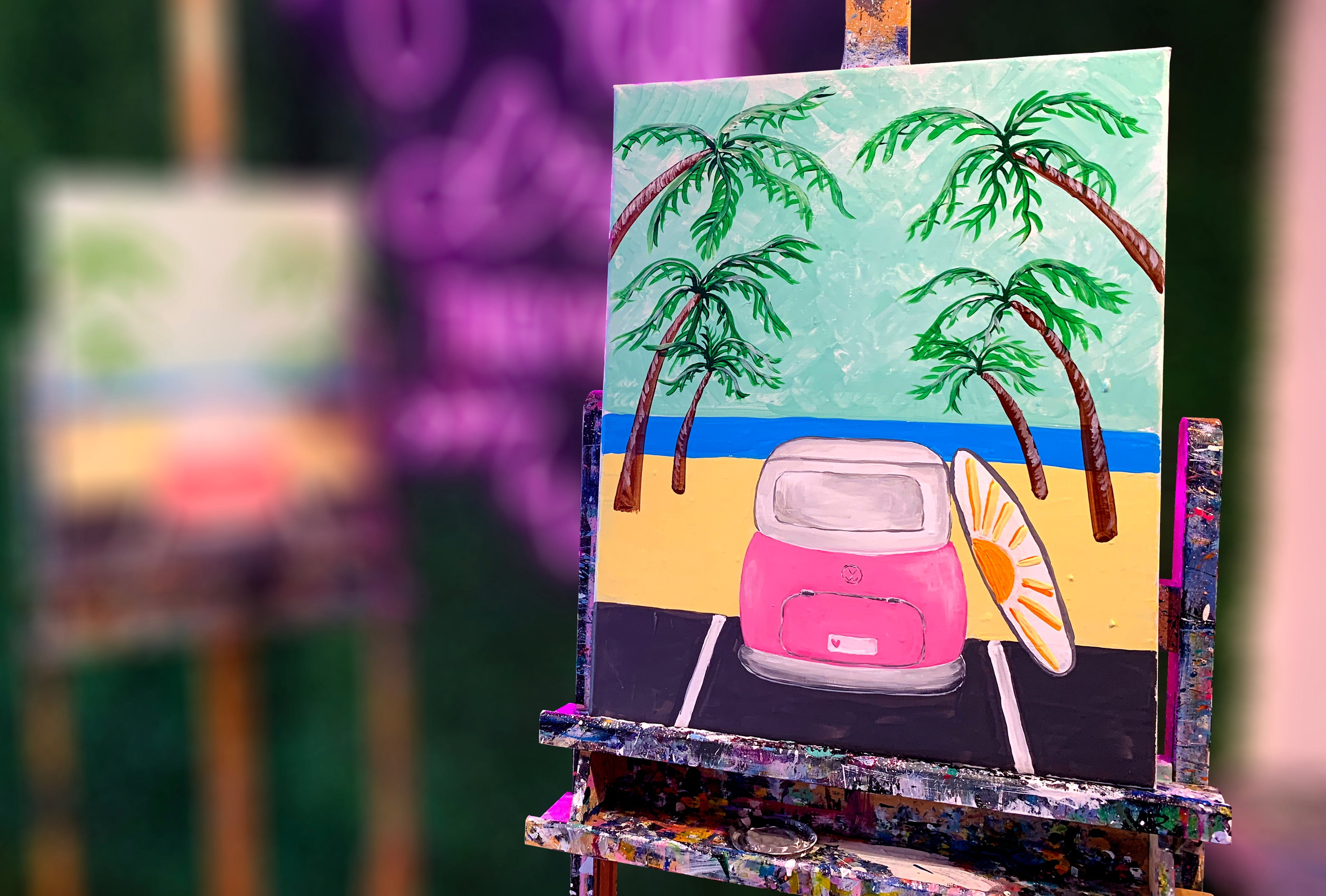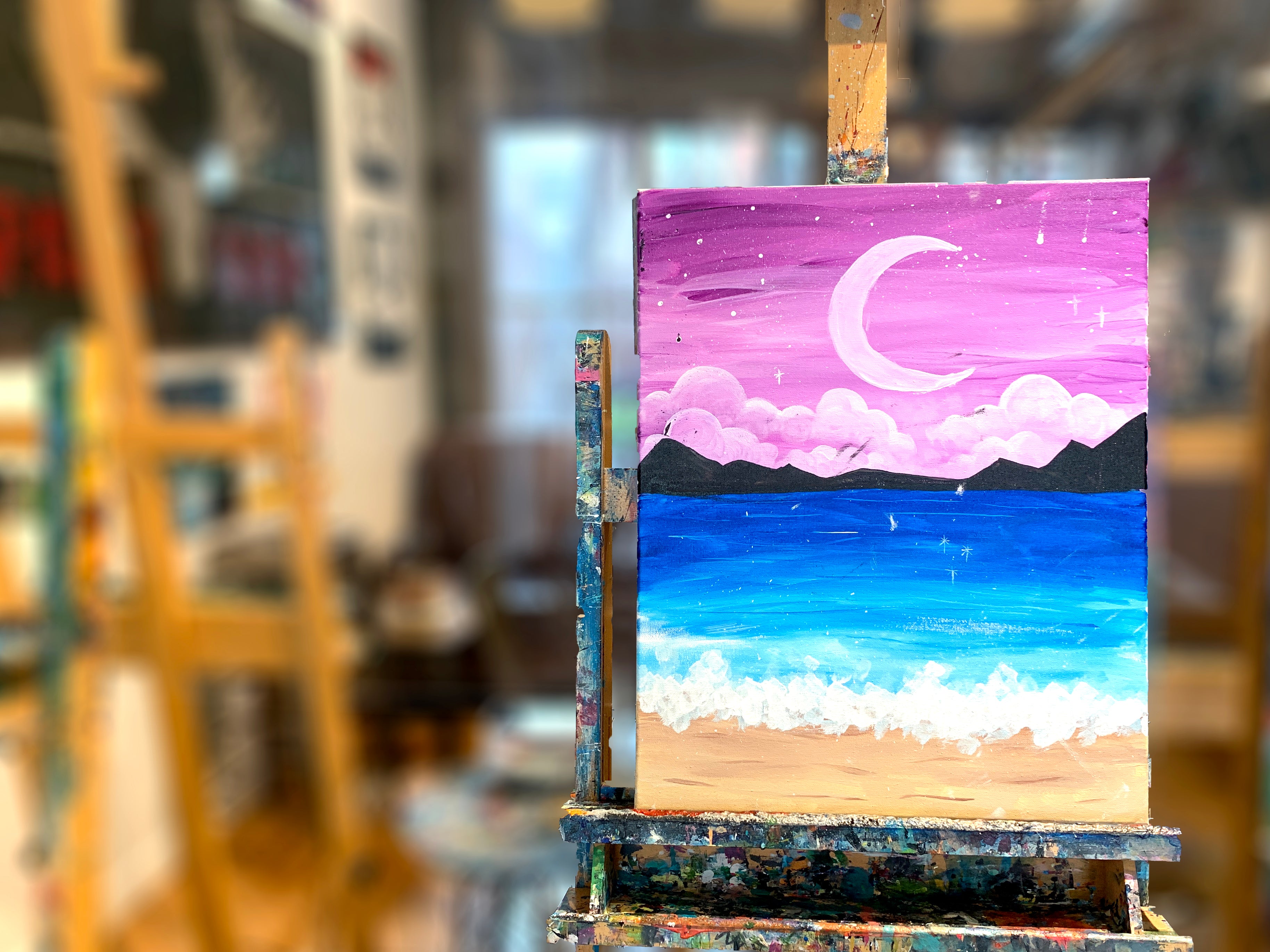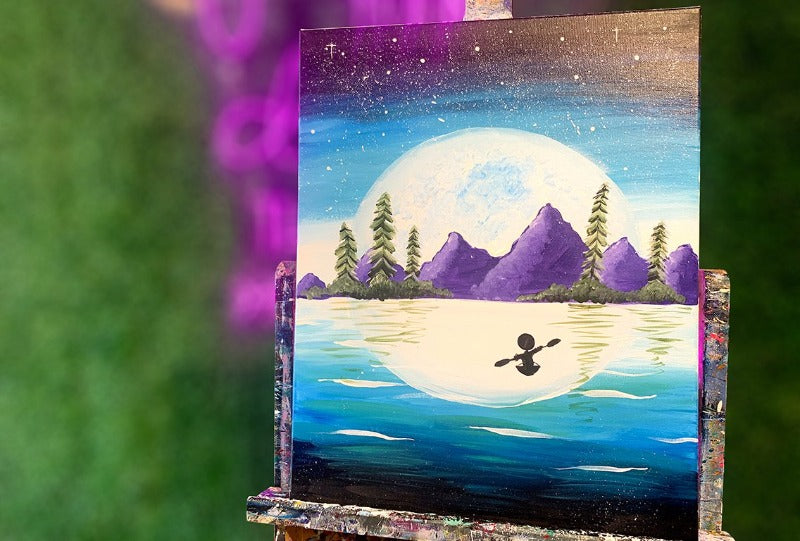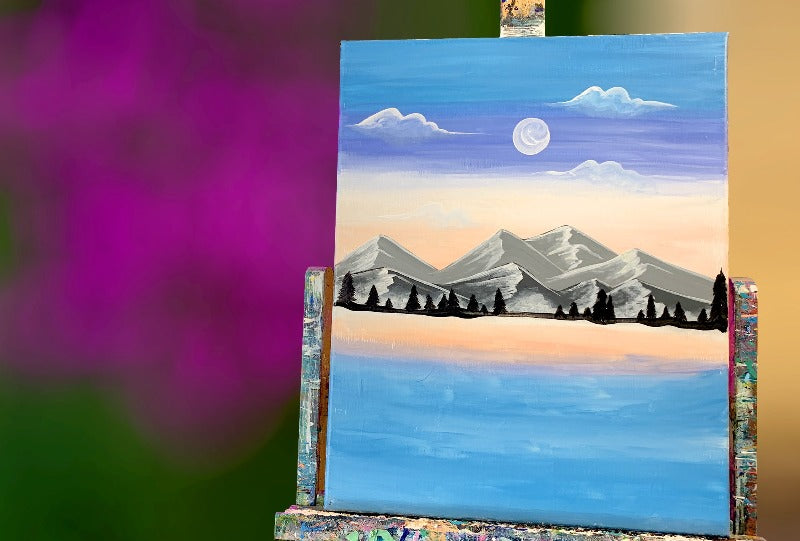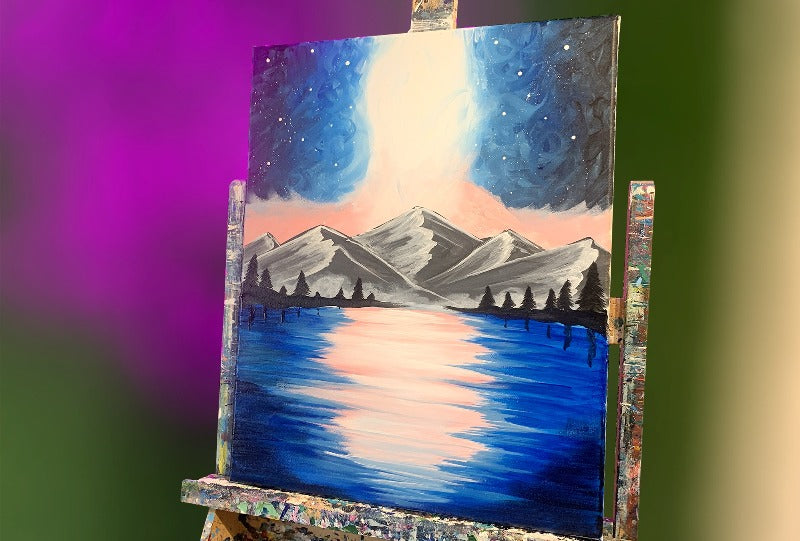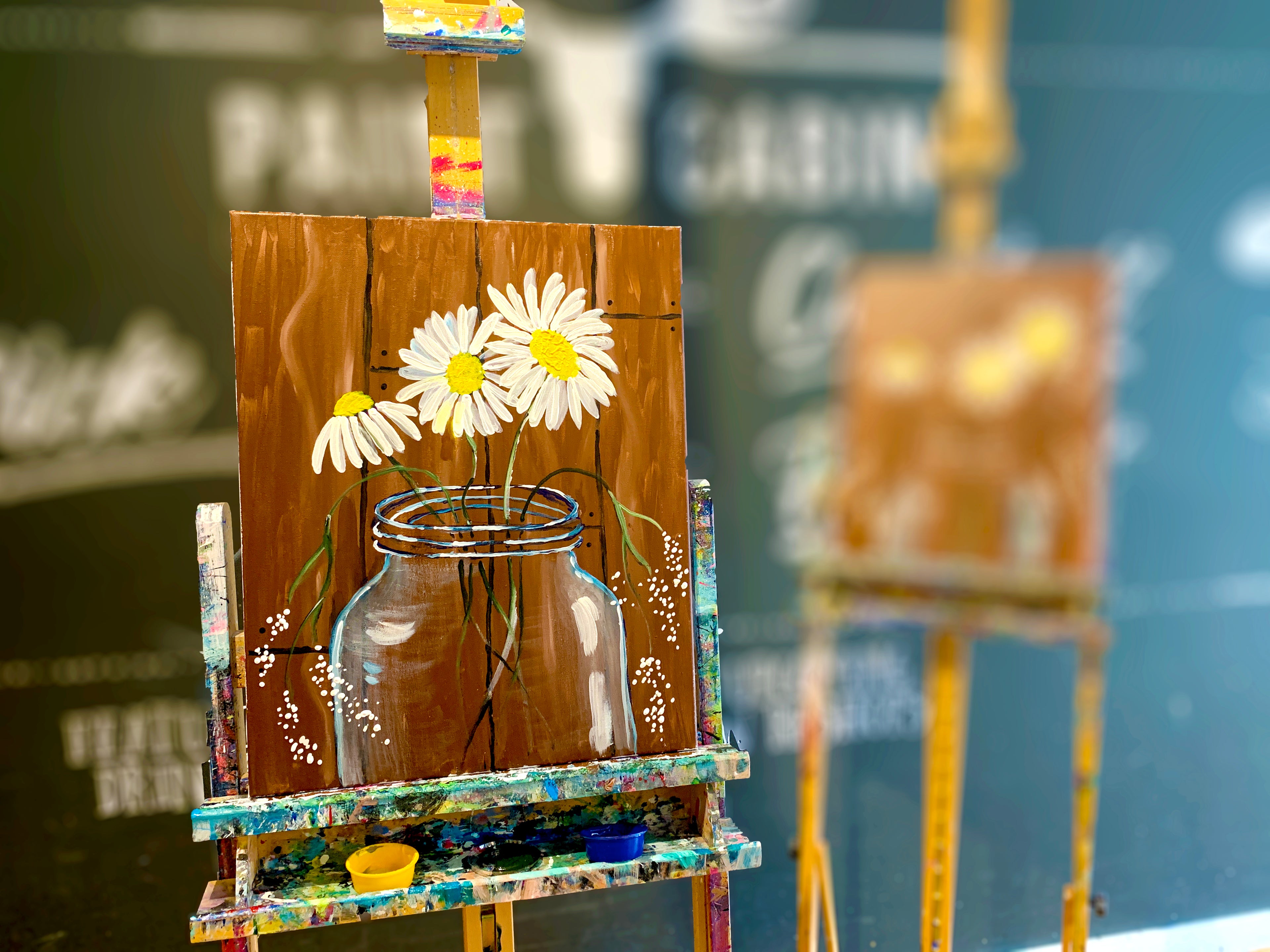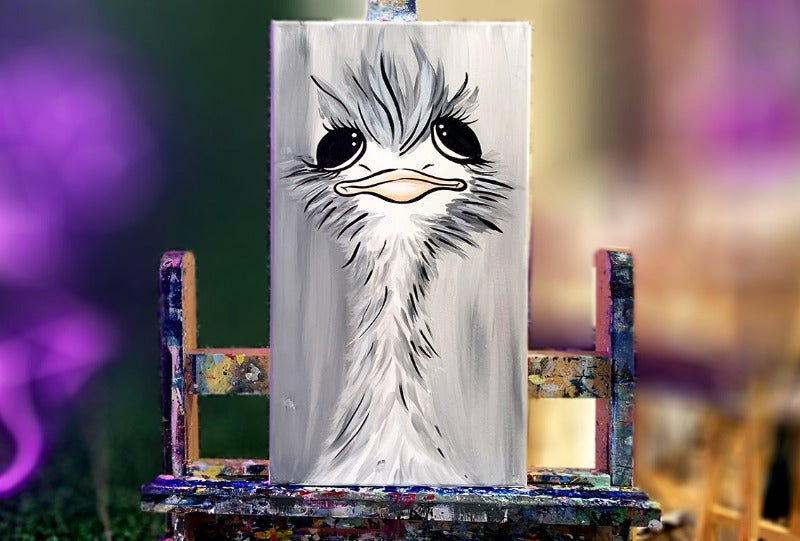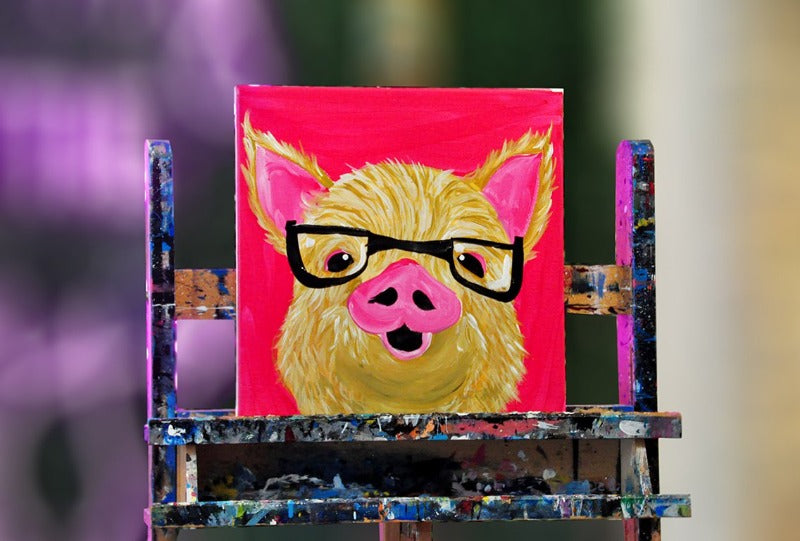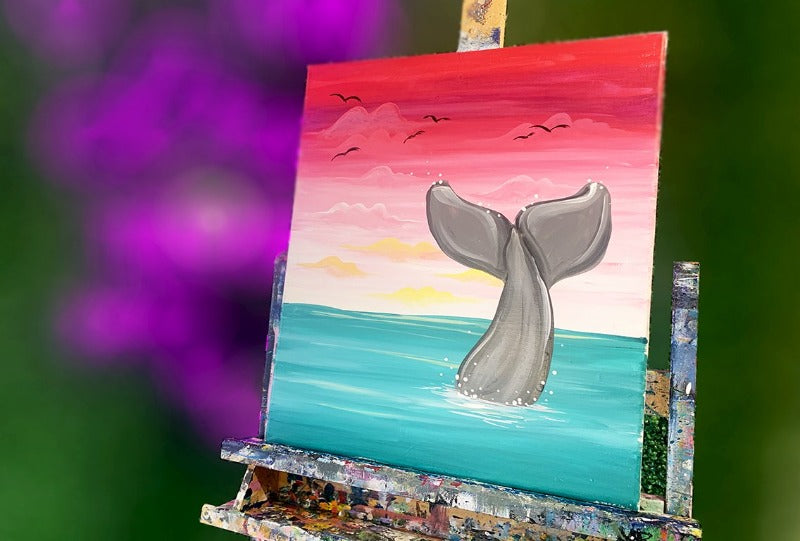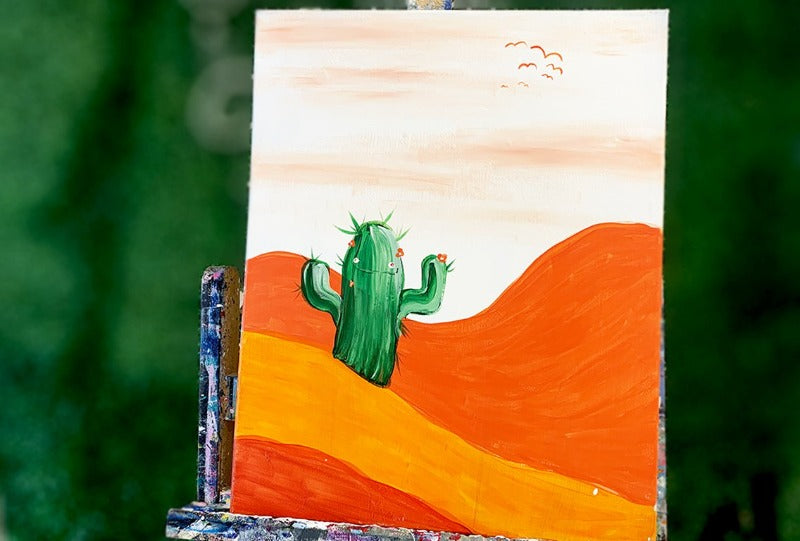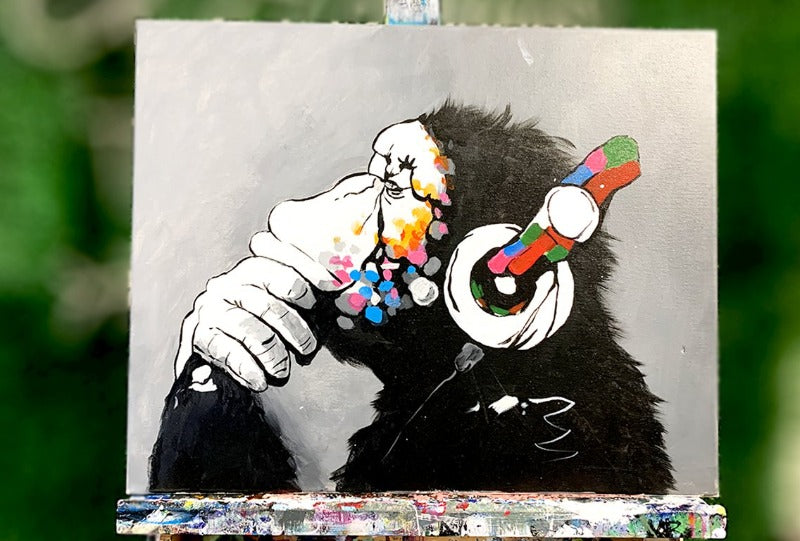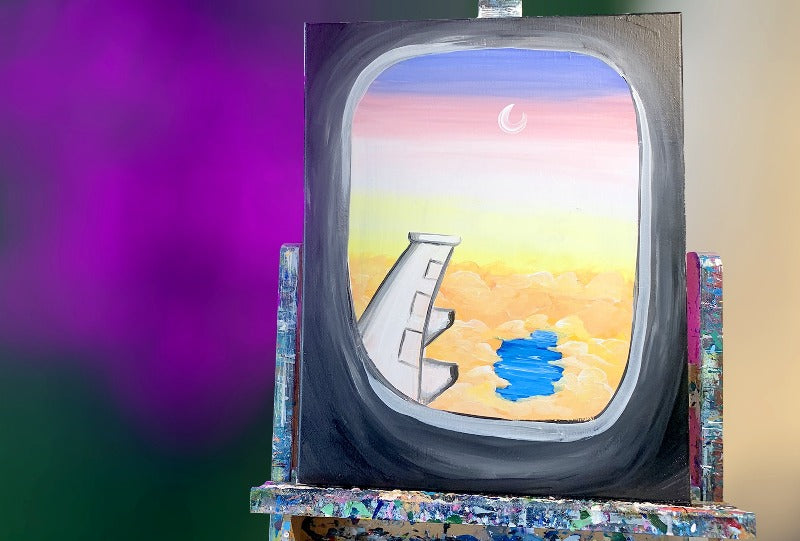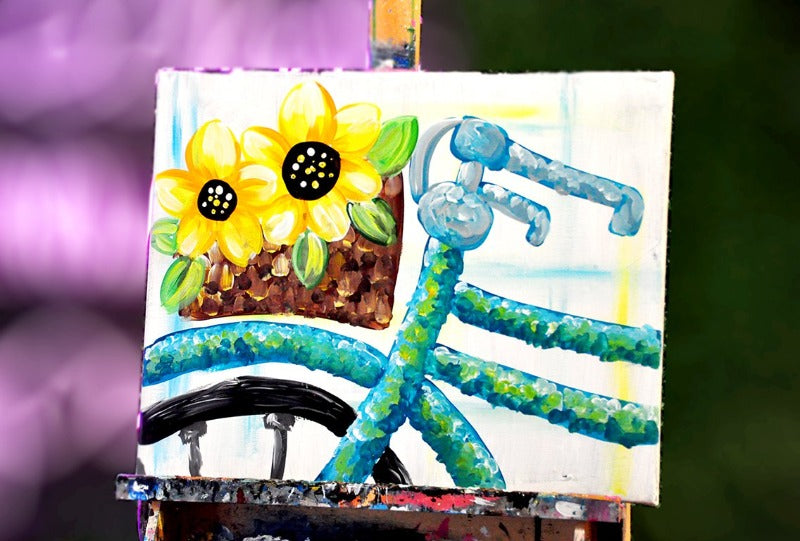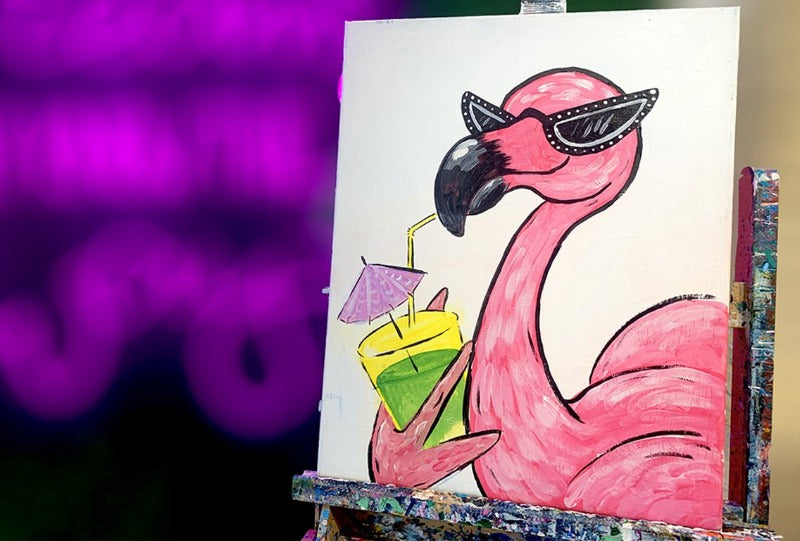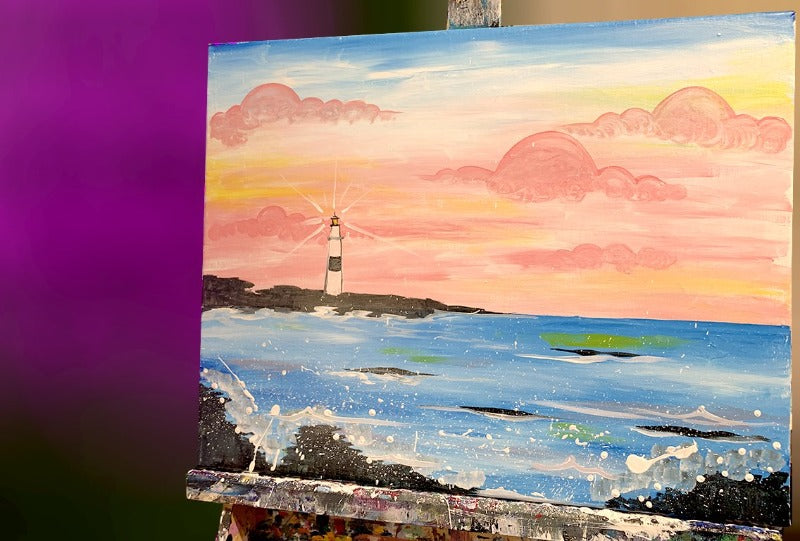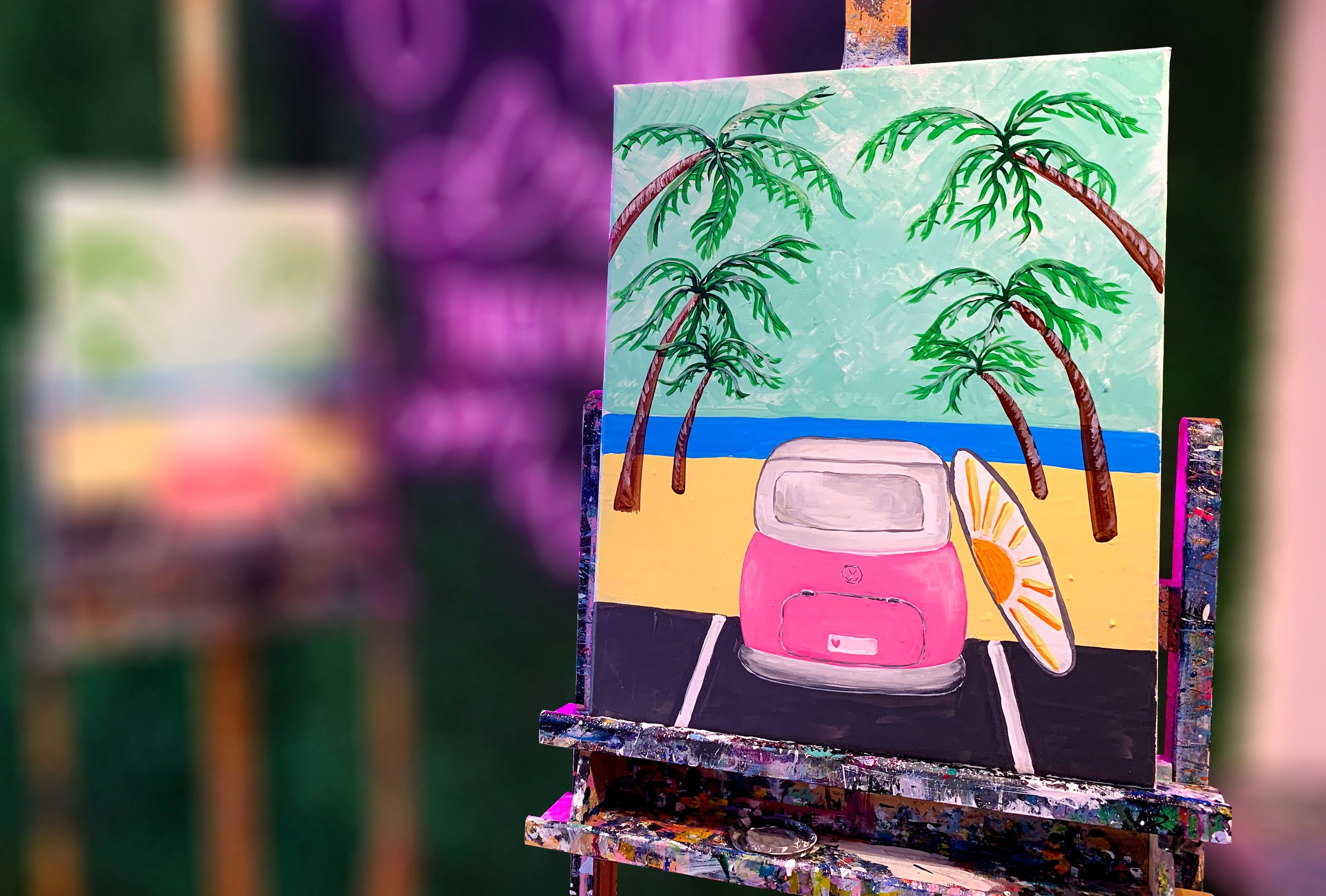 How It Works
1. Select Your Activity

2. Select Your Date

3. Purchase Your Tickets

4. Show Up & Party
Paint Night, DIY Vintage Wood Sign Making, Glow in the Dark DJ Paint Parties, Printmaking & More!
Shop Tickets
Check out our calendar to see all our currently running events.
Calendar
Paint Cabin provides all the workshop leaders, materials, tools & techniques to have you become a DIY MASTER to create your very own Painting and to display at home, office or cottage! Each hands-on workshop teaches you the techniques needed to create a custom piece that looks professionally made.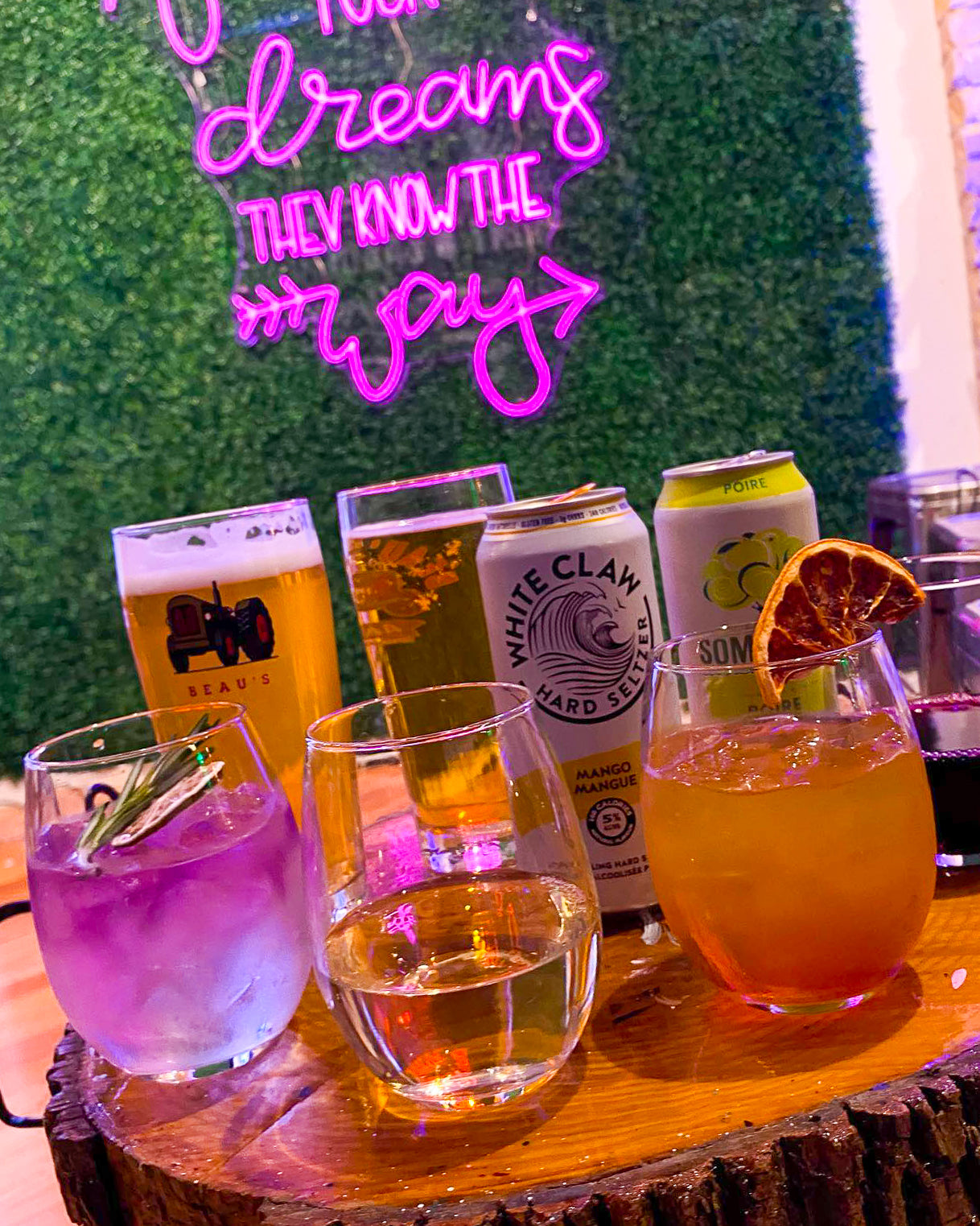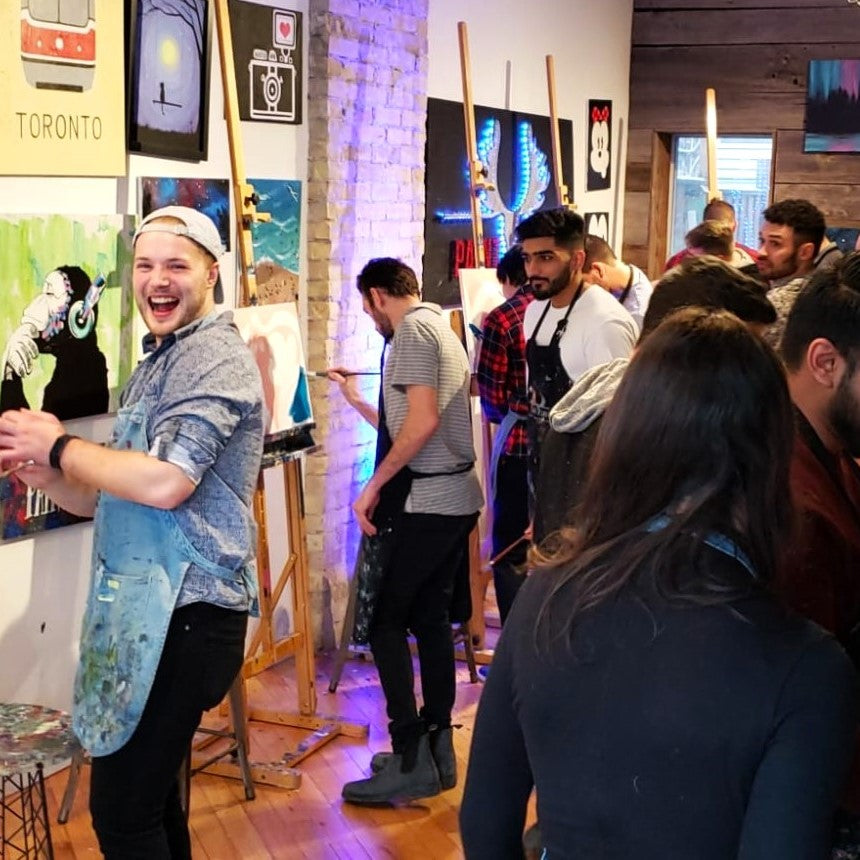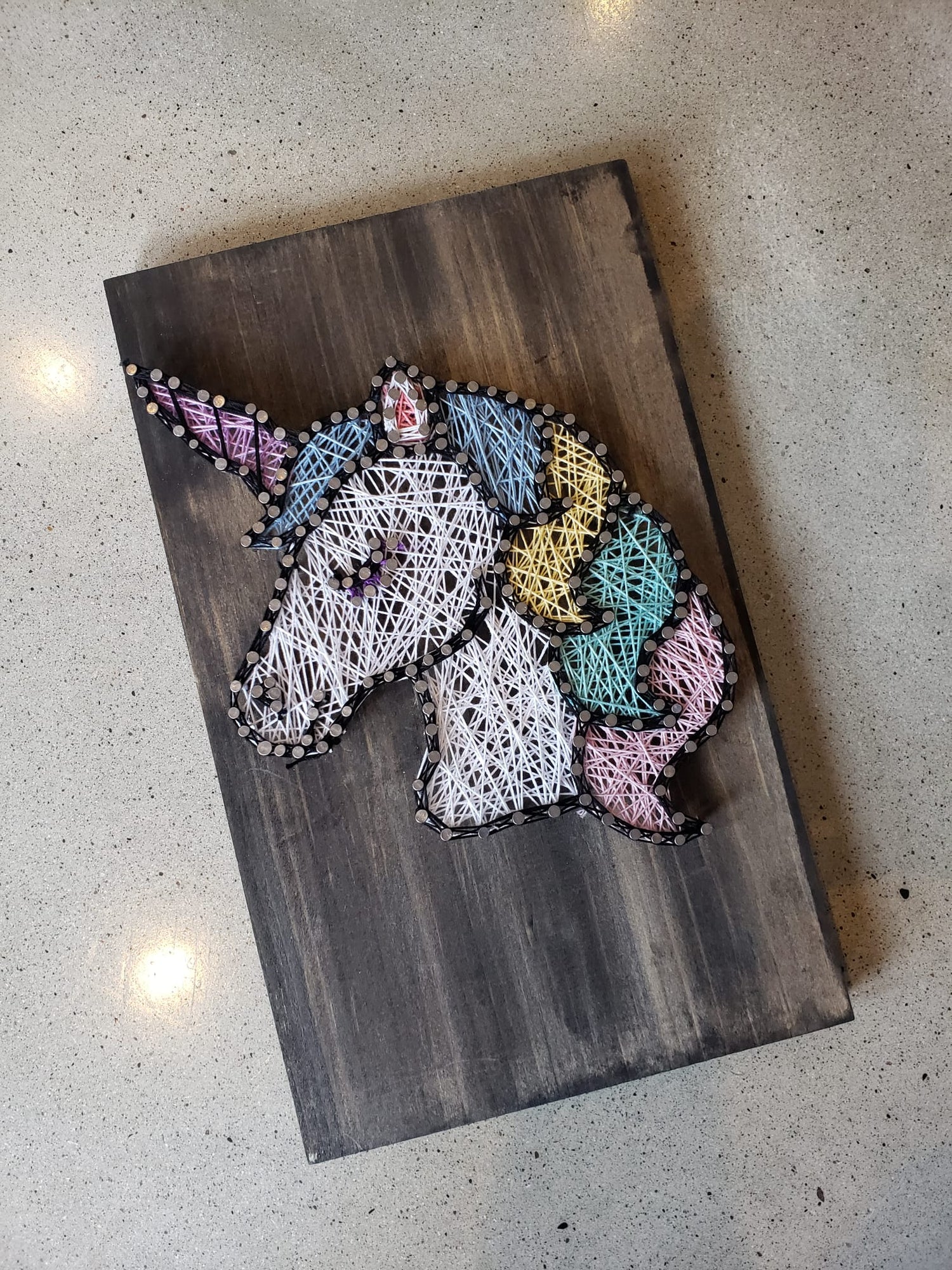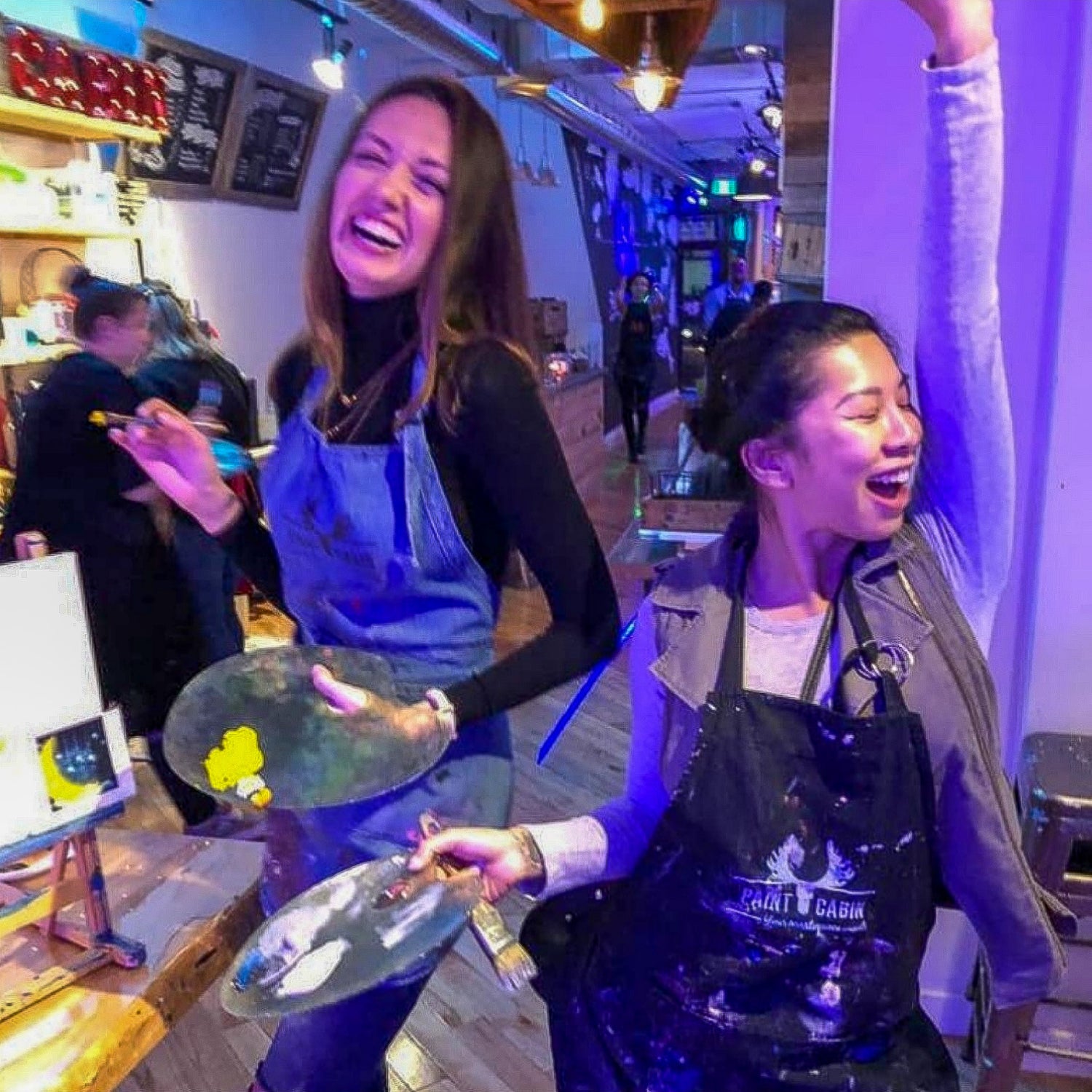 Testimonials











"Anita and her team did an amazing job hosting a virtual paint party for our team in Toronto and New York (60+ people)! It was so well organized and there was absolutely no issue from a logistic standpoint 😊 The Paint Cabin team made it so easy for us; all we had to do was to show up and enjoy the event! Special thanks to TJ and Spencer for hosting the sessions; your energy level was unreal! We would recommend Paint Cabin to anyone in a heartbeat ❤️❤️"

Linh L
"Booked Paint Cabin for a corporate virtual paint night. Ordering the paint kits to everyone's home (both in Canada and USA) was super streamlined and easy, then they took care of the details. We had the option to add on snacks to the kits which made my life easy! We had one snag but the team at Paint Cabin dealt with it swiftly and really care deeply about their customer service and you having an amazing experience. Would book them again in the future!"

Kristen D
"The Paint Cabin team did such a great job ensuring that I could host our company New Year's party on very short notice. They were organized and efficient and able to get everyone's preferred kit shipped to them in under 2 weeks. The kits were of great quality, coming with everything we needed - and the end product came out great. The hybrid class between our loud, in-person team and our virtual attendees, was hosted by Zara, who did a perfect job keeping everyone involved, while also speaking over the noise! Highly recommend this company!"

Jessica G
"It was amazing!!!! The staff was personable and genuinely nice. The atmosphere was great - appropriate music and decor. I would definitely go back. A huge plus, apart from the vibes, is that you get to choose what you want to paint and do so either from their wide collection or by choosing something of your own! They guide you but you are allowed absolute free reign. I was apprehensive as I am no artist and it was my first time but they made me feel comfortable.

They serve a few cocktails at an additional cost and you get popcorn for free."

K Wyn
"If I had to sum up my experience here in one word it would be.....Amazing!!!

It's a fun thing to do if you wanna hang out with friends, go on a date or just be out of the house. The staff are a fantastic crew that are helpful, engaging, funny and welcoming. The owner is on the floor helping and conversing. I'd recommend this place to anyone looking to add some fun into their routine"

Rav C
"We were allowed to choose from any of the paintings that we wanted. This was great because we all had different ones that we liked. The painting instructor was very nice and super helpful. I never imagined that I would be able to paint something that looked like this and once my paint was done I was super happy with it. I would definitely go back again and it was a great girls night out."

Samantha H.
"I went here last night for the first time (and as a first time painter), and boy did I have fun!

It was such a unique experience. I didn't know what to expect from a paint night, but Anita and the staff made the whole thing easy and enjoyable.

First I chose my photo, then I went to work with the direction of the artists - which was all I needed to create my mini masterpiece ;)

The vibes were very chill, loved the layout of the place, and everyone was friendly and informative.

I'll be back for date night next time!"

Tijana D
"My friends and I went on a Saturday night and had the best time! The artists who work there were really kind and helpful. They helped us choose our colours, gave us direction in regard to the best way to approach our individual paintings, and sketched any bits we felt we couldn't do ourselves. I really enjoyed making my painting and loved the final result too! I can't wait to go back next time with my partner!!"

Constantina K
"I came here to celebrate my birthday and had such a great experience!! The staff were absolutely wonderful and helpful! The art supplies and selection of work were excellent. And the music and drinks were just the cherry on top for a good time. I will definitely come back and recommend all to go here!"

Cara H
"We hosted a bachelorette party here during their Drag Queen paint night event and it was a blast! Janet and Anita were very helpful when we were booking the event and Xtacy Love was a great host! Would recommend!"

Mary L
"OFFICIALLY MY FAVOURITE PAINT SPOT! I hosted a small baby shower a couple of weeks ago and beginning to end it was amazing! .... None of those "everyone paints a boat sailing during sunset" cheesy stuff (unless you're into that). Instead, everyone got to express themselves however they felt comfortable doing. All the guests had SUCH an amazing time."

Rana B