Entertaining & Stress Free Group Team Activities Toronto
Are you looking for team building ideas and don't know where to start? Let us make it easier for you.  Paint Cabin is Toronto's leader in creating fun, memorable and personalized events, where your friends and colleagues will continue laughing long after the event has ended. 
Not All Service Providers Are Created Equal
We'll be happy to show to you the Paint Cabin Difference and our philosophy for creating outstanding corporate team building events. 
Coming from the corporate sector, we understand the constant and ever changing demands for employee retention, engagement, onboarding, facetime & motivation, and our corporate events are customized to fit the needs of your team.
Your team is diverse and unique, with their own corporate culture and they deserve team building activities that speak to them. Financial services and industries are different from software teams. At Paint Cabin, we know how to read, engage and curate events to match your team.
There are no "cookie cutter" templates for effective team bonding activities.
Mobile

There Where You're Needed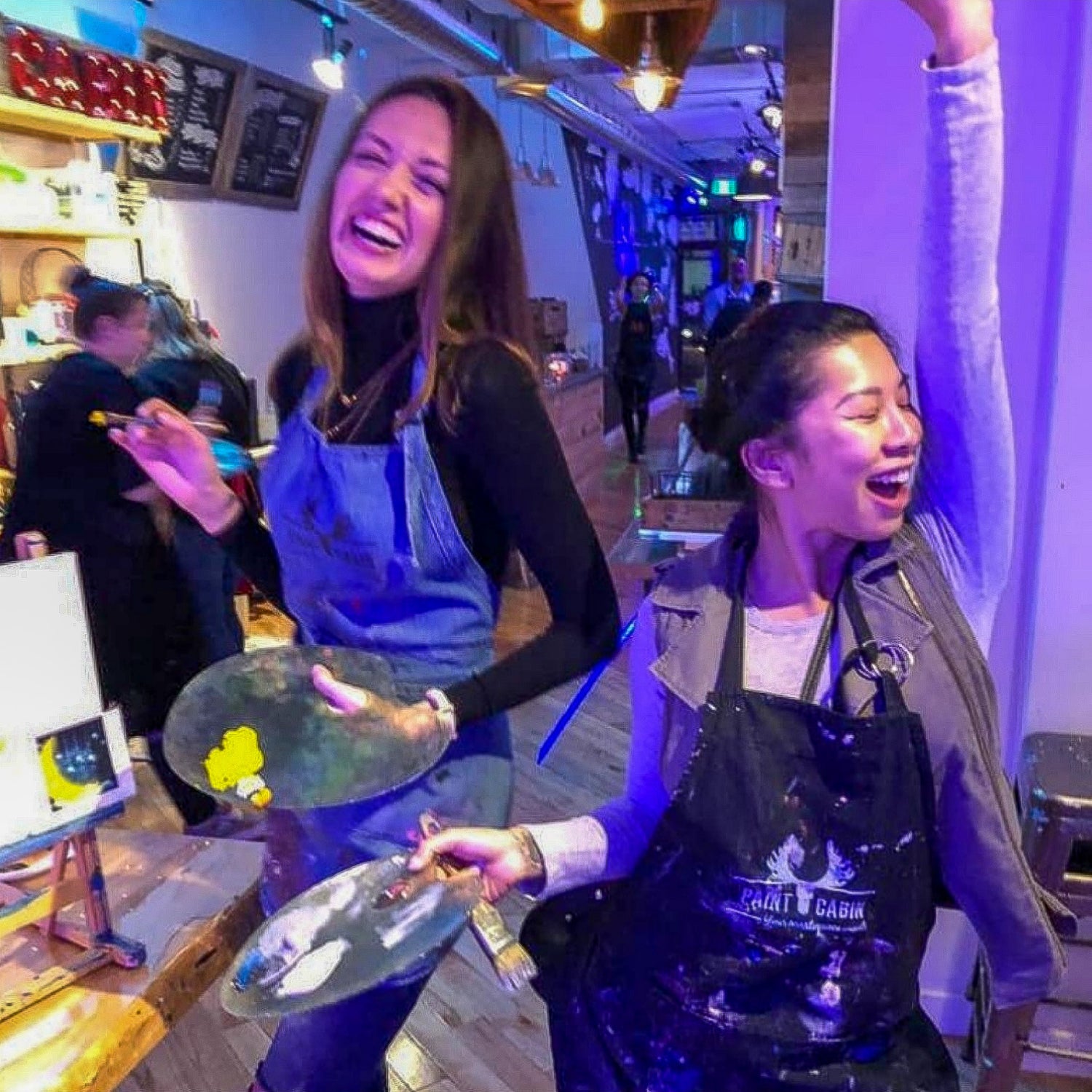 Great Friends! Great Vibe! Great Music!
often duplicated! never replicated!
Our online and in-person parties emphasize celebrating in thoughtful and creative ways. Paint Cabin was founded with your team in mind. We see the value of social engagement and how important cultivating, enhancing and preserving employee involvement is.
Paint Cabin will have you saying goodbye to group events that overpromise and underdeliver. We'll provide the opportunity for yourself and your team to unwind! No more awkward silences or forced conversations! Whether it be a virtual or an in-person event, we pride ourselves on curating an atmosphere full of fun and excitement, so you never feel like you're in a boring classroom!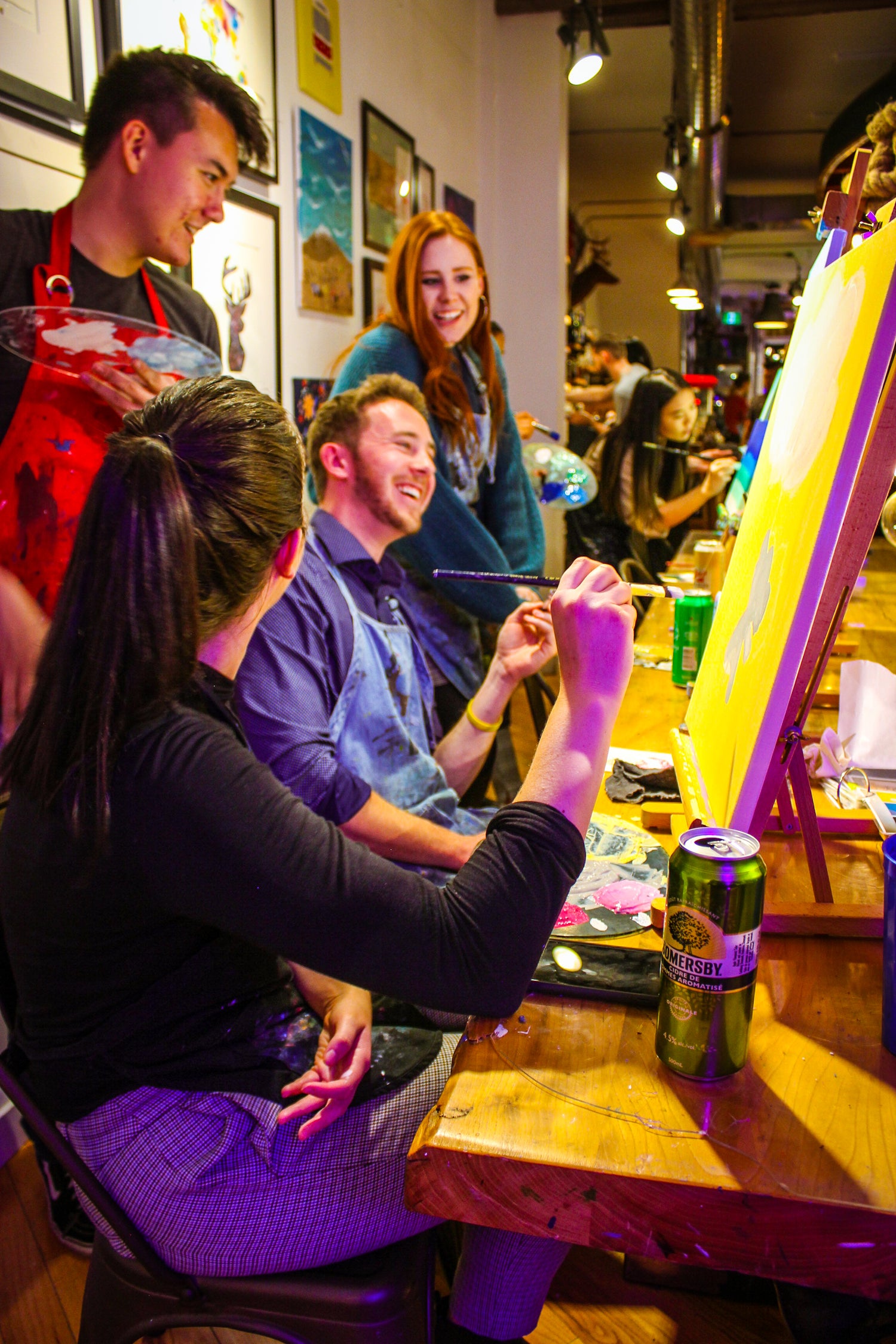 Hosting the Best Team Building Activities in Toronto & Beyond!
But Don't Just Take Our Word For It!
Whether it be team building games, employee on-boarding, sales kick-offs, client appreciation, media launch parties, off-site meetings and conferences, staff retreats, mobile corporate events or office celebrations, virtual or in-person, we guarantee unforgettable one-of-a-kind workshops customized to meet your needs and satisfy your team!
We are service providers that understand the value of building connections and keeping your events fun, entertaining and engaging.
Best of all the Paint Cabin team is personable, detailed and service oriented. We cater to all skill levels, the beginner or non experienced. During your workshops, our helpful and entertaining team members are always there to make the process easy and fun for all!
Our party experts know exactly how to create the perfect event – a corporate outing, social gathering, holiday party, milestone celebration or whatever else is bringing your group together. You will be crowned the host with the most!
Fun Employee Engagement Solutions For Your Team
1. In-Person Events

2. Virtual Events

3. Hybrid Events

5. Catering & Drinks

4. Mobile and Offsite Events
Paint Cabin has private party rooms and event spaces for rent! We offer a wide selection of activities for our in-person team building workshops, from our Five Star Paint & Sip Parties to our Rustic DIY Vintage Wood Sign Making, we promise there is an activity for everyone. With entertaining activities, drinks and catering options available, we know we can curate the perfect event for you and your team!
We offer many different packages for in-studio events as we're always looking to personalize and customize your events to meet your needs and guarantee you the best team building event, so please reach out and let us know how we can help!
Maintain and grow your company culture, even from a distance! It's the perfect Virtual Team Building idea. Paint Cabin is the choice for your remote events! With snack & drink options and door-to-door shipping, it's never been easier to celebrate virtually!
Remote teams are diverse teams. Your corporate events may now take place in multiple locations, spread throughout the city or countries apart! Paint Cabin's virtual events transcend all borders and easily bring together your friends and colleagues from all locations into one outstanding interactive virtual party, full of activities, snacks and lots of laughs!
Choose your activity and we will deliver the kits to your doorstep! We'll pair you with one of our amazing, entertaining live instructors to walk you through the activity on a virtual platform of your choice.
Looking to host an event for your team from all over the world, working in diverse situations? Paint Cabin is your solution. We offer hybrid events that deliver virtual and in-person activities at the same time, so no matter where your team is, they can participate together, all in one unforgettable event!
Celebrate and show your team the appreciation they deserve by combining fun activities with our gourmet curated food & drink options. Whether your team participates In-Person, On-Site or Remotely, we have options to make your next team building all inclusive and special. 
In-Studio we feature a fully stocked alcohol bar offering everything you could hope for, including craft beers, ciders, award-winning wines, fun mix drinks and classic cocktails. As well as our full catering menu with a beautiful selection of gourmet foods.
For Onsite & Remote Adventures, we offer Gift Baskets & Personalized Loot Bags! With our premium snack selection, local craft drink options & personalized gift cards, it's the ultimate way to bring your team building event to the next level!
The Paint Cabin staff is happy to travel! Whether it be a conference centre event, or you're looking to host activities in the office, we offer services wherever you are! With entertaining instructors and all materials provided, let us make your next event memorable! Offering in-person services in Toronto, Mississauga, Scarborough, Brampton, Etobicoke, North York, Markham, Richmond Hill, Ajax, Oshawa, Vaughan, the greater GTA and more.
Welcoming your staff back to the office and don't know where to start? Let us make it easier for you. We know lots has changed over the past few years, and now that teams are all coming back together, Paint Cabin is here to help your organizations rebuild those connections, reintroduce your workplace culture and inspire collaboration and creativity amongst your teams again!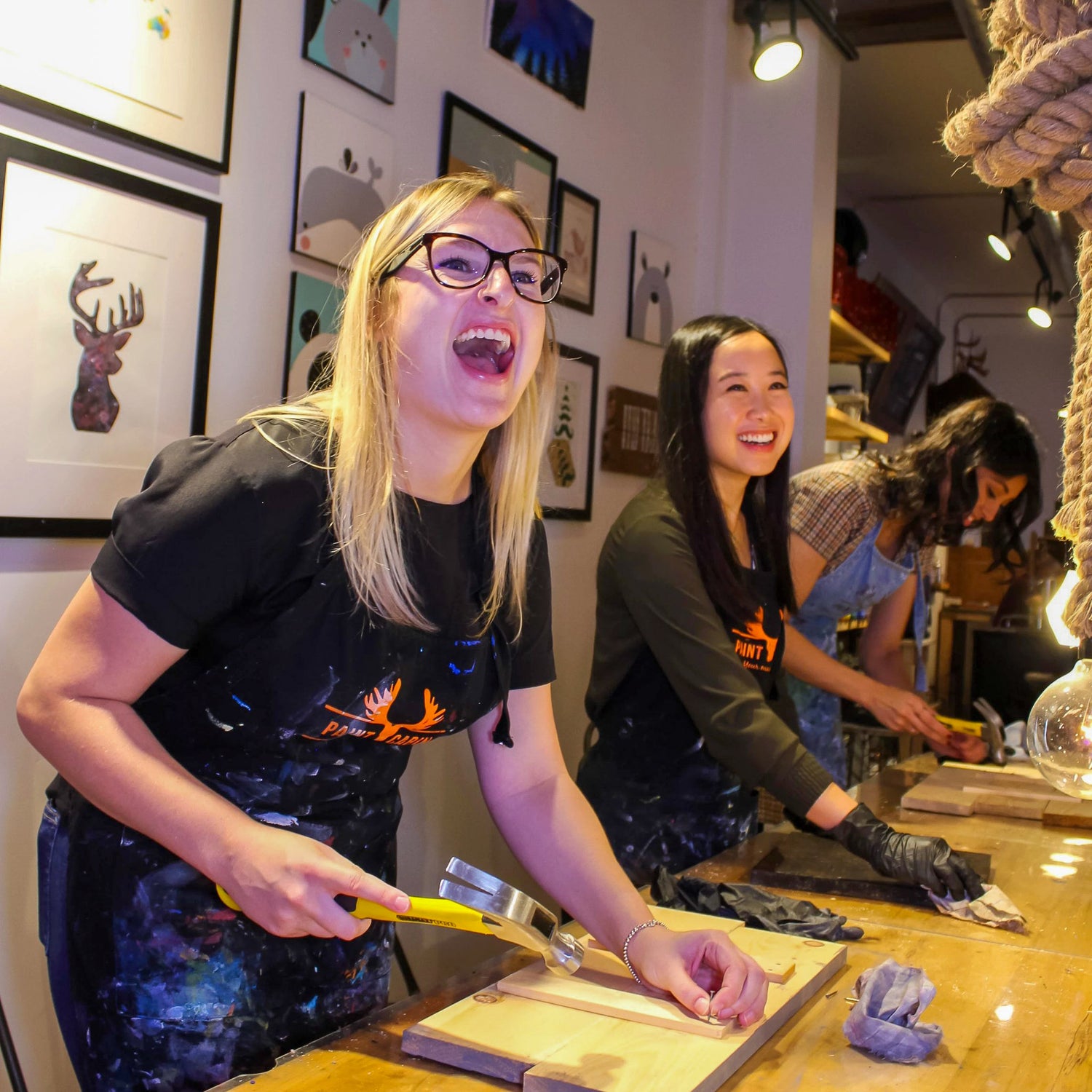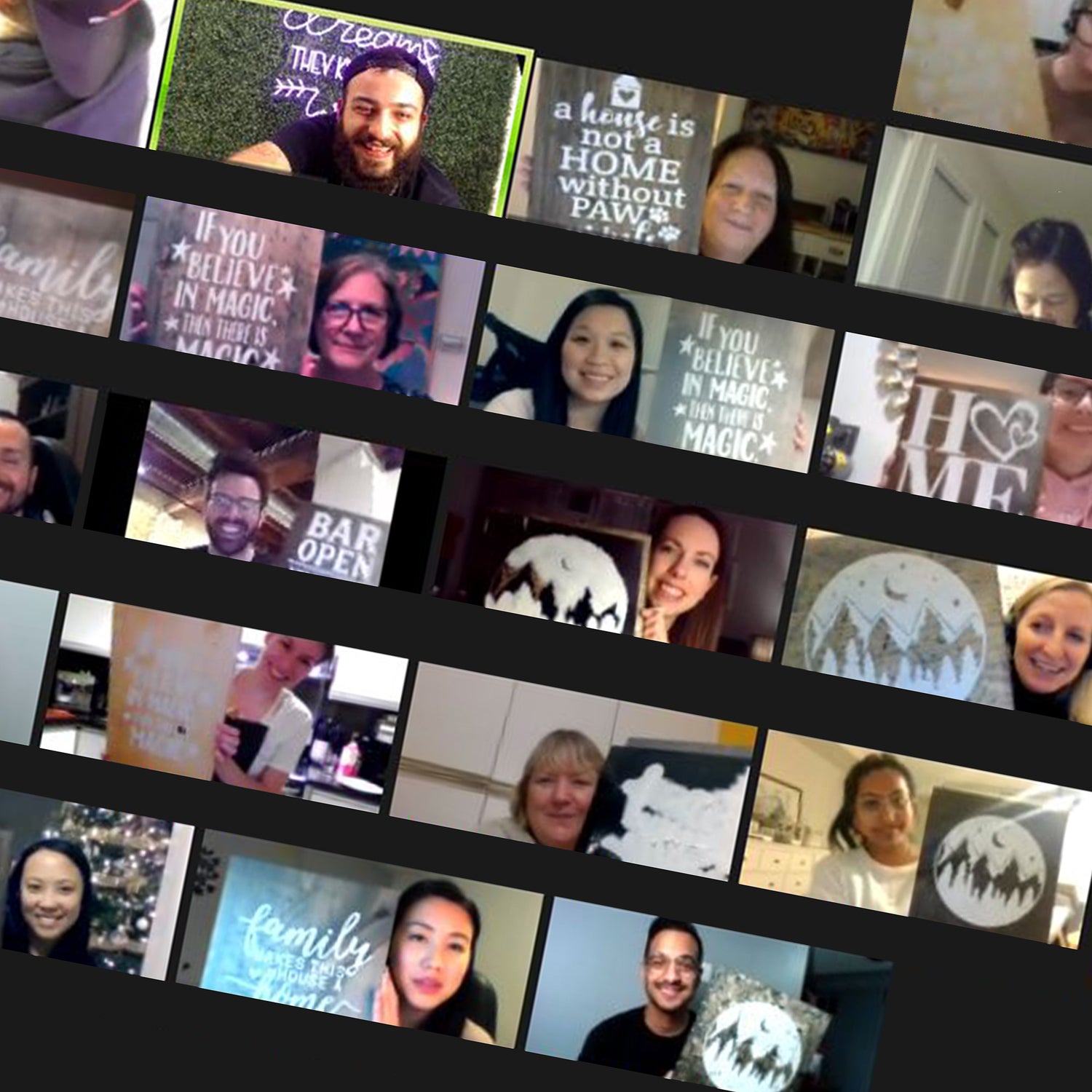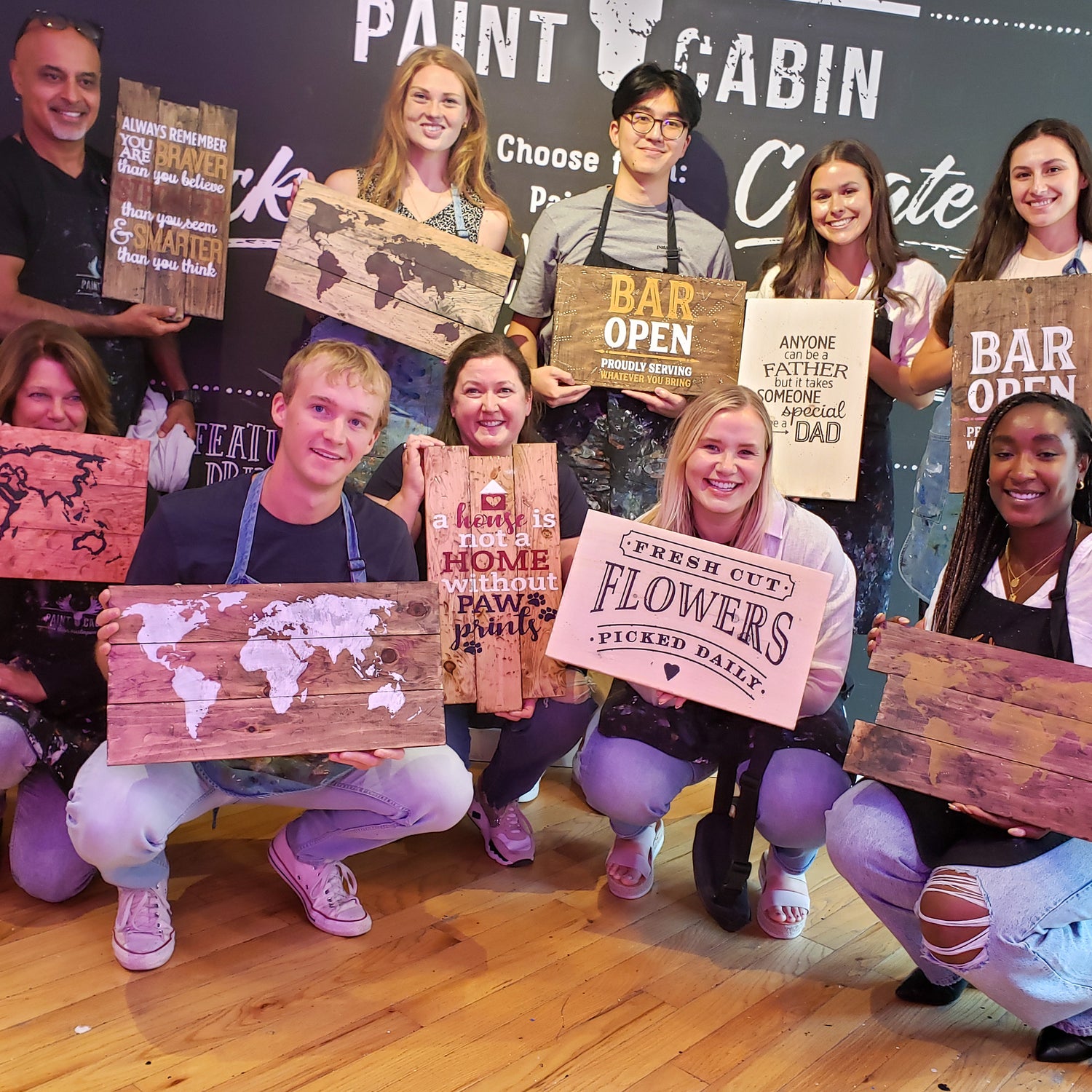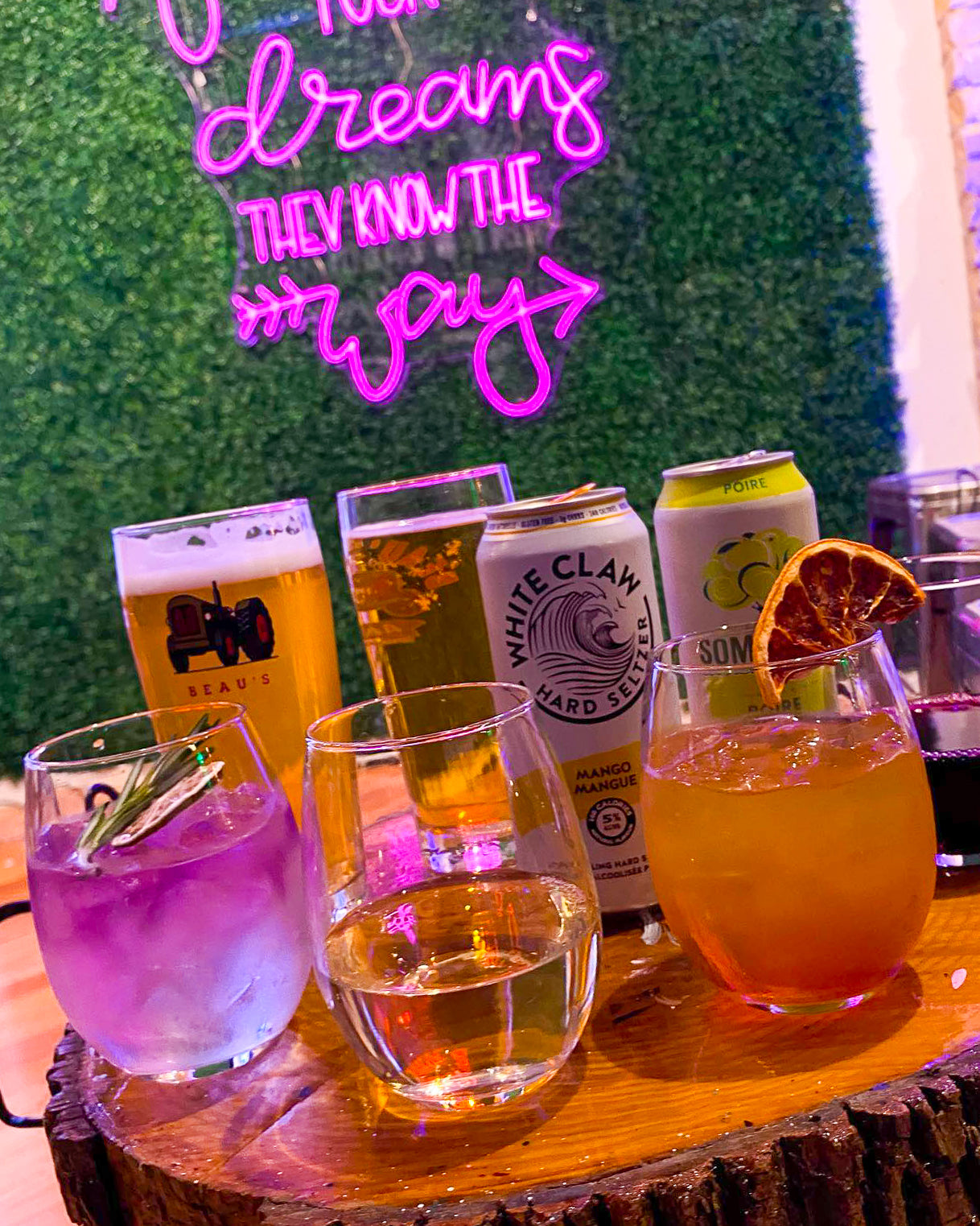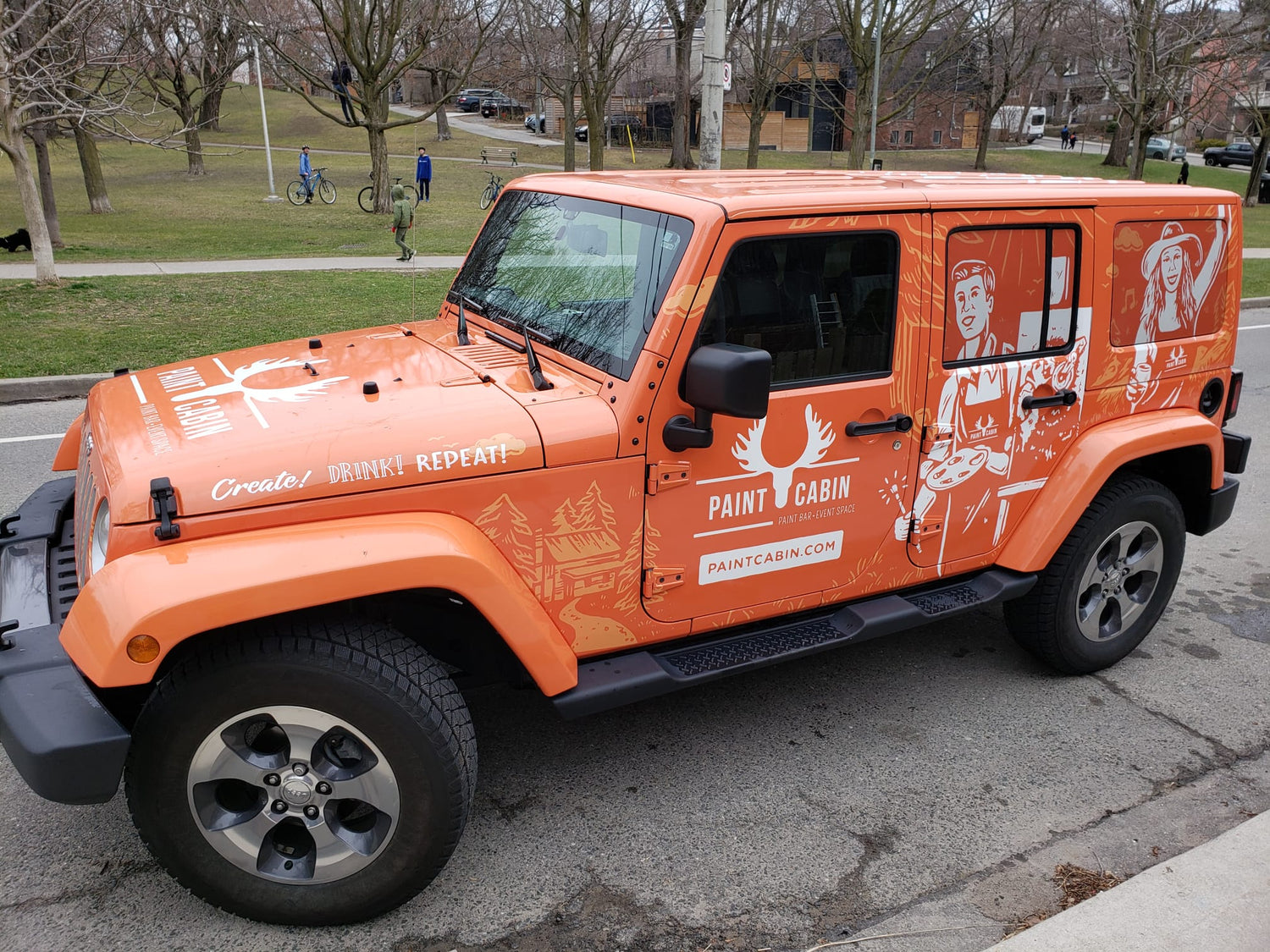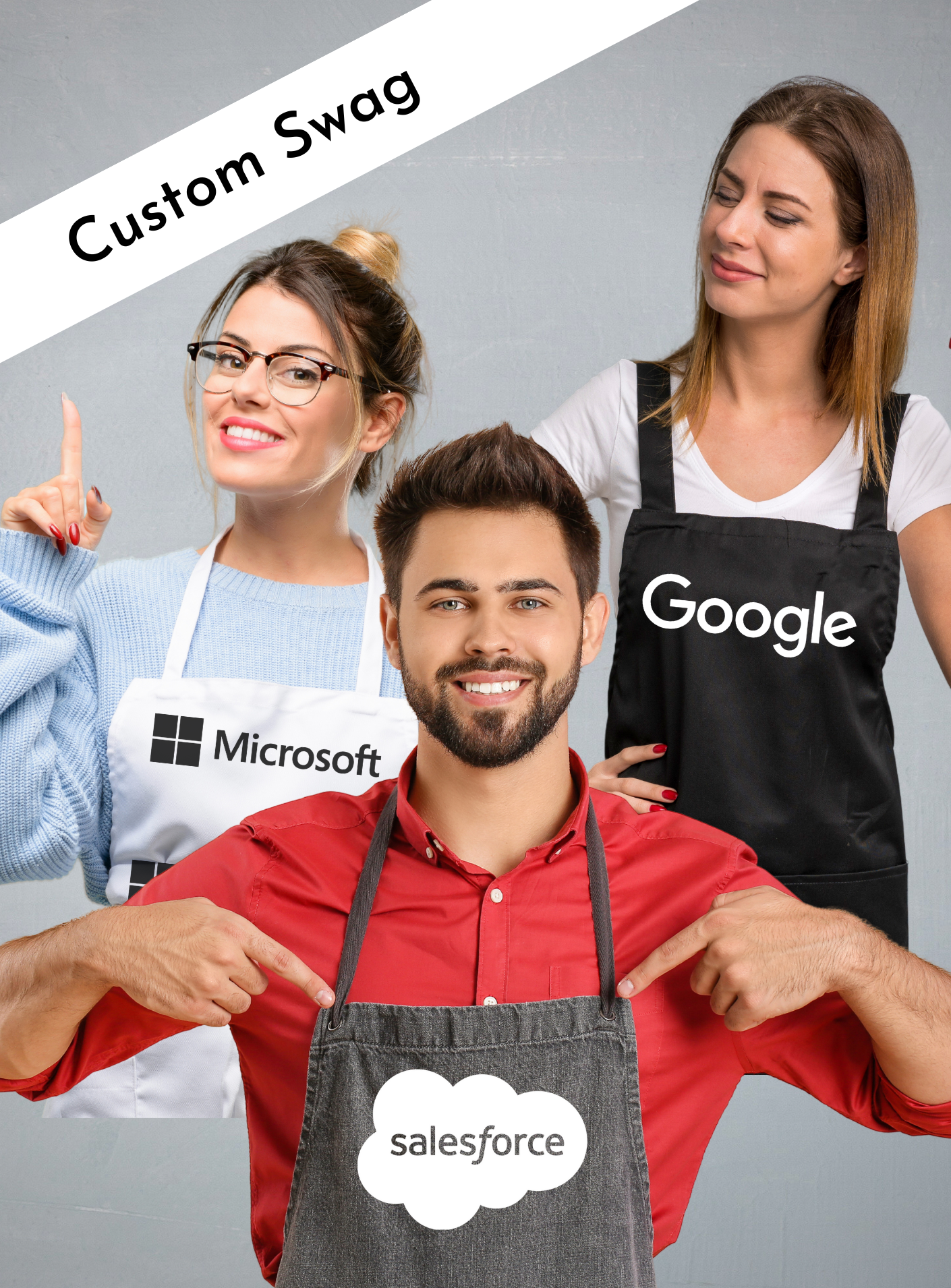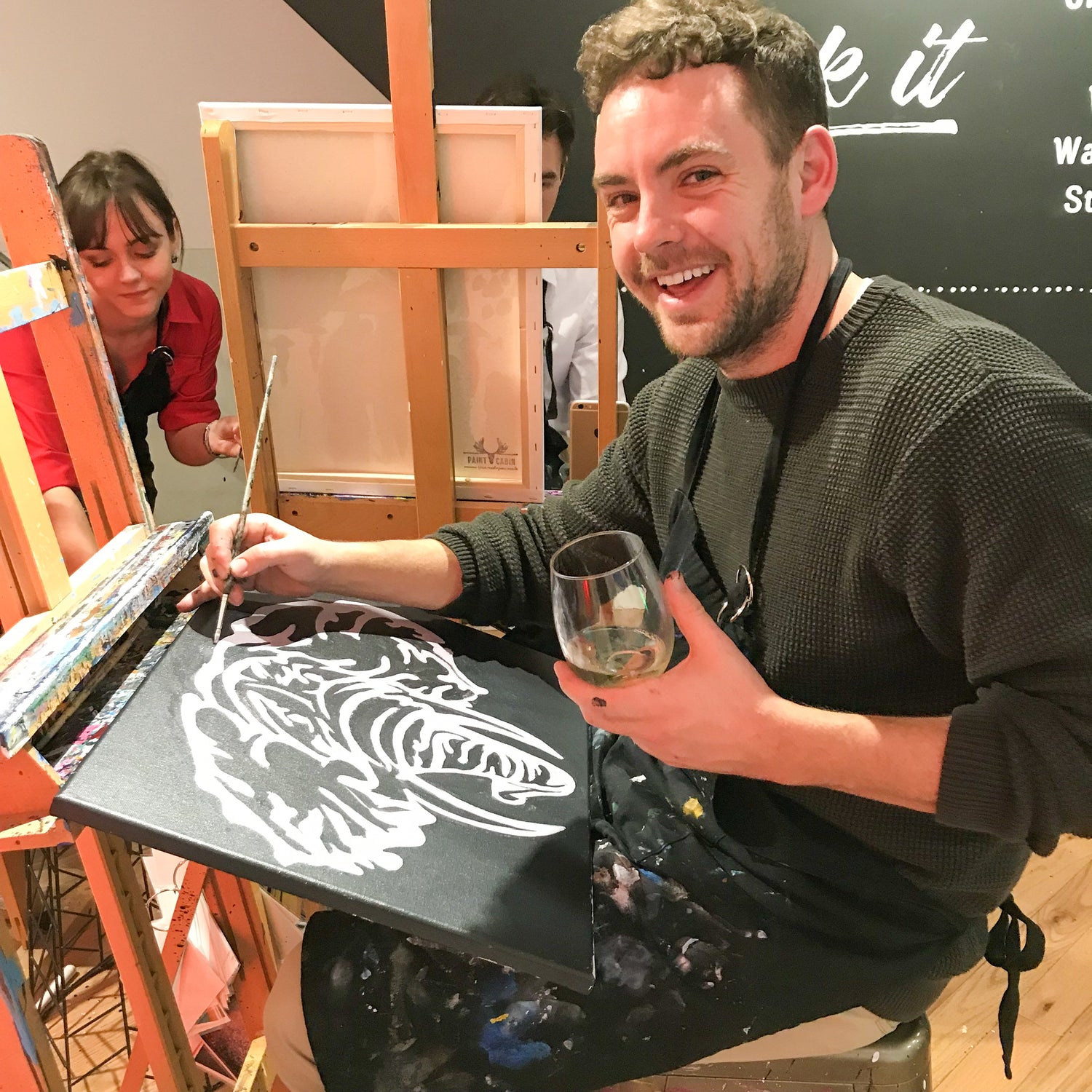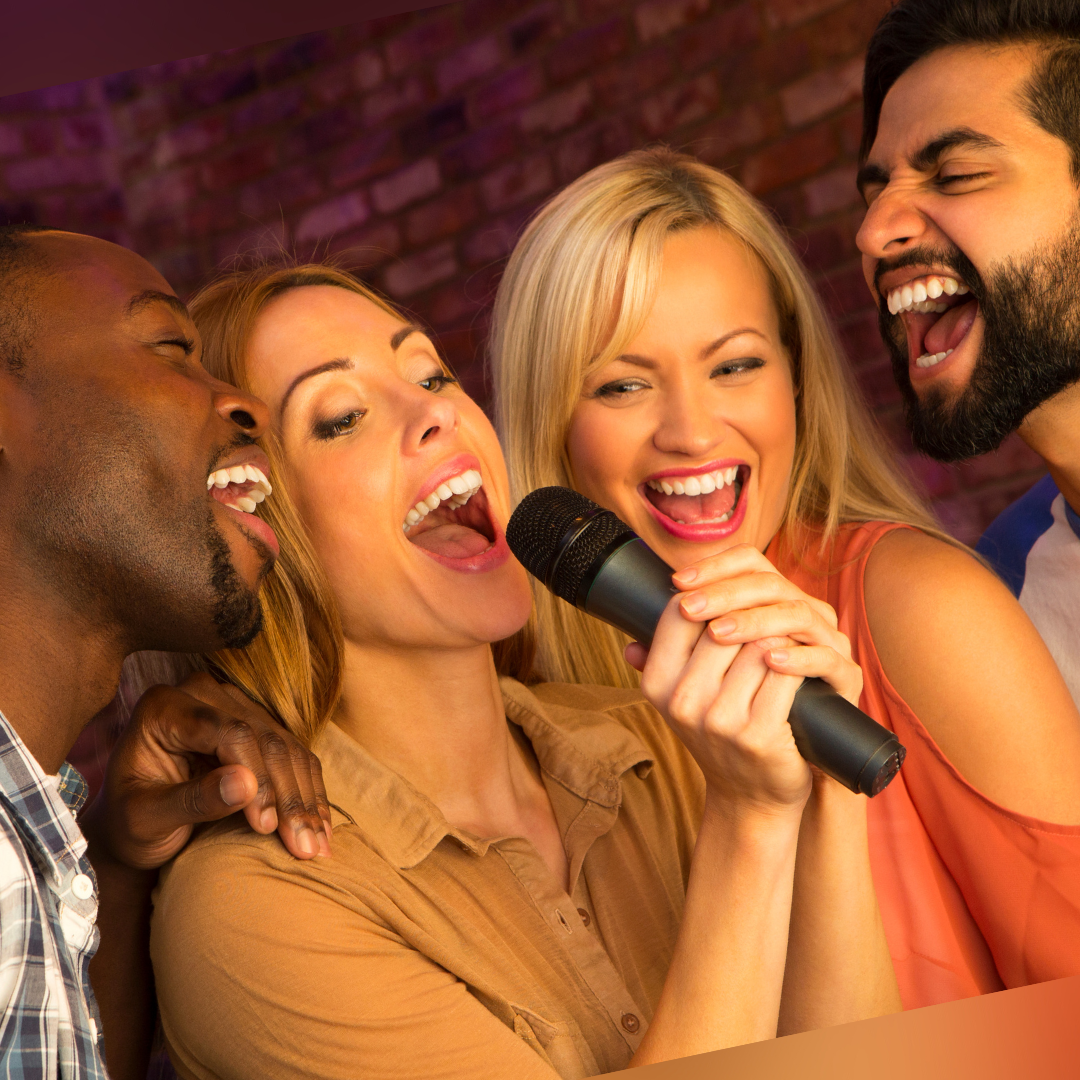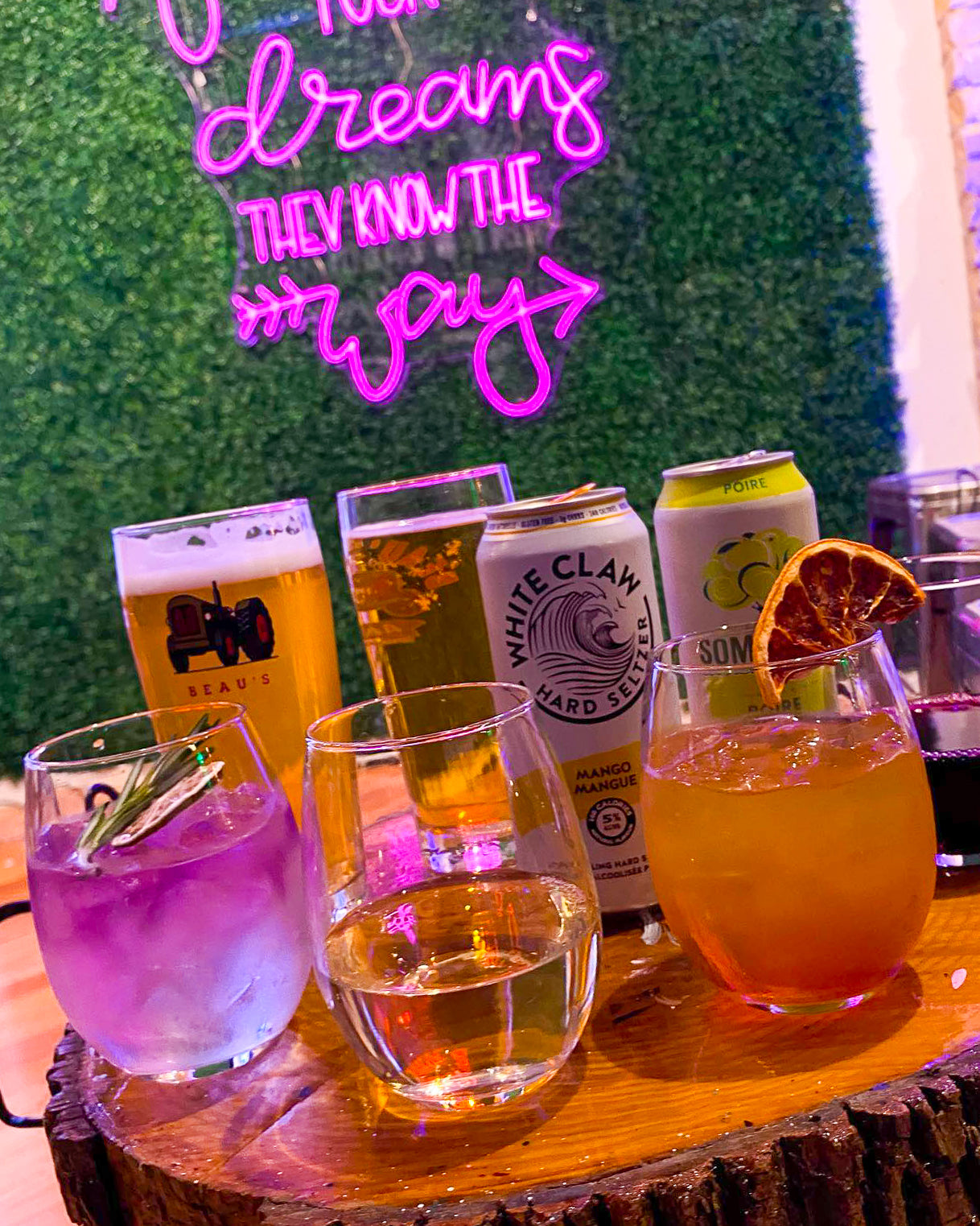 Experiences You Won't Find Anywhere Else
Your Trusted & valued service provider
Paint Parties
DIY Vintage Wood Sign Making
Glow in the Dark DJ Paint Parties
Karaoke Paint Party
Printmaking
360 Photo Booth
Catering
Fully Licensed Bar
Elevate Your Next Team Building Event
Dangerously fun! Wildily Entertaining!
WHAT OUR CLIENTS ARE SAYING
"This is an amazing business and definitely more innovative than the average paint night options that are out there" 



Anita and her team did an amazing job hosting a virtual paint party for our team in Toronto and New York (60+ people)! It was so well organized and there was absolutely no issue from a logistic standpoint 😊 The Paint Cabin team made it so easy for us; all we had to do was to show up and enjoy the event! Special thanks to TJ and Spencer for hosting the sessions; your energy level was unreal! We would recommend Paint Cabin to anyone in a heartbeat

Linh H
Paint Cabin hosted our Virtual End of Year Paint Party last week. They were great to work with and the process was very smooth from beginning to end. Employees received their paint kits in time for the event (they take care of everything from preparing the kits to mailing them out) and everyone had an amazing time. TJ was our host - he was awesome and so much fun! He has the best personality - super engaging and funny! Everyone enjoyed his positive energy. I received wonderful feedback from employees and we can't wait to do another painting event in the future. Thank you TJ and all the staff at Paint Cabin!!

Monique C
Our company did a virtual paint party with Paint Cabin last week and it was awesome! Our instructor TJ was enthusiastic, engaging, and hilarious, making every member of our team feel included. Our paintings all turned out really great as well, and Paint Cabin sent everything we needed right to our doors. Highly recommend for any organizations looking to do a fun team building exercise remotely!

Marg C
We Love To Chat
Schedule a no-obligation call with one of our event coordinators and we'll let you know how we can help make your party memorable, with gourmet snacks, craft drinks, fun music, and lots of laughs!