2023's Breakout Event: Create Your Own Wood Sign Activity!
FROM $52.85/GUEST
Choose From:
Paint Parties
DIY Vintage Wood Sign Making
Printmaking / Tote Bag Making
Needle Felting Character Creation
Glow in the Dark DJ Paint Party
Make Your Event Unforgetable: Add-Ons, Extras & Premium Features
Glow in the Dark DJ Paint Parties

Karaoke Paint Parties

Experience Smash Cakes

Spinning 360 Video Booth

Curated Gift Baskets
Amplify Your Event with a Glow in the Dark DJ Paint Night!
Ignite your celebration with our electrifying Glow in the Dark DJ Paint Night.
🎨 Explore Your Artistic Side: Paint under a Vibrant Glow

🎧 Dance to the Beat: Live DJ Entertainment

💃 Unforgettable Teams Socials: Paint, Dance, and Connect
Get ready to paint, dance, and create lasting memories at our Glow in the Dark DJ Paint Parties!
Experience the ultimate fusion of painting and entertainment with our Karaoke Paint Nights.
🎨 Explore Your Adventurous Side: Paint Your Masterpiece

🎤 Belt Out Your Favorite Tunes: Be the Karaoke Star

🎉 Nightlife + Create: A Unique and Memorable Experience
Join us for an evening of artistic expression, music, and laughter. Let your creativity flow as you paint and sing your heart out at our Karaoke Paint Nights!
Treat your team event to a whole new level of indulgence and fun with our delectable Chocolate Smash Cakes. 
These enchanting treats are not just desserts – they're an experience! 
🎂 Picture a stunning chocolate dome, poised to be smashed open, revealing an irresistible cascade of treats. 
🍬 Our Chocolate Smash Cakes seamlessly blend taste and entertainment, creating an experience that will truly stand out during your team celebration. 
🎁 Whether your team members are relishing the excitement of smashing the cake or delving into the delightful assortment of surprises nestled inside, our Chocolate Smash Cakes are guaranteed to be the centerpiece of your event. 
Treat your team to a sweeter side of celebration and craft a memory that will be cherished by all.
📸 Immersive Memories: 360-Degree Video Capture 
Step into our 360 Video Booth and watch as it spins and captures your special moments from every angle, creating immersive memories that you can relive again and again.
🎥 Dynamic Visuals: High-Quality Video Recording 
Experience high-quality video recording that brings out the best in every frame. Our 360 Video Booth ensures that every smile, laugh, and dance move is preserved in stunning detail.
🎉 Shareable Moments: Instant Social Sharing 
Share your captured memories with ease. With instant social sharing, you and your guests can post, tag, and reminisce about the event in real time, spreading the joy far and wide.
🎁 Thoughtful Selection: Curated Gift Assortments 
Discover a selection of meticulously curated gift assortments that cater to various tastes and occasions. From gourmet treats to pampering essentials, our Gift Baskets are designed to delight and impress.
🌟 Personalized Touch: Customizable Options
Add a personal touch to your gift-giving by exploring our customizable options. Whether it's adding a custom swag for your company or selecting specific treats, our Gift Baskets can be tailored to make every event unique.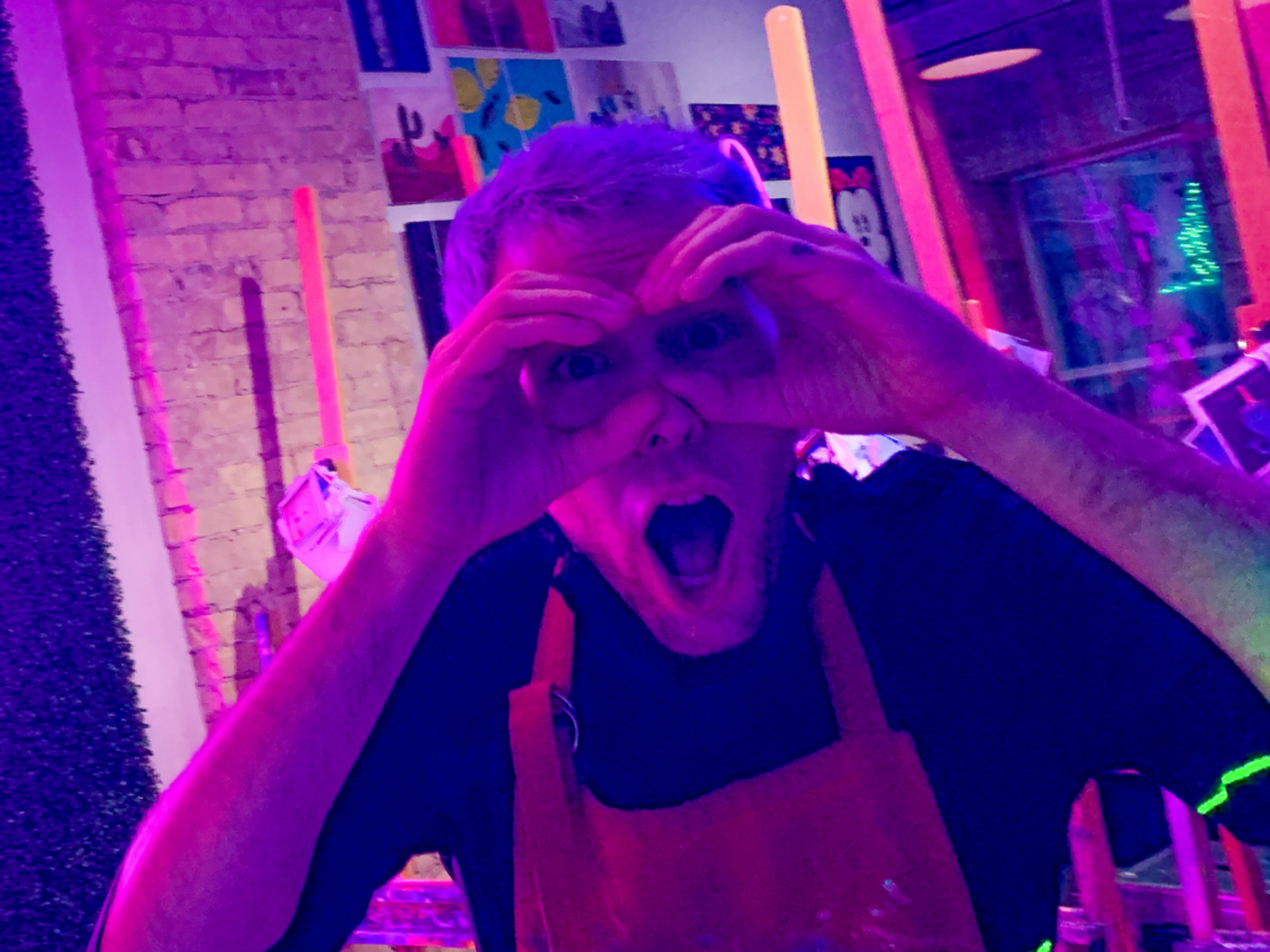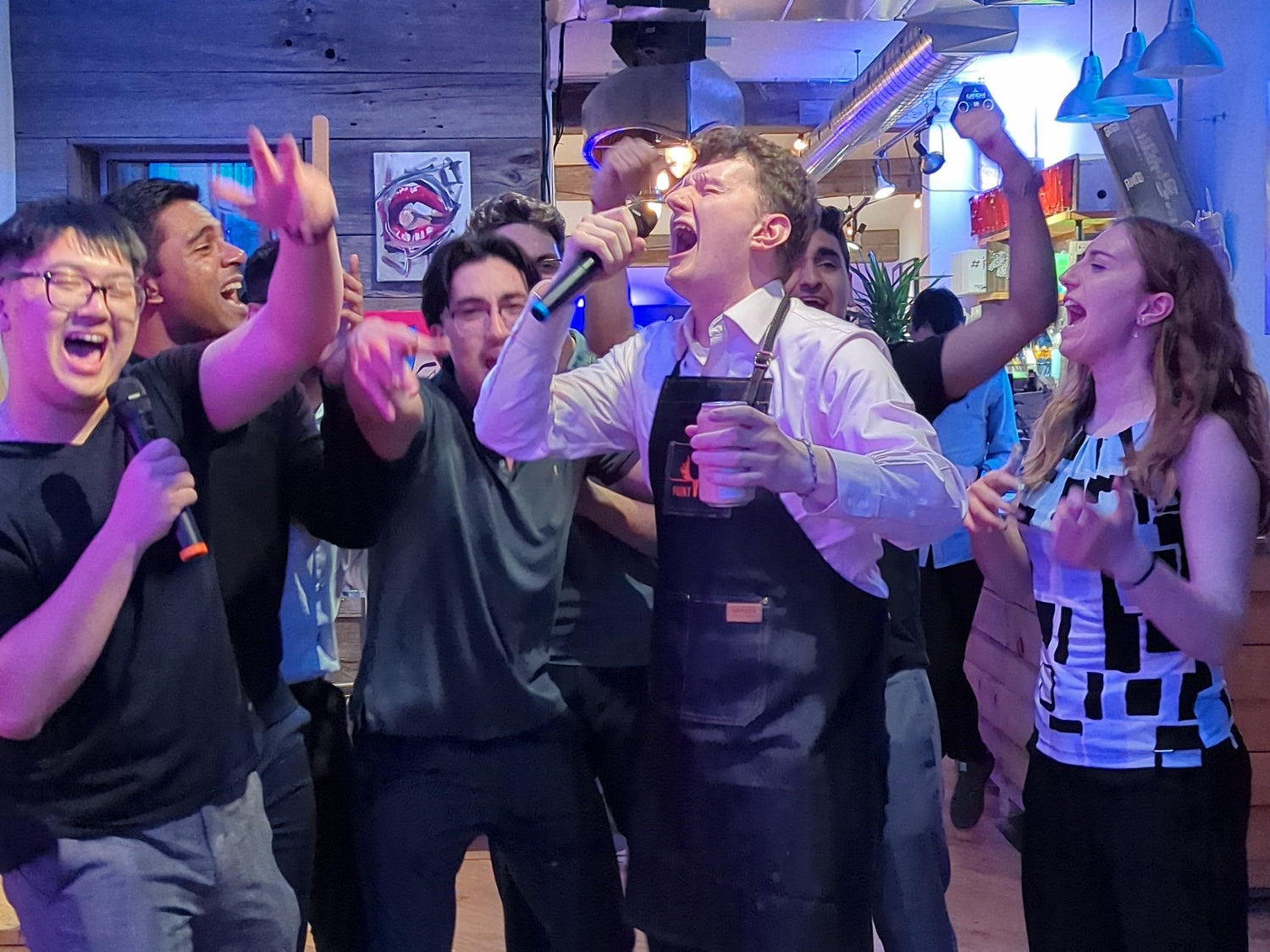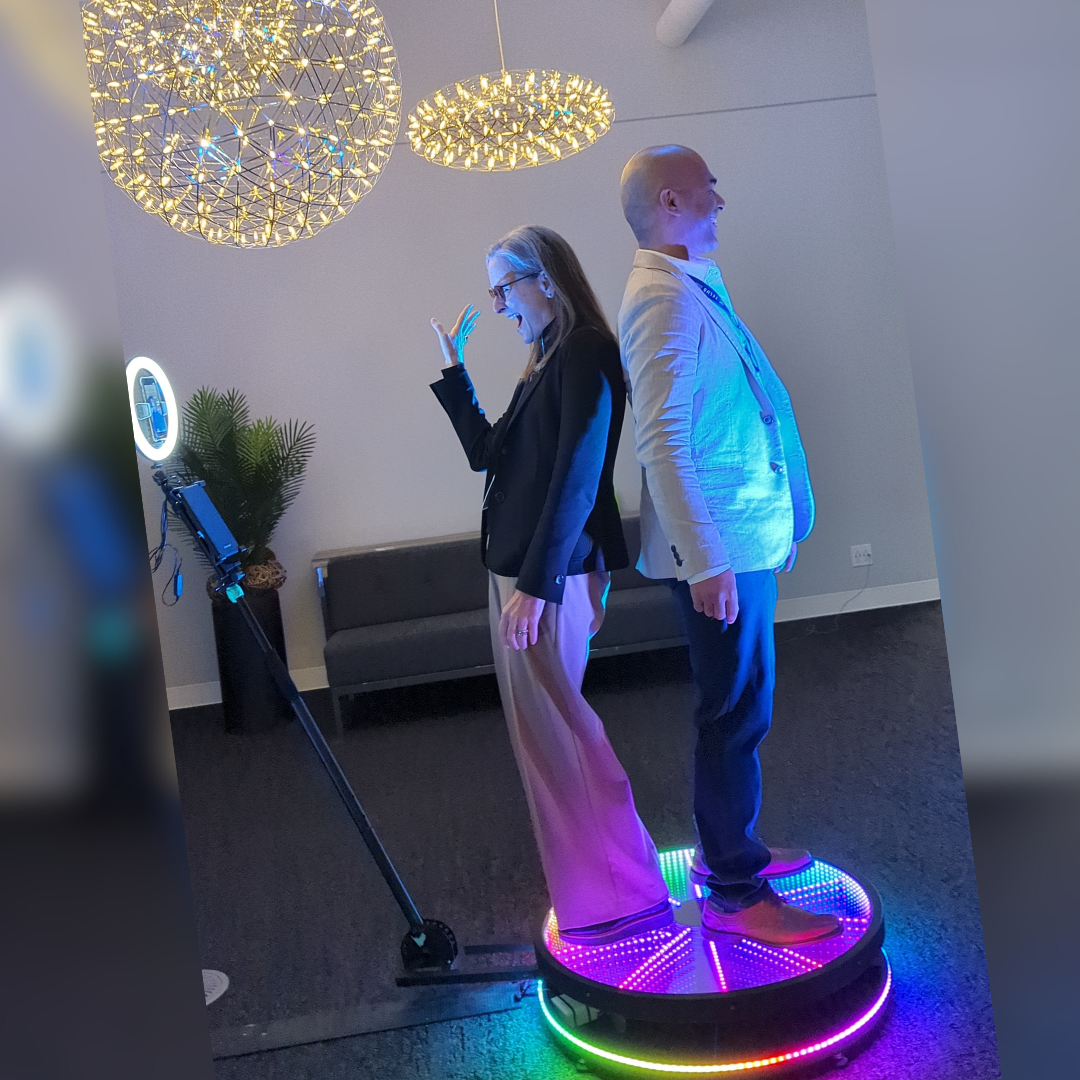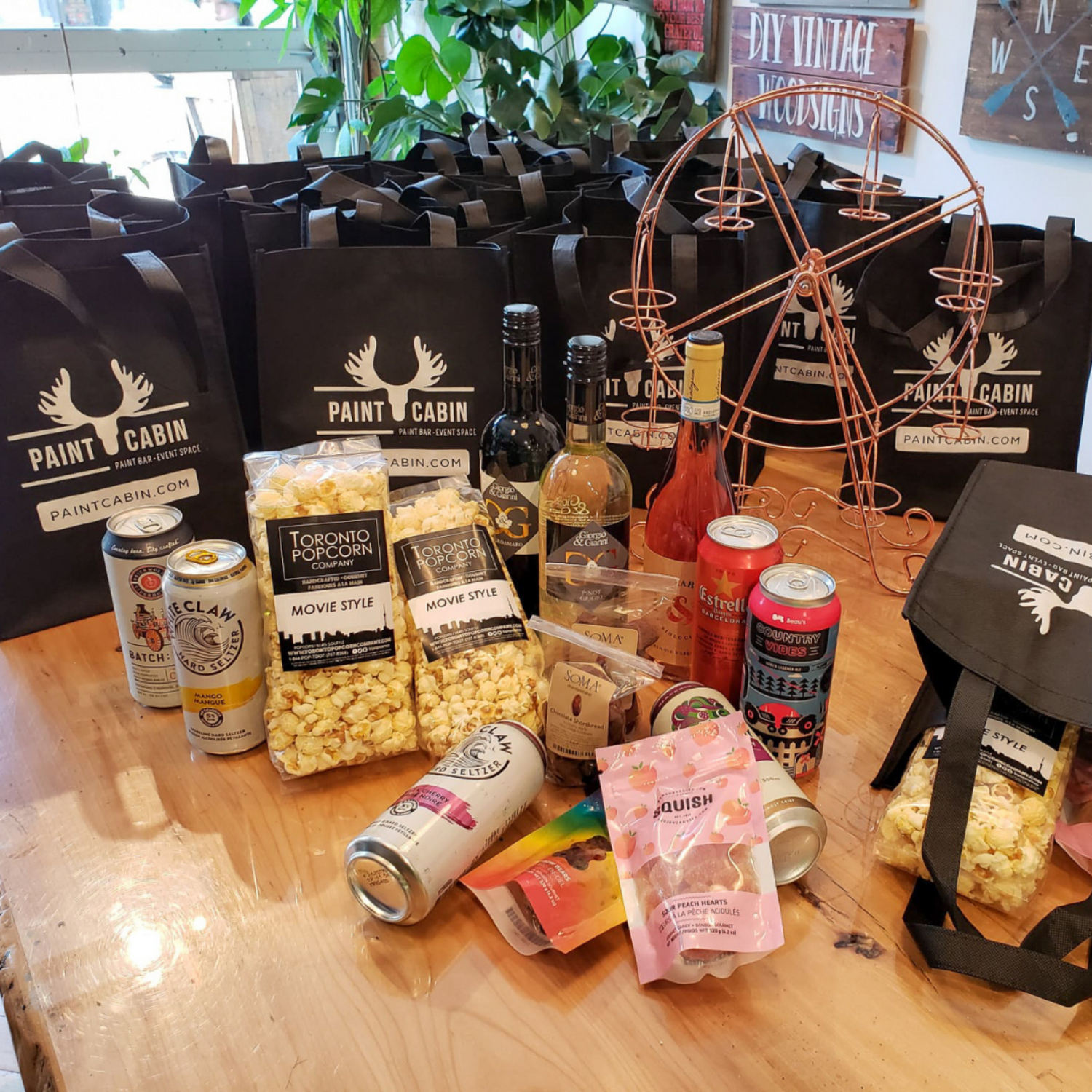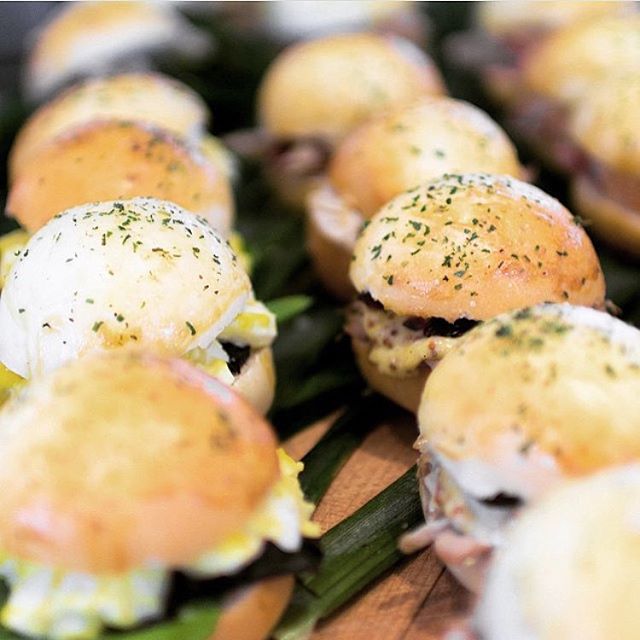 Catering Options
Blondies Pizza
STARTING FROM $8.49 /ORDER
13" Crafted Gourmet Pizzas by Blondies.
Feeds 3-5

Pantry Catering
STARTING FROM$18.85 /ORDER
Paint Cabin offers a full catering menu with a beautiful selection of gourmet foods to guarantee the all inclusive private event of your dreams
Food Dudes Catering
STARTING FROM $30.85 /ORDER
Combining fun activities, a wide variety of snacks and craft drinks, we promise to deliver an unforgettable night out!
FAQs
Which activities can our team choose from?

Your team can choose an activity from:
What drink options are available in the Activities & Drink Bundle?

The bundle includes a complimentary beer, wine or non-alcoholic beverage of your choice for each participant. Paint Cabin also has a full service alcohol bar in-studio participants have access to that serves craft beers, award winning wines, classic mix drinks, cocktails and more.
What food options are there in the Activities, Food & Drink Bundle?

The bundle includes complimentary Blondies Pizza for the team, however premium catering upgrades are available from our partner catering services for additional per person costs. Personalized gourmet breakfasts, lunches, dinners, appetizers, desserts and platters are all available!
How does the Corporate VIP Membership work?

Paint Cabin's Corporate VIP Membership, Passport Cabin is a program where we work with your organization to create a custom team building program that's perfectly tailored to meet your team's needs.

We'll schedule interval team building events (bi-yearly, quarterly, monthly etc...) that offer your team a rotating selection of curated DIY activities guaranteed to foster employee engagement & solve connection issues. 

Customized to meet the requirements of any team, regardless of size (10-500+) or location of operation (in-person, offsite, hybrid, remote, etc…)!
WHAT OUR CLIENTS ARE SAYING



Anita and her team did an amazing job hosting a virtual paint party for our team in Toronto and New York (60+ people)! It was so well organized and there was absolutely no issue from a logistic standpoint 😊 The Paint Cabin team made it so easy for us; all we had to do was to show up and enjoy the event! Special thanks to TJ and Spencer for hosting the sessions; your energy level was unreal! We would recommend Paint Cabin to anyone in a heartbeat

Linh H
Paint Cabin hosted our Virtual End of Year Paint Party last week. They were great to work with and the process was very smooth from beginning to end. Employees received their paint kits in time for the event (they take care of everything from preparing the kits to mailing them out) and everyone had an amazing time. TJ was our host - he was awesome and so much fun! He has the best personality - super engaging and funny! Everyone enjoyed his positive energy. I received wonderful feedback from employees and we can't wait to do another painting event in the future. Thank you TJ and all the staff at Paint Cabin!!

Monique C
Our company did a virtual paint party with Paint Cabin last week and it was awesome! Our instructor TJ was enthusiastic, engaging, and hilarious, making every member of our team feel included. Our paintings all turned out really great as well, and Paint Cabin sent everything we needed right to our doors. Highly recommend for any organizations looking to do a fun team building exercise remotely!

Marg C